Page 10 of 11
1. Cell Phones + Wireless Internet Access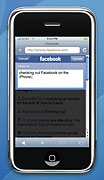 Cell phones have changed the way we communicate, blurring the lines separating work, play, and the commute between the two. Wireless e-mail, messaging, and Web access will change communications even more.
Data, not voice, is driving this disruption. The biggest news from Apple's recent announcement of its iPhone software development kit was the addition of an Exchange mail applet that lets business users access their work e-mail from their Apple handsets.
"New Internet-friendly cell phones such as the iPhone and G-Phone [phones built on Google's upcoming Android operating system] will lower the entry barrier for mobile Internet services, improve mobile Internet experiences, and introduce new business models," says Kurt Scherf, vice president and principal analyst for Parks Associates. "We'll begin to see mass-market adoption and form factors diversify to include embedded portable devices such as portable media players and game consoles."
Mobile Internet-capable phones are poised to become a major advertising platform, as well. "The mobile phone is likely to trump the Internet as the most versatile media platform," Scherf adds. "The potential of mobile advertising to become an explosively new ad platform is real and colossal."
Disruption: The ability to be reachable 24/7 is morphing into the ability to surf the Net from any location. And it's forcing monopolistic wireless companies to open up their networks to new devices and services.