Organize Your Life With Free Online Tools
When you can barely make out the note you scribbled on the back of that coffee-stained receipt, and you haven't turned over the wall calendar's page since mid-2007, it's time to get organized with digital tools.
Nowadays the best place to find personal organizer software isn't necessarily on the desktop--it's on the Web. You already know that users are opting out of heavy desktop applications such as Microsoft Outlook for the likes of Gmail and Google Calendar.
But when it comes to managing your tasks, projects, and notes, the big names don't always have the best offerings. A new crop of rich Web applications offer smart tools you need to organize your life using any device that has a Web browser or an e-mail client, be it PC, Mac, or smart phone. As the founder of Lifehacker.com, I spend a lot of time trying out new Web-based personal organizers. Here are my choices of some of the best-of-breed options available online now.
1. Track Your Tasks With Remember the Milk

The weekly status report is due every Thursday morning at 10:00 AM. You've got to pick up the dry cleaning next Wednesday after 3:00. Your business plan draft has festered unattended to for a week now. This afternoon it's your turn to pick up the kids from soccer practice. Before your brain blue-screens, take a moment to offload your to-do list into Remember the Milk, a full-featured task manager that categorizes and prioritizes to-do's into convenient lists.
RTM even makes "honey do" lists easy to manage: your Milk-using spouse, secretary, boss, or business partner can send task requests directly to your RTM inbox so you can incorporate them into your master plan instantly. If you upgrade to a Pro account for $25 per year, you'll have access to Windows Mobile syncing and an iPhone-friendly interface.
2. Store Notes and Research at Backpack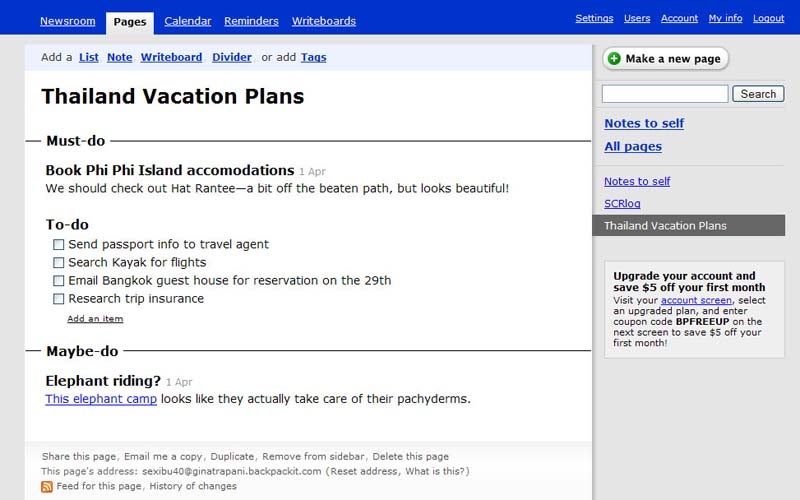 Collaborate on and manage notes and research with the Web-based notebook Backpack. Whether you're planning your next vacation, drafting The Great American Novel, or just want a private place to incubate ideas, you can create an editable page at Backpack and drop in notes, lists, news items, and comments.
Each Backpack page has a unique e-mail address, so when you're struck with a brilliant insight standing in line at the grocery store, just dash off an e-mail on your phone to insert it into your page on the spot. A limited free version of Backpack is available; pricing for paid versions starts at $12 a month and buys you file storage space, more pages, a group calendar, and message boards.
3. Get a (Virtual) Personal Assistant Named Sandy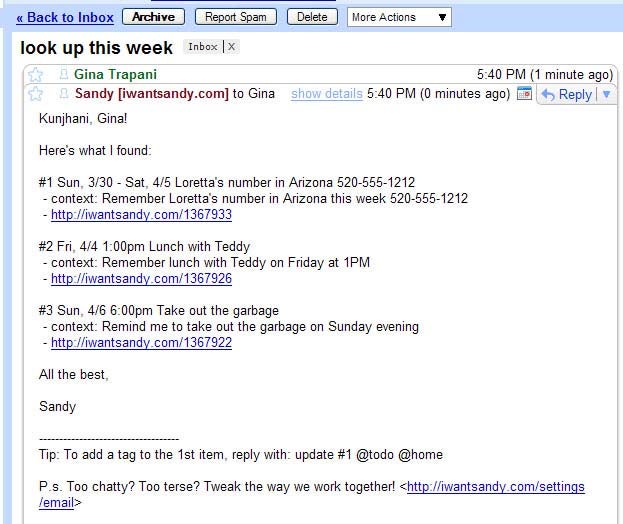 Wake up to a cheery daily agenda from your new virtual personal assistant, Sandy, who communicates with you primarily via e-mail and text messages. Here's how it works: Send Sandy an e-mail that reads something like "Reminder: Lunch with Ted on Friday at 1PM." Sandy will add the appointment to Friday's agenda and fire off a reminder that afternoon with such good-natured aplomb you'll think she might be flesh and blood. Sandy can also store, tag, and recall important bits of information via e-mail commands, like a flight number or directions. 
4. Make Sense of Your Dollars With Wesabe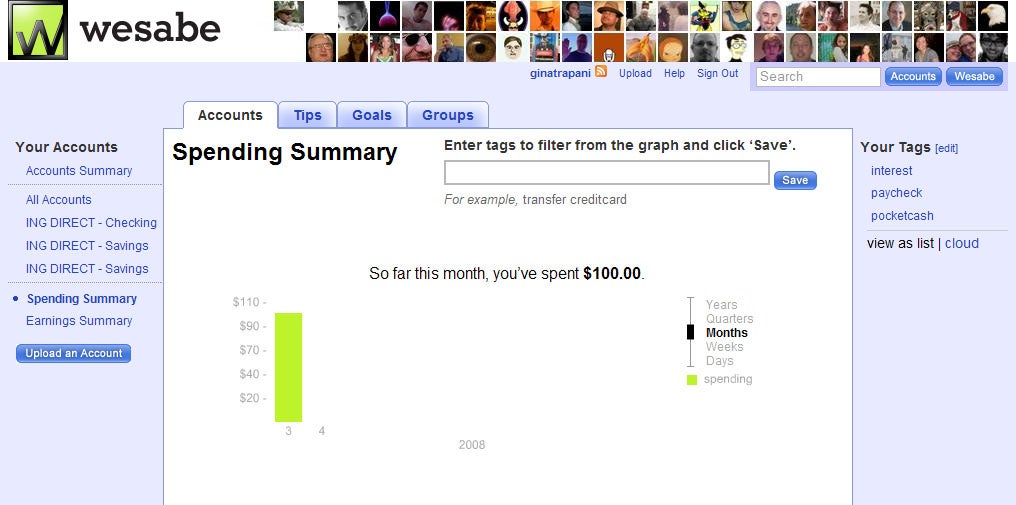 When the thought of firing up Quicken makes you want to clean out the garage instead, head over to Web-based money manager Wesabe. Register for a free Wesabe account, and upload your bank account information by hand, or use Wesabe's desktop uploader or its Firefox extension to automatically enter account transactions into Wesabe. (Relax--Wesabe doesn't store your online banking passwords, and it keeps your transaction data safe and secure. Check out its extensive Privacy Policy to see how.)
You can skip balancing your checkbook now--Wesabe organizes all your account transactions in a single place, translates "bankspeak" into human-friendly transaction descriptions, charts a birds-eye view of where your money's going, and puts its community of users to work to help you save money and reach your financial goals.
5. Find the Perfect Gift With Amazon Gift Organizer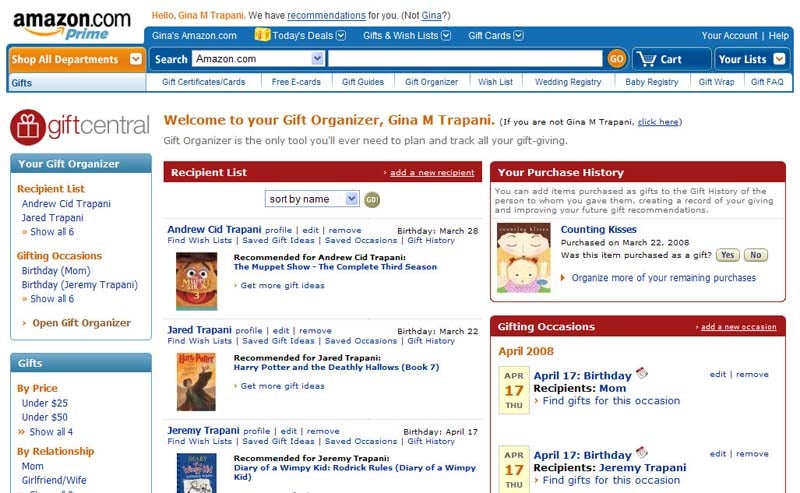 Never spend the morning of her birthday scrambling for a gift, any gift, ever again. Enter your loved ones' names, birth dates, gender, and Amazon wish list into Amazon's Gift Organizer, plus gift-worthy occasions for each, like birthdays, anniversaries, or graduation. Then sit back and relax. When the big day nears, you'll receive an e-mail reminder that contains eerily on-target gift recommendations. Order on the spot and you'll have the perfect present in hand right on time. 
6. Stay Organized by Phone With Jott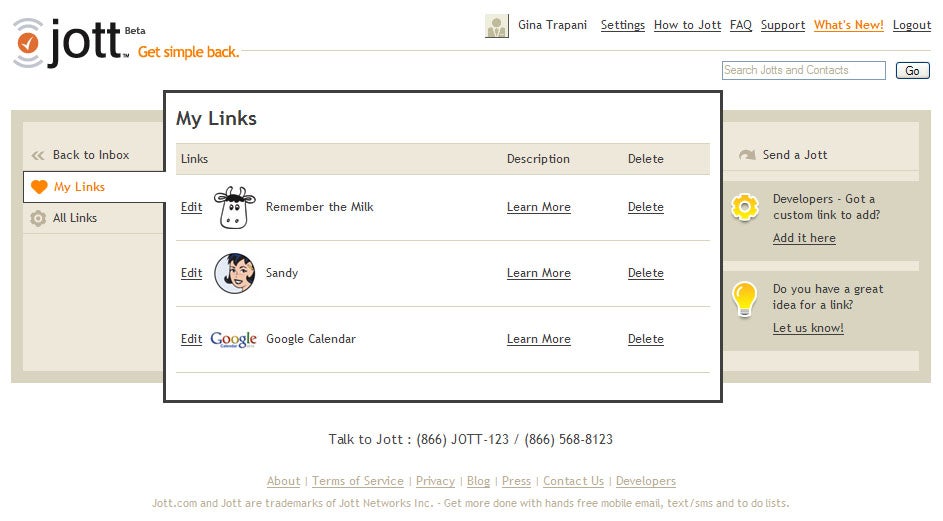 If thumbing text on your mobile's keypad isn't your cup of tea, call Jott instead. At its most basic level, Jott is a transcription service--speak a note to yourself, and Jott transcribes your message and e-mails you the text. But Jott's functionality goes way beyond that when it acts as a conduit to other Web applications.
For example, using Jott, you can add appointments to your Google Calendar over the phone, e-mail Sandy, add an item to your Remember the Milk to-do list, or even search Amazon for a product you're interested in, all by voice. Once you've signed up  and configured your account, simply call Jott's number (866-JOTT-123), say the name of service you want to access, and speak your message.
7. Capture Web Clips With Google Notebook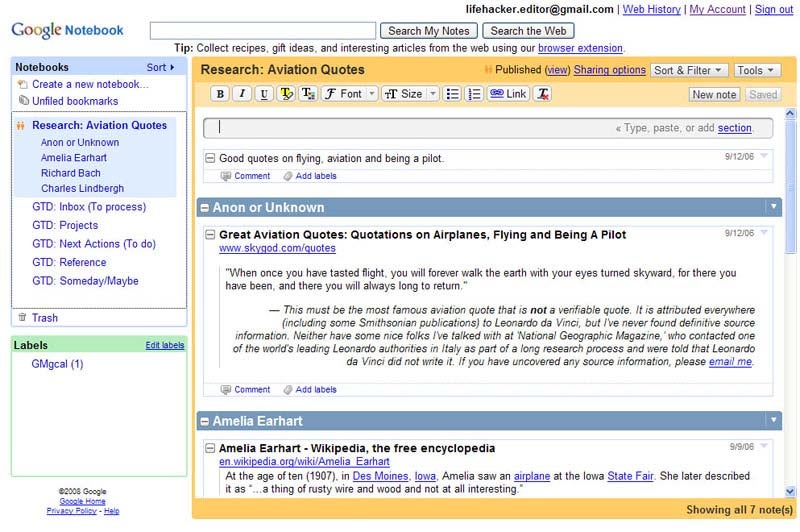 You've got two dozen browser tabs open again, and this time, bookmarking them all just won't cut it. It's time to try Google Notebook.
One of Google's lesser-known products, Notebook is an indispensable tool for Web researchers. Save sections of Web pages to your Google Notebook and annotate them with your own notes and comments. Organize your clippings into multiple notebooks that you can break down into sections, rearrange your notes by dragging and dropping them into the right page, and search your notebooks using Google's signature special search sauce that you already know and love. Notebook also turns clipping pages into a one-click operation with the Google Notebook browser extension, available for both Firefox and Internet Explorer.
8. Organize Your Itinerary With TripIt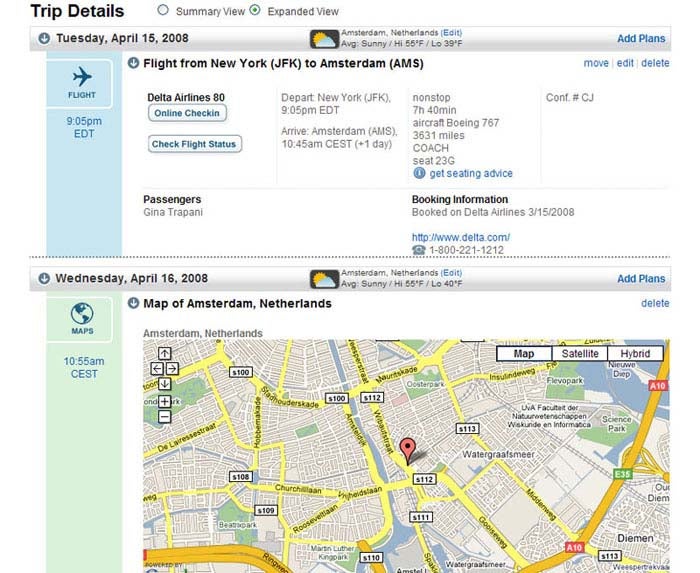 Instead of letting your flight, hotel, and car reservation e-mail confirmations languish in the depths of your inbox, forward them, before you travel, to plans@tripit.com.
The Tripit travel organizer will parse the messages and pull together a master trip itinerary onto one Web page that includes maps, a weather forecast, directions, and city guides for your destination--you know, all the stuff you'd look up by hand anyway. Plus, you can add notes to your TripIt itinerary, and share it with friends or colleagues to view, collaborate, and comment on.
9. Turn Gmail Into a Personal Information Database With GTDInbox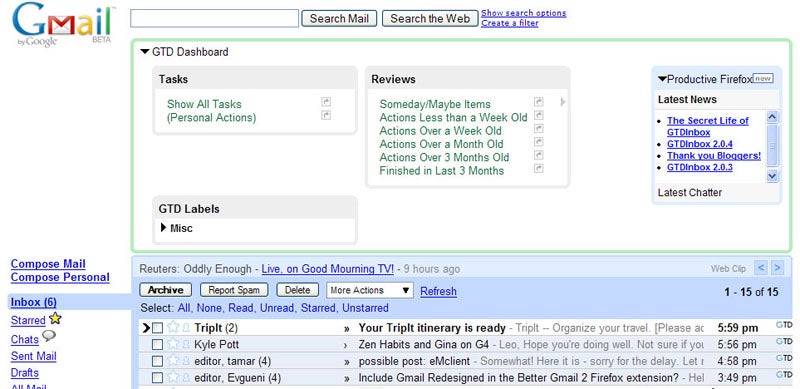 Dedicated Gmail users who lament its lack of a to-do list will want the GTDInbox Firefox extension. GTDInbox implements the organization techniques that David Allen pioneered in his geek-hit productivity bible, Getting Things Done. With GTDInbox installed, star any message to turn it into a "next action"; list and add tasks right inside Gmail; and review tasks by how long they've been around (less than a week, longer than a week, longer than a month, longer than three months) to see how much of a slacker you've been (or not.)
Gina Trapani is the lead editor of Lifehacker.com and the author of Upgrade Your Life: The Lifehacker Guide to Working Smarter, Faster, Better.