Page 3 of 3
7. Capture Web Clips With Google Notebook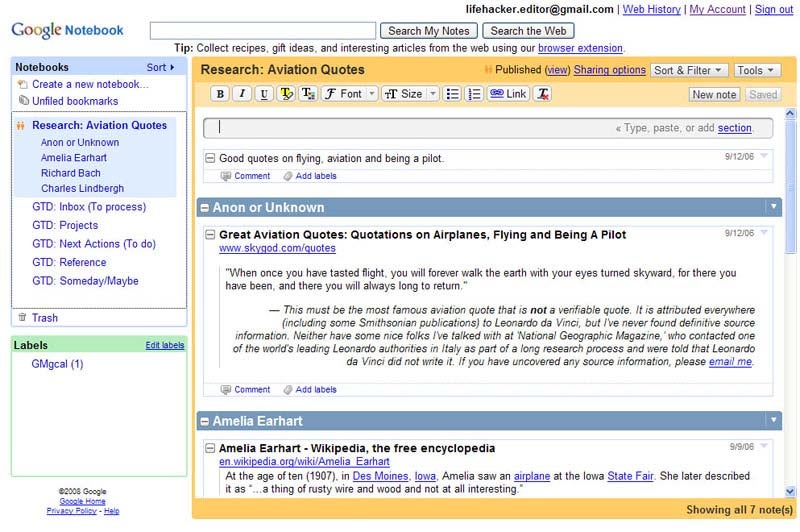 You've got two dozen browser tabs open again, and this time, bookmarking them all just won't cut it. It's time to try Google Notebook.
One of Google's lesser-known products, Notebook is an indispensable tool for Web researchers. Save sections of Web pages to your Google Notebook and annotate them with your own notes and comments. Organize your clippings into multiple notebooks that you can break down into sections, rearrange your notes by dragging and dropping them into the right page, and search your notebooks using Google's signature special search sauce that you already know and love. Notebook also turns clipping pages into a one-click operation with the Google Notebook browser extension, available for both Firefox and Internet Explorer.
8. Organize Your Itinerary With TripIt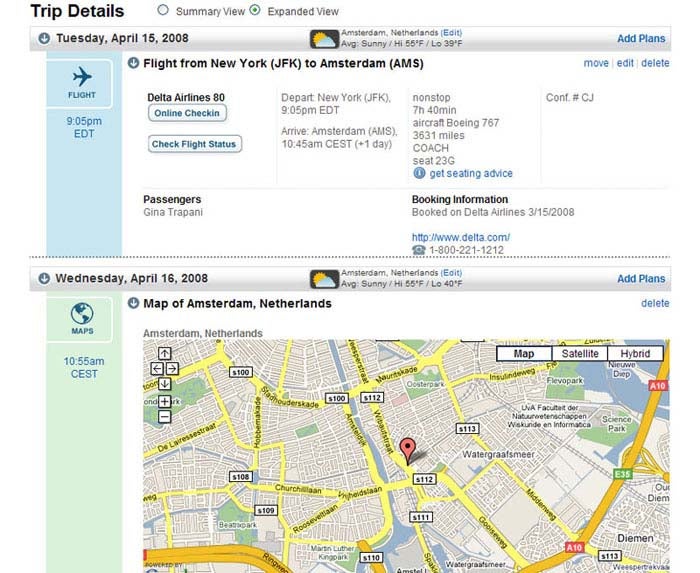 Instead of letting your flight, hotel, and car reservation e-mail confirmations languish in the depths of your inbox, forward them, before you travel, to plans@tripit.com.
The Tripit travel organizer will parse the messages and pull together a master trip itinerary onto one Web page that includes maps, a weather forecast, directions, and city guides for your destination--you know, all the stuff you'd look up by hand anyway. Plus, you can add notes to your TripIt itinerary, and share it with friends or colleagues to view, collaborate, and comment on.
9. Turn Gmail Into a Personal Information Database With GTDInbox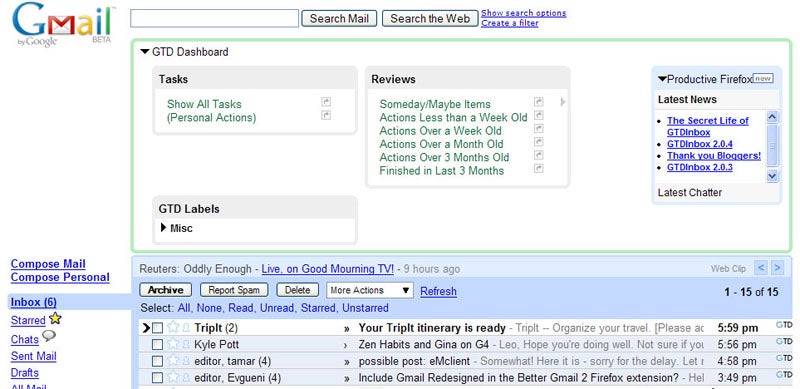 Dedicated Gmail users who lament its lack of a to-do list will want the GTDInbox Firefox extension. GTDInbox implements the organization techniques that David Allen pioneered in his geek-hit productivity bible, Getting Things Done. With GTDInbox installed, star any message to turn it into a "next action"; list and add tasks right inside Gmail; and review tasks by how long they've been around (less than a week, longer than a week, longer than a month, longer than three months) to see how much of a slacker you've been (or not.)
Gina Trapani is the lead editor of Lifehacker.com and the author of Upgrade Your Life: The Lifehacker Guide to Working Smarter, Faster, Better.