Collaborate Using Online Tools
Page 2 of 3
Let's Get Together, Now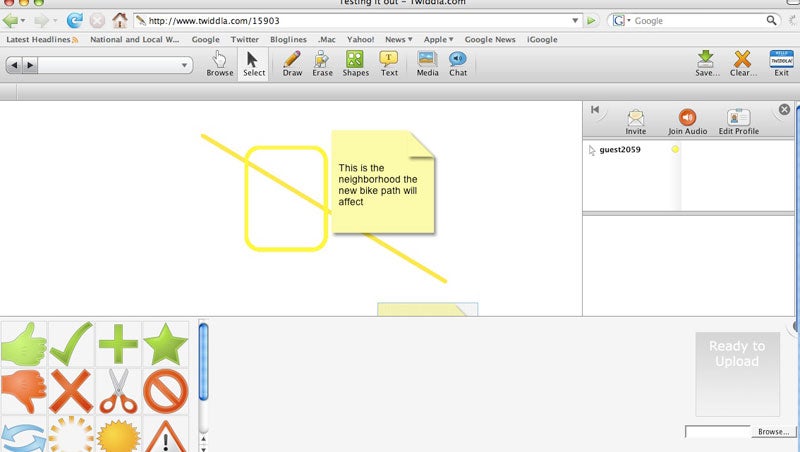 The ability of a collaboration service to support either planned or impromptu meetings is critically important. This is the whole premise behind Twiddla, a free whiteboard service that lets a team mark up graphics, photos, or even Web site designs. It is browser-agnostic and includes an audio function, so that you don't need a separate conference call to discuss the changes being made (provided you have a PC with an integrated microphone). Twiddla is really easy to use, and if your content is highly visual, you can mark it up and make changes in a straightforward manner.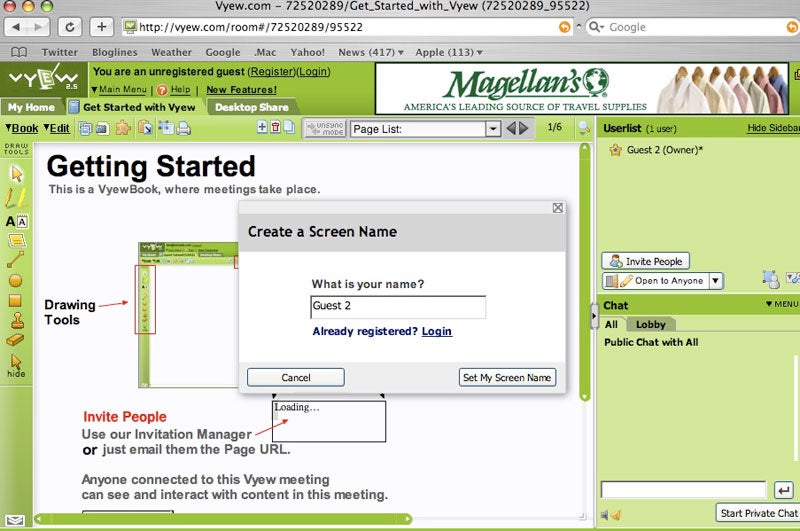 Vyew likewise emphasizes meetings and conferences over the scheduling or milestone management functions of your team. It has two primary missions: First, to support online meetings in an environment it calls VyewBook; and second, to let participants share documents of many different types, including all of the different Microsoft Office application file types, plus video, graphics, Adobe Flash files, and screen captures. It does not, however, allow you to share applications as some of the big-name meeting services (such as WebEx or Microsoft LiveMeeting) do. Another drawback is that you have to deal with seeing ads during your conferences, unless you opt for one of the premium subscription offerings.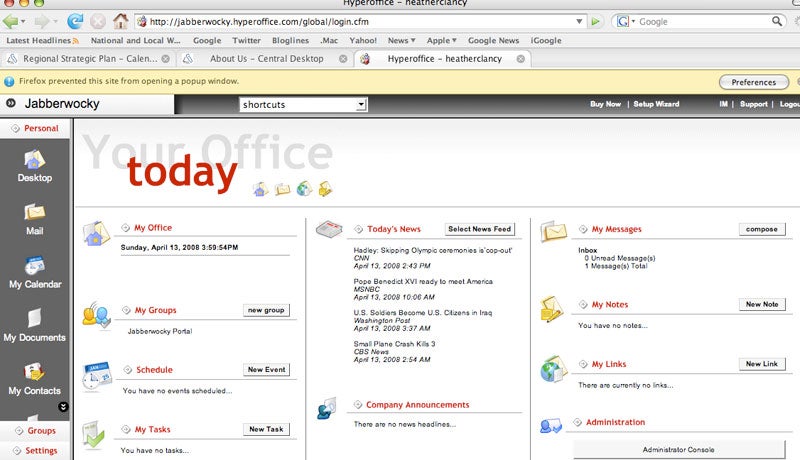 If you want project management plus meeting support, Central Desktop offers an online meeting capability that integrates with its team management features; another service, HyperOffice, is working on adding this feature through an application called HyperMeeting. It will charge an additional fee for this service. To my mind, integrated support for online conferencing is absolutely essential to a collaboration service, so the feature (albeit forthcoming in HyperOffice) puts these two services at the top of my list.
I hold out hope that the Sosius service, which currently doesn't offer this option, will eventually offer a third-party plug-in for online conferencing. It recently moved to create a software development platform called OpenSosius to encourage the introduction of add-on features.
Share and Share Alike
As a writer, one of the most frustrating parts of my existence is the editing process--not because I think I am above it, but because it's hard to track revisions or to make comments on those changes. Yet, collaboration is about group input. So, document sharing and commenting should be something your team considers carefully.
Most of the tools considered in this article--including Basecamp, Google Sites, Central Desktop, HyperOffice, Sosius, and Vyew--allow your team to upload files created on your desktop and make them available to specific team members for review and annotation. In some instances, you can define a workflow that shuttles the file around to appropriate people.
For example, a marketing brochure could be reviewed by a specific team member first and then passed along to someone else for in-depth editing and gathering of the requisite permissions before it is published. Or rights to view a confidential spreadsheet could be limited, with editing privileges restricted to only a few specific individuals.
If you haven't invested in desktop productivity tools and need some basic software for doing this, Central Desktop and Google Sites include their own applications for writing memos and documents, creating spreadsheets, or pulling together presentations. The Central Desktop applications are quite full-featured and are delivered through a relationship with a company called EditGrid. What I really liked about these applications was how quickly you could use them in context. It's quite simple, for example, to create a new spreadsheet sharing some quick financial information. (You can import an existing Excel spreadsheet if you'd like, which is also nice.) I found the Central Desktop spreadsheets to be more intuitive than the Google alternative.
Up-to-the-Minute Updates
To keep a project on track, you need to know when one of your colleagues has added an event or meeting to your group calendar or made comments related to a team document. That's why you should look for a service that integrates closely with your existing e-mail account and calendar--without requiring you to log in to your collaboration account if you aren't inclined.
Both the Sosius and Central Desktop services, for example, allow team members to send updates and attachments to a group. The updates are recorded within the appropriate workspace without requiring the member to sign in, an important feature for supporting offline work. (Other services may allow this, but the feature wasn't readily apparent.) Of course, this sort of alerting capability also works in reverse. So, when someone has altered a process or document within a workspace, team members know what's going on.
Visual cues about upcoming project deadlines might also be important for your team. Most of these services include some sort of task manager within the main dashboard where team members can see when things are due--and when something might be slipping.
As someone who has experienced her fair share of calendar synchronization problems (I juggle two different work calendars that don't ever seem to match up quite right), I urge you also to consider where and how you will manage your group's schedule as well as your own private appointments.
If your team is already using Microsoft Outlook, you should pick a service that supports it well. Both Central Desktop and HyperOffice spend a fair amount of time talking about their Outlook integration capabilities as well as their ability to create group calendars that aggregate the schedule of an entire team.
Google Sites and Basecamp, on the other hand, focus on people that don't have an Outlook legacy to worry about. Google, not surprisingly, emphasizes its calendar application, although it also supports Apple iCal. Basecamp allows users to subscribe to Milestones alerts from The Backpack Calendar (created by parent developer 37signals), or from iCal, Mozilla Calendar, or other calendars that support the iCalendar standard. If your collaboration service will become your central calendar, make sure it can support the following functions: marking certain events private, creating recurring or repeat meetings, delegating event creation to someone else, and publishing to an online location that both members and nonmembers can view via the iCalendar standard.
One additional application touted by Basecamp, but not the other services, is a time tracker that allows project members to formally track the time associated with certain tasks. This not only helps with billing appropriately, but it can also help postmortem when a team is gathering best practices information that can be applied to future projects.
Shop Tech Products at Amazon