Page 2 of 2
Mashups and More
Intel's Mash Maker is a browser extension (for either Firefox or Internet Explorer) that lets you combine data from diverse Web sites on a single page, even if you're not technically adept. For example, you can match up Google Maps with any site that lists addresses--say, OpenTable.com's restaurant listings.
Here's my news story prior to Mash Maker's beta launch--and here's Business Center blogger Neil McAllister's review commenting that the mashup process might not be as easy with Mash Maker as Intel makes it out to be.
Tungle is an Outlook add-on dedicated to simplifying the process of negotiating a mutually agreeable time for a meeting. It performs this task by automating the exchange of availability information between calendars. You don't need Exchange to use it, and it can help invitees who aren't on Outlook at all--but it works best with other Outlook users who have installed the beta.
Triggit is a niche application for sites that struggle to manage and display ads from Google and other online ad services. Once you've signed up, a small line of Triggit code placed anywhere on your site creates a button that launches the app, which has a  lot of muscle for handling image placement and editing. Triggit lets you easily drop in pictures or ads from all of the major services (they show up in a drop-down menu) in whatever format you like; the service can take over all of your billing, too, so that you receive a single check from a single source each pay period.
Triggit is not to be confused with TripIt, an online travel planning aide. Once you've set up your TripIt account, you can forward your travel confirmation e-mail to plans@tripit.com. In response, the service will transform those often needlessly verbose documents into a slick, easy-to-read (and print) itineraries, embellished with restaurant recommendations, weather forecasts, maps, and the like.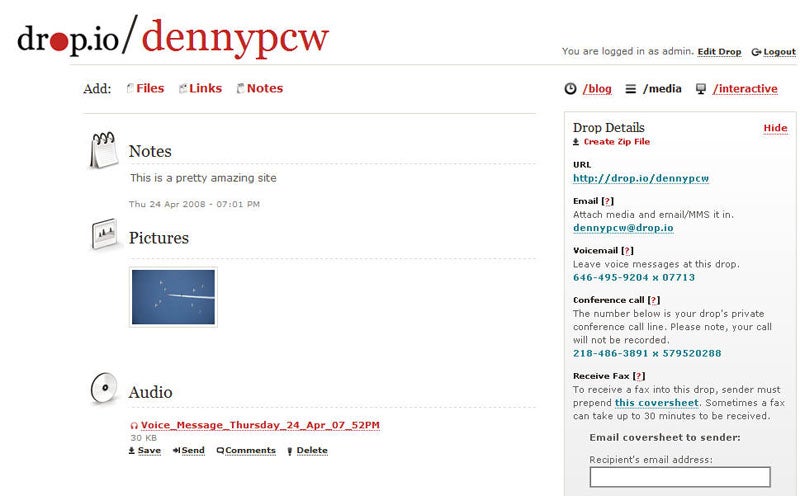 We've saved one of the best for the last. Drop.io, an all-purpose file-sharing and communications service, delivers instant gratification. No registration is required: Just go to the site and type in a name (or a random collection of letters and numbers) to create a "drop"--in effect, a folder where you can park up to 100MB of pictures, videos, audio, documents, or whatever else you like.
You can also type notes or add URLs. Drop.io catalogs everything neatly, by content type. You can then share the drop URL (it will be something like 'www.drop.io/dennypcw') with friends or colleagues, who can grab the content.
But there's more. You can send text messages from a mobile phone to your Drop.io e-mail address. Your friends can leave you voice mail by calling a phone number listed on the drop. And you can set up a teleconference, again by referring to a number shown on your drop. People can even send you a fax by using a provided cover sheet.
The nicest thing about Drop.io is its disarming spur-of-the-moment nature. You can set permissions for your drop (so that only authorized users can get in), or not. And you can set up as many drops as you need--and speedily dispose of them when you're done.