New 802.11n Routers: The Best Wi-Fi Yet
Page 2 of 6
Draft-N on a Budget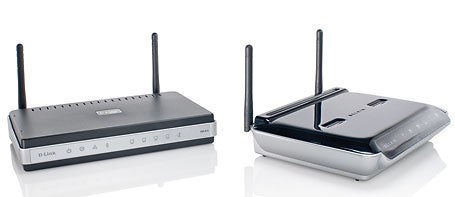 Want to have some of draft-n's superior speed and coverage without paying top dollar? We tried two entry-level draft-2.0-certified routers priced at $90 or less: the Belkin N Wireless Router ($90) and the D-Link Wireless N DIR-615 ($80). These products have 100-mbps (not gigabit) ethernet ports and two-antenna configurations with less speed and range than their three-eared cousins. While not optimal for streaming media, they should be fine for normal Internet use, VoIP calls, and the odd file transfer in a small-to-medium-size house.
Of the two, the Belkin was generally superior. The D-Link has a few features the Belkin lacks, but it stumbled badly in our performance tests.
Belkin N Wireless Router
When we first reviewed the Belkin N router in 2006, we loved everything about it--aside from its performance. But many manufacturing revisions and firmware updates have fixed that, and speed and range are now more than acceptable for a budget router. In fact, even with one less antenna, the Belkin performed almost as well as the midrange Netgear router in our tests.
The unit's design, usability, features, and customer service remain stellar. The out-of-box experience is second to none, from numbered cables and a step-by-step install wizard that connected perfectly, to a great user manual. The Belkin has a lifetime warranty; the others we tested were for one year.
The Belkin supports many key router features, including UPnP, WMM, WPS, and DDNS (see "Wi-Fi Buzzwords" for more on these and other useful router technologies).
Missing are auto-channel selection (the ability to let the router choose the least crowded of the 11 available 2.4-MHz channels to improve performance in busy areas), and DHCP reservation (the ability to set fixed IP addresses for specific computers or peripherals), useful for networked printers, NAS drives, media servers and the like.
Like most low-end routers, the Belkin doesn't support WPA/WPA2-Enterprise encryption. But if you don't need gigabit ethernet or high-def streaming performance, the Belkin N Router is a great value and our budget pick.
D-Link Wireless N Router DIR-615
The D-Link DIR-615 is just about the lowest-cost draft-n router on the market and has a great feature set, but unfortunately it performed poorly on our speed and range tests.
At close range, it could pump out only 36 mbps on average, compared with 48 mbps for the competing Belkin N. And in our long-range tests (about 60 feet, with multiple walls and appliances in between), the D-Link's throughput dropped to a mere 3 mbps, versus 13 mbps for the Belkin. Even worse, 15 percent of our long-range tests failed completely due to disconnections, versus none for the Belkin.
And that was with the second D-Link DIR-615 router we tried. We were unable to test the first, a revision A1 model provided by D-Link, because it provided no way to turn off 40-MHz channel-bonding (making that unit ineligible for Wi-Fi Alliance certification), so we bought a revision B2 (the latest model, which is Wi-Fi-Alliance-certified) for our testing.
Performance could improve with firmware revisions, and the D-Link has a very good feature set drawn from the company's higher-end routers, including WPA/WPA2-Enterprise and RADIUS server security support for corporate use, as well as a laundry list of features like UPnP, WMM, WPS, DDNS, and DHCP reservation.
Setup, though uneventful, wasn't as well thought out as that of other models we reviewed. The Web configuration interface is a confusing mix of wizards and manual tools; after initial setup, we prefer to skip the wizards. We also found it very difficult to convert the router to access-point mode, though we finally unearthed the necessary directions in the manual.
Shop Tech Products at Amazon