Network Storage for Home and Office
At a Glance
Synology Disk Station DS207+

PCWorld Rating

Synology Cube Station CS407

PCWorld Rating
Page 2 of 3
Tiny, Flexible, Friendly
HP's Media Vault mv2120 screams friendly: Its calling card is a soft and chewy interface that even NAS rookies can digest in seconds. The menu system's approachable push-button design walks you through the setup of everything from media folder shortcuts to premade video, photo, and music directories to automated file backups.
The mv2120's software even helps you set up a simple (though HP-branded) photo-sharing Web site so that you can grant external access to the NAS without broadcasting your IP address to the world (I created, for example, PCWtest.hpmediasmart.com). The mv2120 also takes the network interface to new heights--one slider, for instance, adjusts how often the device pings iTunes to back up music.
Unfortunately, the HP model's performance was lackluster. In our tests, the mv2120 was consistently average compared with all the other NAS models that we evaluated here.
The mv2120's hardware also cuts a couple of corners. The largely plastic housing makes the unit feel a bit lightweight. Another issue is that the primary drive that comes with the unit cannot be replaced by the user, because it contains the NAS's operating system.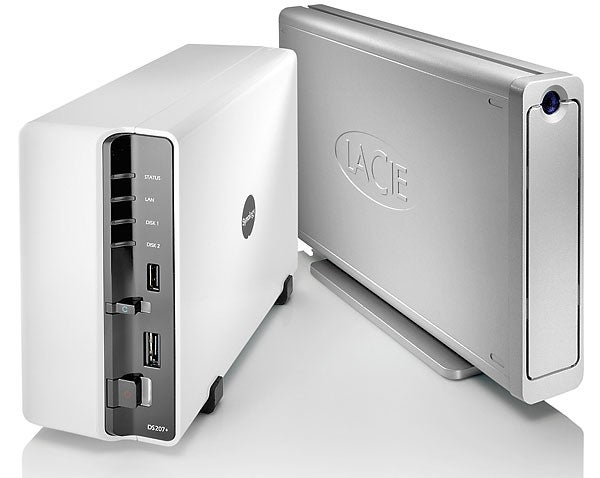 In contrast to the HP Media Vault mv2120's abundance, LaCie's Ethernet Big Disk is short on features: It is simply a single, 1TB drive for storing and sharing files.
The Big Disk didn't score big points with us in performance, either. Coming in toward the back of the pack, it poked along. The best it could manage was in our copying-files tests, completing the run in 384 seconds. By comparison, Synology's DS207+ finished the same task in 277 seconds.
In the end, while Synology's units score massive points for their software, the ReadyNAS Duo comes out as the big winner, winding up on top for its rock-solid construction, highly configurable software, and impressively fast performance.
Go to our Top 5 Network-Attached Storage Devices chart to see the reviews, specs, and latest prices for the NAS devices we tested.
At a Glance
Synology Disk Station DS207+

PCWorld Rating

Synology Cube Station CS407

PCWorld Rating
Shop Tech Products at Amazon