Page 2 of 3
The Six Great Rescue Discs

So let's get on with it. I'll start with discs that simply give you access to the files on your hard drive, and work my way up to the powerhouses that can diagnose and repair most boot problems.
Puppy Linux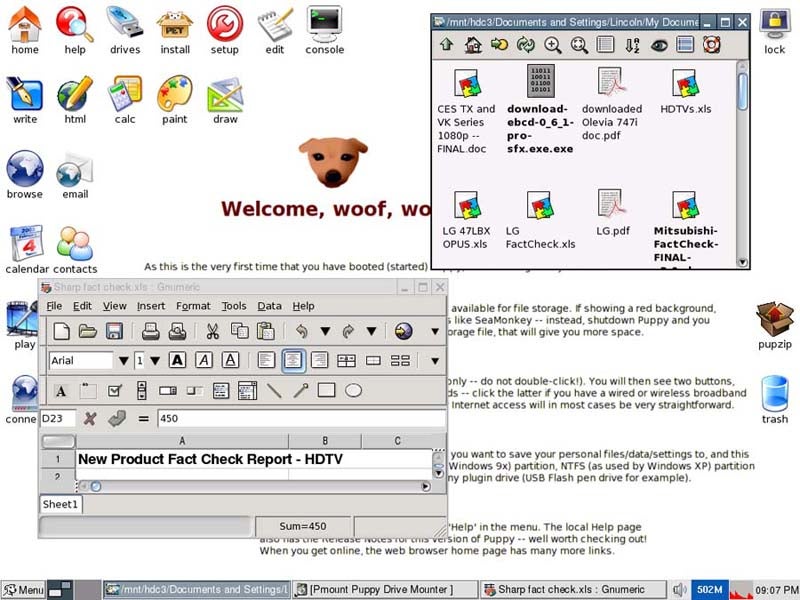 If Windows won't boot, nothing gets you into your hard drive faster or more easily than Puppy Linux. Puppy isn't the most powerful version of Linux by a long shot, but it's great for accessing NTFS-formatted hard drives--especially if you're not comfortable with Linux's whole mount concept. Just open the Drives window and select a drive, and Puppy will mount it for you--in read/write mode, if possible.
If Puppy succeeds in mounting the drive with read/write permissions, you not only can copy your files elsewhere, but you can also edit them. Puppy Linux comes with AbiWord, which supports .doc files, and Gnumeric, which supports .xls. And even if it mounts read-only, you can still copy the files to an external drive, most of which are formatted in the universally accessible FAT32 file system.
But be careful how you click. Actions that take double-clicks in Windows, such as opening a file, take only one in Puppy.
Price: Free
Download Puppy Linux.
BartPE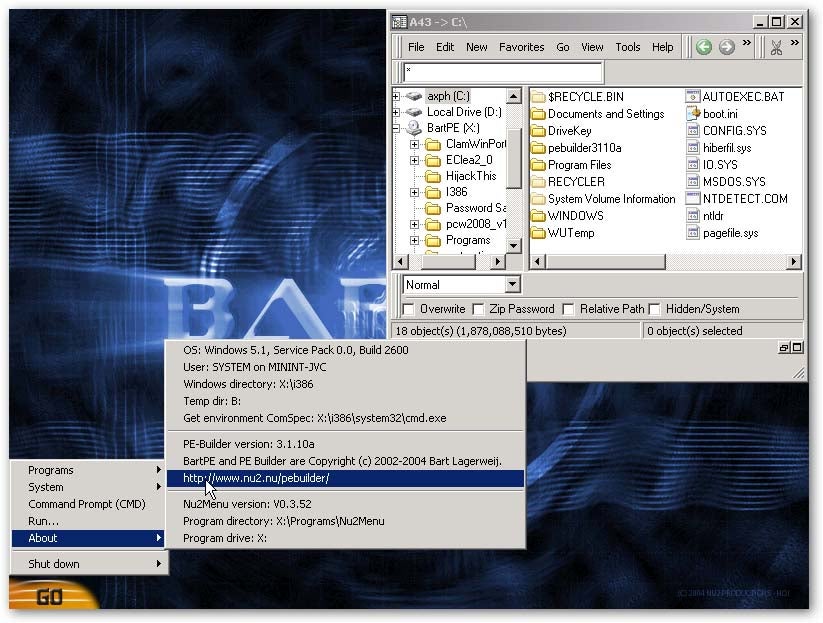 The BartPE operating system makes a pretty good boot disc on its own, getting you into Windows and letting you access your drive. It doesn't have much in the way of repair utilities, but it has chkdsk, which should probably be the first one you try. And it can run any portable Windows utility (that that doesn't require an installation) you care to give it.
Creating a BartPE disc isn't as easy as double-clicking an .iso file. You have to download, install, and run Bart's PE Builder. To create a CD, the program needs the Windows 2000 or XP installation files. One place you're sure to find them is an actual Windows installation CD-ROM. But the recovery disc that came with your PC probably doesn't have them.
Luckily, if your PC came with XP installed (and thus, not with a true XP CD), the necessary files are probably in a folder called C:\Windows\i386. But I do mean probably, not definitely. However, since the PE Builder is free, you're not losing much if it can't create a disc.
Although BartPE's program selection is slim, the PE Builder lets you add other programs to the disc before you burn it.
Price: Free
Download BartPE.
Vista Recovery Disc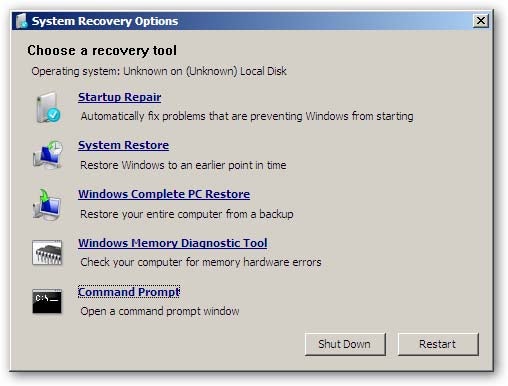 It looked like Microsoft was finally going to do the right thing. Beta versions of Vista SP1 came with a modern equivalent of the old Windows Boot Floppy--a Start menu option called "Create a Recovery Disc" that burned a Windows PE-based emergency CD.
Alas, Microsoft removed that feature before SP1 shipped--but not, fortunately, before NeoSmart turned the disc into an .iso file and made it available on their site.
Running on the Vista version of Windows PE, the Recovery Disc is basically a Vista installation disc minus the install files. It even has an "Install now" button that asks for a Product Key before failing. You're better off clicking the Repair your computer button. Among its Vista-only options are a tool for diagnosing and fixing startup problems, a version of System Restore that uses restore points on the hard drive, the restore portions of Vista's backup program, and a memory diagnostic tool.
Price: Free
Download Vista Recovery Disc.