Page 4 of 4
The Making of a Signature Story

If you had to define a specific year as signaling the end of PC World's early period, 1994 would be a good bet. If nothing else, it was the final year in which PCW was simply a magazine--our Web site, PCWorld.com, launched in early 1995. And 1994 was the year that we launched the Reliability and Service study, a massive undertaking that continues to this day .
Dan Tynan (member of editorial staff, 1987-1991 and 1995-1999; current contributing editor and Gadget Freak columnist; seen at left in 1991 photograph):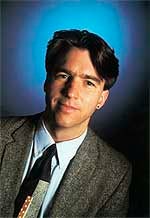 It was an epic story, involving storms of Biblical proportions, earthquakes, near-homicides, encounters with cannibals, and frightening amounts of cheese. It was PC World's first Reliability and Service story, published in June 1994, and I was a part of it.
Like everything that goes into PC World, it began as an idea. We knew some computers were better made and better supported than others, but we couldn't prove it. Senior editor Roberta Furger had an idea: why not visit the top five PC manufacturers and investigate how computers were built, tested, and supported, then compare notes?
There's a subtext to this. For years PC World had been running stories about how crappy Packard Bell computers were (and boy, were they crappy). For this we caught a lot of heat from PB's unctuously slippery PR folk. Finally, we'd have a chance to prove our theories right--that machines from Compaq, Dell, IBM, and Gateway were simply better (though at the time we weren't so sure about Gateway).
No technology magazine had ever attempted anything so ambitious. As writing assignments go, it was insane. Why they asked me to do it I'm still not sure. Had I known just how insane, I probably would have declined--and my life today would be utterly different.
But I wouldn't be doing it alone. My editor and coauthor, Christina Wood, would be traveling with me. She would do all the advance work, including cajoling some very reluctant U.S. corporations into letting two young journalists in on all their dirty little secrets. She'd come with me to all the meetings, and we'd collaborate on the final manuscript. Might I add that Christina and I were dating at the time? And that we were determined to not let any of the vendors know this?
We started with IBM in Research Triangle Park, North Carolina. For two days we toured the factory, saw the labs where they tortured laptops with extreme vibration and temperatures (known as "shake and bake" testing), crushed shipping boxes with enormous machines, and put together one of the first automated build-to-order systems in the industry. We were suitably impressed. We ate dinner with a dozen IBM engineers at a restaurant where the smallest thing they served was a 24-ounce T-bone (and I was a vegetarian at the time).
After our two-day tour of IBM, we traveled south to spend the weekend at a charming B&B in Wilmington, North Carolina. There we encountered fellow B&B guest Hannibal Lecter, aka Anthony Hopkins. Sir Tony was in town shooting The Road to Wellville. He was very polite and very short. We thought, what a cute little town, we should come back for a real visit one day.
The next day we flew to North Sioux City, South Dakota, where Gateway was headquartered. Now South Dakota isn't exactly a tropical paradise in January, but we arrived after midnight on the coldest day in 25 years. First we flew to Chicago and boarded the smallest commercial plane I've ever been on, along with four nuns and a priest. The plane was like the mini-school bus the "special kids" take to school, but with wings. It landed midway and let some guy off in the middle of a snowy field, then took off again. I was so sure these would be my last moments on earth that I began scribbling my last will and testament. I was glad the nuns and priest were with us.
The next morning it was 70 below with wind chill. Let me elaborate. The actual temperature was 30 below, plus a 40-miles-per-hour wind. They closed the schools that day for the first time in anyone's memory. The Missouri River was caked with ice, but there was steam coming off it, because it was still the warmest thing in town. My luggage didn't make the flight, so all I had to wear was jeans, a T-shirt, sneakers, and a thin winter coat. Walking the 10 feet from our hotel to the heated car, all the hairs in my nostrils froze.
Here's what I remember about Gateway: Endless meetings with executives who seemed scared to death of us--and refused to let us go to the bathroom. Meeting CEO Ted Waitt wearing my jeans and T-shirt, to find him wearing an identical outfit. And being unable to find anything on any restaurant menu that wasn't smothered in cheese.
We were scheduled to visit Packard Bell on January 18. On January 17, 1994, while we froze our assets off in South Dakota, an earthquake measuring 7.1 on the Richter scale ripped through Northridge, California, where PB's factory was located. Needless to say, we had to cancel our visit. To this day I am convinced that Packard Bell had something to do with the quake.
We spent most of the next three weeks in Texas. We endured an entire week at a Marriott Hotel in Austin, waiting for Michael Dell to clear time in his schedule for a 30-minute visit. (We found out later he rescheduled us to make time for BusinessWeek, which was doing a cover story on him.) We spent two days in Houston with Compaq, where we received nothing but one-word answers to most of our questions, along with "we're really not at liberty to discuss that." Also a hallway lined with so many Presario boxes it seemed to stretch on forever. We spent another day in Fort Worth, touring AST (a last-minute substitution for PB). That tour is mostly a blur.
It was at the Fort Worth Holiday Inn on Valentine's Day 1994 that Christina and I very nearly committed a double homicide... on each other. We'd spent 22 out of the past 30 days constantly in each other's company--on planes, in cars, in meetings, in hotels--and it was only a matter of time. Fortunately, the deadliest thing in the room was a Bible, or I'd be writing this from beyond the grave. We broke up after that, but we still had to complete the story.
A year later the article won a Jesse H. Neal Award for Best Feature and a Grand Neal Award for Best Overall Story, the most coveted awards available to the trade press. They were the first major awards that PC World--or any computer magazine--had ever won, but they wouldn't be the last.
Christina and I eventually did reconnect. We figured if we could survive doing that story, marriage would be a snap. At press time, some 14 years later, we are still married. (We live in Wilmington, that cute little town we said we'd revisit one day, with our two adorable kids.)
But I still think the story was an insane idea.