Page 3 of 3
Why doesn't Vista's System Restore actually restore the system?
Stepsx12, Answer Line forum
Poor system restoration is one of Vista's most vexing problems. Some utilities, usually big security suites that must be on at all times to protect you, interfere with System Restore's ability to do its job.
The simple workaround is to run System Restore in Safe Mode. Reboot your PC and press F8 before Windows starts loading (you may need a few tries to get the timing right). Select Safe Mode. Once Windows is up, try System Restore.
Is a long-term solution available? Uninstalling your security software might help. There's no guarantee, however, and of course you'll need to replace that software with something else. Trying to uninstall it is probably not worth the trouble unless the program is giving you a lot of other problems.
At the Answer Line forum, Evildave recommended disabling and reenabling System Restore as a possible fix. But do that only after you have successfully restored your system or completely given up, as the action erases all of your existing restore points. Here's how.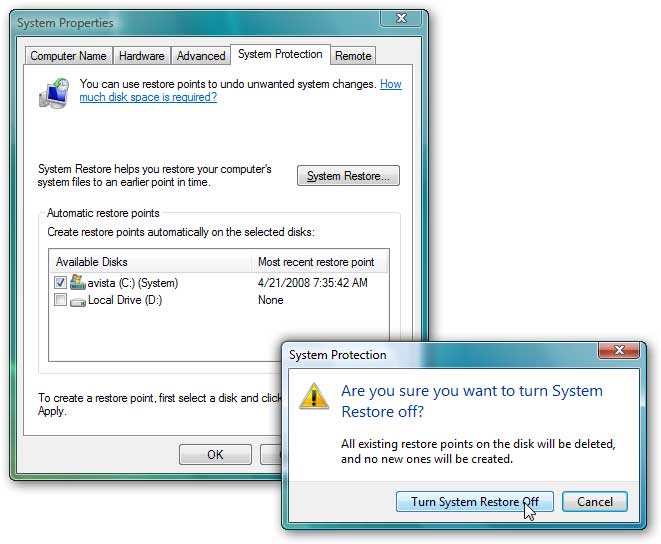 1. Click Start, type sysdm.cpl, and press Enter.
2. In the resulting System Properties dialog box, click the System Protection tab.
3. You'll see the Available Disks list. Uncheck all that are checked.
4. When you attempt to uncheck C:, a warning will ask if you want to turn System Restore off. Click Turn System Restore Off.
5. Back in System Properties, click Apply. Wait while Windows processes that command.
6. Recheck the box next to C:, and then click Apply again.
7. Click Create to make a new restore point.