Breaking
iPhone 3G: Great for New Buyers, but Upgraders Beware
Page 2 of 2
Subtle Improvements
You can now save images from the Web or from e-mail; simply press on the image for a few seconds, and you get a prompt asking if you want to save the image. The image then appears in your camera roll.
I welcomed the refreshed e-mail application, which now allows moving or deleting multiple e-mails at once; this feature made it much easier to perform e-mail management on the device itself.
In addition to being able to open Apple iWork documents and Microsoft Office documents, you can now view still-image PowerPoint presentations--a huge boon to mobile presenters, particularly with the impending arrival of micro-projectors that aren't much bigger than an iPod Classic.
Business features include support for VPN and WPA wireless security, neither of which I've tested yet. The iPhone 2.0 software also includes support for Microsoft's Exchange and ActiveSync for push e-mail, contacts, and calendaring; however, the iPhone only allows you to maintain one set of synced contacts, calendar, and e-mail on the iPhone at a time.
If you're handing an iPhone to a teenager, you may appreciate that iPhone 3G now has parental controls to limit, for example, YouTube and Safari use.
Mixed Multimedia
The iPhone remains a highly capable and easy-to-use audio and video player, thanks in part to its Cover Flow navigation (also found in the iPod Touch).
The new 3G network made it easier to access and watch videos via the YouTube application. Streaming video was smooth, with excellent picture quality.
As before, the iPhone 3G features a still camera. Unfortunately, the camera is largely unchanged--it's still sadly limited to just 2.0 megapixels, still lacks zoom and video recording, and still is clumsy for taking a picture (with no dedicated camera shutter button, you have to touch on the phone's screen to take a shot, jostling the phone as you do so).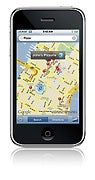 What's new about the camera application is its integration with the iPhone 3G's GPS system. Now, you can add geotagging to your photos, which may become useful when you use your images in conjunction with geodata-aware applications.
Battery Life
Apple claims the iPhone 3G is capable of up to 300 hours of standby time, up to 10 hours of 2G talk time (up from 8 hours on the first-gen model), and up to 5 hours of 3G talk time. Testing is underway at the PC World Test Center; we'll report on the iPhone 3G's talk time when our tests are complete.
[Update on Sunday, July 13: We've completed our battery tests, and sure enough, the iPhone 3G fell far short of its predecessor, averaging 5 hours, 38 minutes of talk time. But that's still better than that of other 3G phones we've tested so far. Read our full battery life test story for more details.]
Furthermore, Apple also reports the iPhone 3G is capable of surfing the Web for 5 to 6 hours using the 3G connection; playing videos for up to 7 hours; and playing audio for up to 24 hours (which puts the iPhone 3G on a par with Apple's current iPods).
Price Halved, Service Plan Jumps
To get the subsidized $199 (8GB) and $299 (16GB) iPhone pricing, you'll have to sign a two-year contract with AT&T. AT&T plans to sell the phones at an as-yet-to-be-determined date without a contract, but those iPhones will cost $599 and $699, respectively.
The big difference with the pricing is that up-front, you pay less--but you will pay more over the long haul. AT&T now treats the iPhone 3G like any other smart phone. Now, you choose your voice rate plan, add in $30 for unlimited data use ($10 more than the previous iPhone's data plans; and that jumps to $45 for business users), and factor in $5 more for text messaging, too (previously, 200 text messages were included in the iPhone rate plan).
Assuming you want to send and receive text messages, that means you'll be spending $15 a month more for the iPhone 3G than you did for the original iPhone. That's $180 annually extra on your cell phone bill--not including taxes.
Bottom Line
A year and an upgrade later, Apple's iPhone 3G stands in a class all its own. While this smart phone is still not perfect, its lower entry price, 3G radio, GPS, and business-friendly security features broaden the iPhone's appeal--and cements Apple's position as a defining force in the cell phone industry. I fully expect Apple to at least match its sales of the first-gen iPhone--Apple says it sold 6 million of those.
If you already own a first-generation iPhone, though, you should be wary of upgrading. You'll pay more for service, and if you don't live in a 3G-friendly area, or can manage well enough using a Wi-Fi network for Web browsing instead of a cellular network, the iPhone 3G doesn't represent a good value.
Shop Tech Products at Amazon