How to Clean Your Windows Registry and Speed Up Your PC
Registry Cleaners: How They Fared
If you're like me and you constantly add and remove programs, move files around, and fiddle with I-don't-know-if-this-will-work freeware, I'm confident a Registry scrubbing will help you, if only a little bit. It did for me, though the change wasn't earth-shattering. I used a stopwatch with my desktop system, and after a cleaning I saw 10 seconds shaved off its boot time. I also noticed that Microsoft Word and an image editor loaded a little faster.
On the other hand, I didn't see a smidgen of improvement on my laptop. That's because on that machine I use the same five programs, rarely install new applications, and mostly check e-mail and browse the Internet. So scanning the Registry showed fewer than 50 problems, and cleaning didn't make any difference.
None of the cleaners managed to fix a gnarly problem I was having with spoolsv.exe. (Spoolsv.exe occasionally holds up other programs from loading on my PC.)
Your mileage, undoubtedly, will vary, and you won't know how effective a Registry cleaner is until you give it a whirl. But if nothing else, these programs will at least give you the feeling that you're taking care of your computer.
In each of the following reviews, you'll read my curmudgeonly impressions of how the Registry cleaners performed. I focused on their ease of use, the number of errors they found, and whether they introduced any hazards, such as no automatic backups.
Some of the tools I tested wanted a permanent spot in my system tray; it's not necessary, though, and when a program tried doing it, I found the option to disable the setting. And except for Registry First Aid, none of the products would repair faulty entries, but instead just deleted entries that were no longer valid.
Registry First Aid
Registry First Aid is eager to help you fix and compact your Registry--and it does a terrific job, too. Of all the programs I tried, this one inspired the most confidence, both from a safety perspective and in the way it handled Registry problems. The interface is clean and easy to navigate, and the program includes a Registry defragger, a Registry searching tool, and a built-in automatic backup module. Registry First Aid supports all versions of Windows.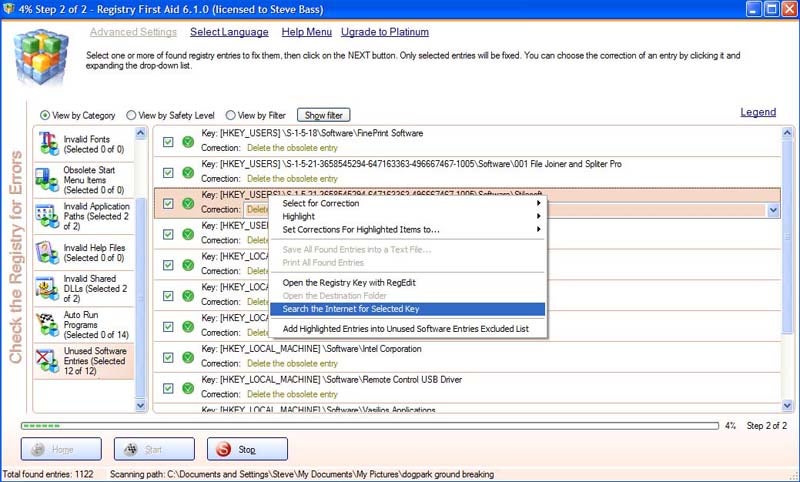 The only drawback is that the program costs $28; the trial version lets you see everything the program does, and is fully diagnostic, but fixes only 14 entries at a time. I'm hoping that won't dissuade you from trying Registry First Aid.
Registry First Aid found 2161 faulty entries in a 20-minute scan, a high number that may be explained by the program's relatively liberal definition of what constitutes a faulty entry. I was comfortable with the way it listed problems, either by category (such as invalid file or DLL, invalid path, or unused software entries) or by safety level. All of the entry issues that were safe to fix were automatically checkmarked, and I liked having to check the ones labeled 'Caution' or 'Extreme Caution' manually.
Most problems that Registry First Aid found were marked 'Delete the entry', but some had other choices. I could cut the invalid substring or, in some cases, repair the entry. Unfortunately, the program's Help function wasn't too helpful, so I opted to use the default.
While the program was scanning, I was able to examine each listing, check or uncheck it, or open the specific entry in the Registry.
A great feature, and one worth the price of admission: With one click, most of the problem entries popped open my browser and conducted a Google search on that Registry key. Very cool, and ideal for determining whether a risky entry should be removed.
One quibble: I wasn't happy that the tool attempted to find a home in my system tray, unnecessarily adding clutter just to check for new versions. I disabled it in the settings.
RegSupreme
RegSupreme, only $13, is definitely a basic, no-frills tool. It includes a Registry cleaner as well as a Registry compactor, and is essentially a scaled-down version of its bigger sibling, jv16 PowerTools (see below).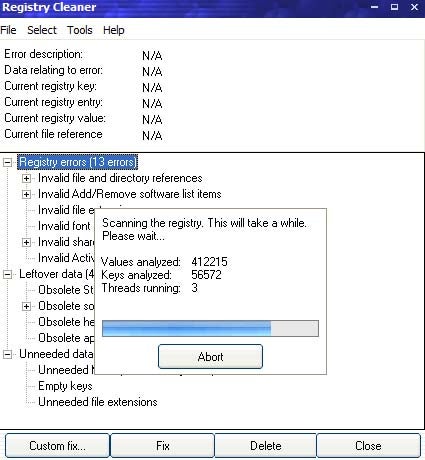 In RegSupreme you get only two levels of error detection--safe and aggressive--as opposed to four in jv16 PowerTools. And the program has almost no extras; the only one of value offers a way to search for specific keywords in the Registry (say, "RealPlayer"). On the other hand, the inexpensive RegSupreme has a built-in backup tool and gets the job done. So if you like jv16 PowerTools but you don't need the extra functions--and you want to save some money--RegSupreme could be perfect for you. Like jv16 PowerTools, RegSupreme supports every version of Windows and comes with a full-featured, 30-day trial.
RegSeeker
RegSeeker is free, and alongside a Registry cleaner it has a handful of other Registry-focused utilities. The tools include a keyword finder; a utility to examine installed application Registry entries, assorted histories (for instance, Internet Explorer and Start-menu items), and Startup entries; and a tool to tweak about 24 XP settings.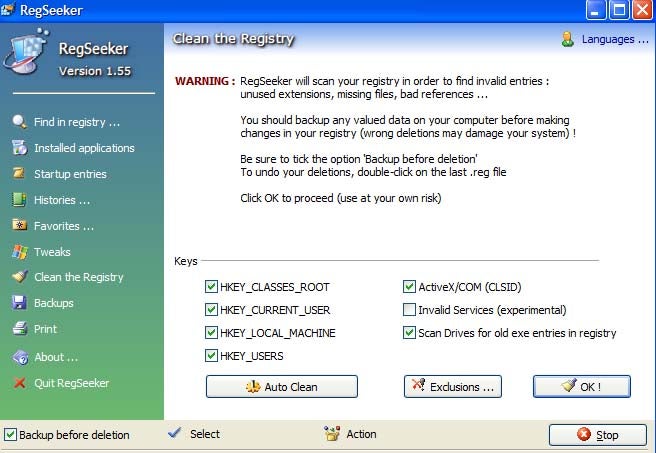 This Registry cleaner is confusing because its interface sports a strangely labeled 'OK!' button that doesn't really give you a sense of what the program will do next. On the same screen, the app presents a dangerous option: Auto Clean, which I encourage you to avoid. The screen provides little help or guidance, though RegSeeker warns that to back up the Registry, you must make sure to check the 'Backup before deletion' option, another oddly labeled feature. The program has no automatic restore function, either; you'll need to find the saved .reg file yourself and click on it to restore your Registry.
On my production PC, RegSeeker picked up 1108 problems. Unfortunately, the program offered no assistance in determining which of the errors needed deleting; it also didn't provide categories, such as invalid path or shared DLL, in order to help me decide whether items were safe to delete. RegSeeker isn't for novices. It supports Windows 2000, XP, and Vista.
Advanced WindowsCare Personal
Advanced WindowsCare is a freebie and comes with other tools besides a Registry cleaner. For instance, it claims to deter and remove spyware, optimize your PC, manage your Startup items, and remove junk files. I focused only on the tool's Registry skills, and didn't try any of those other components.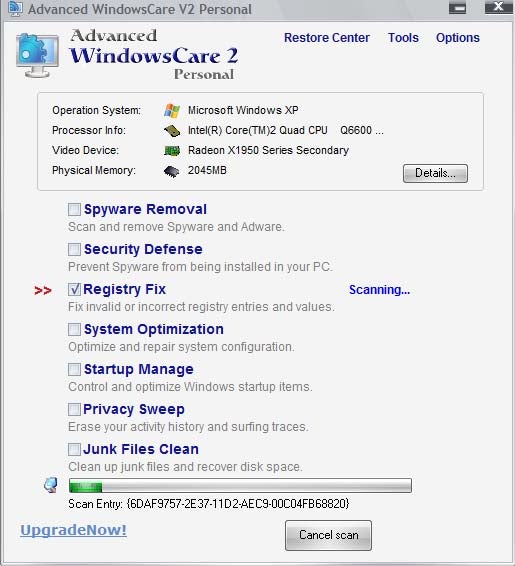 Though Advanced WindowsCare found 323 Registry issues, about the same number as jv16 PowerTools picked up, its presentation of the scanning results was pitiful. Unlike other tools that supplied detailed information about each problem, a choice of fixes, or a way to open the Registry to see the actual entry, Advanced WindowsCare just showed me a list. The program uses a minimalist approach: Each item sports a cautionary orange or red symbol (with no legend), the Registry key location and value, and an error description (obsolete software key or missing MUI reference, for instance). And rather than providing a built-in backup module, Advanced WindowsCare simply offered a menu item that brought me to Windows System Restore.
One more issue: You'll need to pay attention when you install Advanced WindowsCare's free scanner--unless you clear the check boxes, the fool thing will automatically add the Yahoo Toolbar to your system and make Yahoo your Web browser's home page. Not good.
The program supports Windows 2000, XP, and Vista, but I'd recommend it only to advanced users.
jv16 PowerTools
For $30, you can pick up a copy of jv16 PowerTools (a more-complete sibling to the streamlined RegSupreme). In addition to a Registry cleaner and compactor, it has other tools that will tell you all you ever wanted to know about the Registry--but you probably wouldn't use most of them. Among the tools are utilities to manage the Registry, find and replace entries, monitor Registry changes, take a snapshot, and get Registry stats. The collection contains other modules, too, including file finders and cleaners, duplicate finders, and an assortment of system management tools, such as a startup manager and a history cleaner. jv16 PowerTools supports every version of Windows and comes with a full-featured, 30-day trial.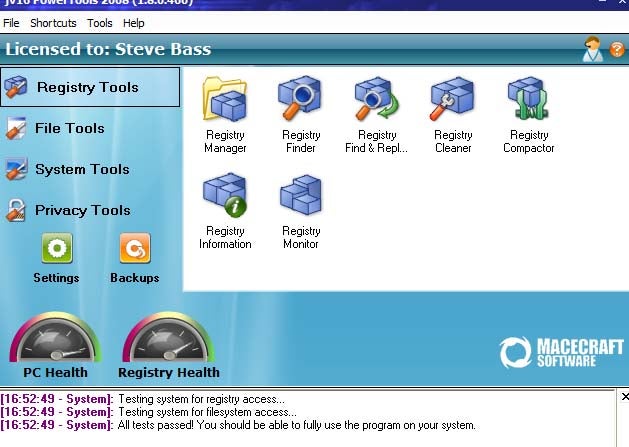 In its aggressive mode, the Registry cleaner in jv16 PowerTools found 392 Registry problems; in its normal mode, it detected 298 problems. The program gave me two ways to fix the problems. The first option was to back up the Registry and let jv16 make all the changes it wanted to--a choice I wasn't happy with and wouldn't use. On the other hand, when I chose the 'Custom fix' alternative, the program forced me to look at each problem one at a time. Other apps, such as Registry First Aid, list all the items and let you select specific entries by checking the boxes beside them, which is much easier. I also wished that the program showed the severity of each problem so that I'd know which ones were important, but it didn't.
jv16 PowerTools' Registry Cleaner component includes a slider bar for you to decide how aggressively you want the tool to scan--safe, normal, aggressive, or very aggressive. After the scan, a report shows a graph with the number of errors, from high to low. The feature is interesting but not terribly valuable, since it doesn't offer any details about how it's identifying the problems.
A nice touch, however, is that the opening series of screens provides helpful tips to use the program--I recommend you read them thoroughly.
One final note: Keeping your system free of unwanted applications with a good uninstaller utility will help eliminate the need for a dedicated Registry cleaner. For a program that's proficient at removing applications, read "Revo: The King of Uninstallers"; you can download Revo from our library.