Page 3 of 3
Say It With Self-Destructing E-Mail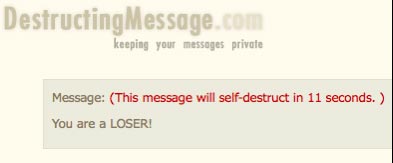 The problem: E-mail is forever. If you fire off an angry or ill-thought-out message, the recipient could hold onto it--and hold it against you--indefinitely.
The trick: Send a self-destructing e-mail message by going to the Web site DestructingMessage. Just specify how much time you want to give the recipient before the message implodes (15 seconds to 5 minutes), write your message, and send it.
The effect: DestructingMessage can send the e-mail anonymously, or you can send a link to the message yourself. Either way, the recipient has a limited time to read it before it's gone for good. If the recipient is quick on her feet, though, she could grab a screen shot before it's gone forever.
Go Straight to Voicemail
The problem: Everybody's been there. You'd rather leave a voicemail than deal with a drawn-out phone conversation. Or you're a coward with bad news to deliver.
The trick: SlyDial connects you directly with your contacts' voicemail--whether they've got their phone turned on or not. Just dial 267-SLYDIAL, enter the number you want to leave a voicemail with, and then, when prompted, just leave your message.
The effect: SlyDial works exactly as advertised. Use SlyDial gratis as much as you want, but if you tire of the in-call advertising, premium plans get you to voicemail faster and ad-free. SlyDial voicemails, however, do not self-destruct--I guess they haven't thought of that yet.
Spoof Your E-Mail Address

The problem: You want to send e-mail from a bogus account.
The trick: Forge an e-mail address with your desktop e-mail client. In Thunderbird, all you need is a working SMTP server and a fake account. As long as the SMTP server can send e-mail without requiring authentification, you can use your fake e-mail address as much as you want.
The effect: To most people, your spoofed e-mail will appear indistinguishable from a real one. The catch: You won't get any replies, and a look at the message's headers can reveal to the recipient that you're using an unusual SMTP server for that e-mail address.
Browse the Net Without Leaving a Trace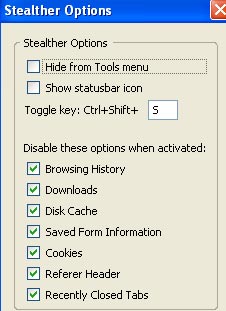 The problem: Web sites you visit are tracked by your Web browser in several ways that aren't immediately obvious--such as browser history, cookies, or cached files. Whether you're doing some online shopping on a shared computer or visiting Web sites that are, let's say, embarrassing, it's hard to make sure that a browsing session doesn't leave a trace.
The trick: Go off the record when you want browsing privacy with the Stealther Firefox extension. Enabled, Stealther makes sure that your browsing history, downloads, disk cache, saved form information, and cookies aren't saved to your browser.
The effect: Stealther works in every respect. Whenever you want to go off the record with your browsing, just go to Tools, Stealther. When you're ready to go back on the record (after all, browser history and cookies can be very useful), just turn off Stealther. Muahahahahaha!!!