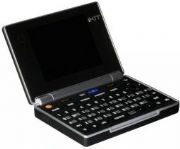 IMOVIO launched today a smaller alternative to a subnotebook -- much smaller. The new iKIT is about the size of a PDA from ten years ago, but has a QWERTY keyboard and connects to the Internet at 3G speeds via your cell phone or Wi-Fi.
The $175 Linux-based system has a Webcam built in, as well as a range of applications, including Web browsing, e-mail and IM.
It can connect to the Internet using a standard Wi-Fi connection, or it can use your cell phone's mobile broadband connection via Bluetooth.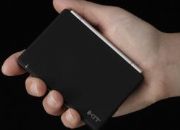 The company is currently pitching it to mobile network operators and retail stores.
It's being compared to the ill-fated Palm Foleo. But the comparison doesn't work because the Foleo was Palm-phone only, didn't fit in a pocket and cost well over three times the price of the iKIT.
Would YOU carry a second device (in addition to your cell phone) like this?
(This article originally appeared on Computer world as a blog. For more content from Mike Elgan visit his blog The World Is My Office)
This story, "Call it a 'Sub-Subnotebook.' New 'PC' is Small as a Cell Phone!" was originally published by Computerworld.