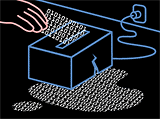 There are no problems with West Virginia's touchscreen e-voting machines, despite concerns from several voters who said last week that the machines they used "switched" their votes to another candidate.
That's the view of West Virginia Secretary of State Betty Ireland, who held a news conference in Charleston on Wednesday to give her response to the problems allegedly experienced by at least two voters.
"Recent news reports indicated that a handful of voters had difficulty selecting their candidate of choice during the first few days of early voting," Ireland said in a statement. "However, all voters acknowledged that they were eventually able to select their candidate of choice and cast their ballot accurately. Further, more than 35,000 West Virginians have successfully cast ballots in the early voting process, which started October 15, with only few reported problems."
(Relate:What Google Could Gain From An Obama White House)
Ireland said that after hearing of the problems in Jackson and Putnam counties her office contacted those county clerks and advised them to examine and recalibrate their machines "to ensure that a touch of the screen made the appropriate selection" for the voters.
The county clerks, as well as representatives of Election Systems & Software, the Omaha, Neb.-based makers of the iVotronic touchscreen machines used throughout the state, inspected the machines and determined that they were working properly, Ireland said.
Ireland also directed the county clerks in all of the state's 55 counties to re-calibrate their machines each morning during early voting, which runs until Nov. 1, and on Election Day, Nov. 4, according to an Associated Press report. Ireland blamed poorly calibrated machines and "voter error" for the complaints, the report said.
She reminded voters that they should contact a pollworker if they have any problem using an e-voting machine and that they should also carefully confirm their candidate choices on the accompanying paper receipt attached to each iVotronic machine.
Voters can ask for help and "keep that poll clerk there until the voter is satisfied they have cast their vote as they intended. This may include moving to another machine, if that is the voter's wish," she said.
The Nov. 4 election will be the fourth one in the state using the e-voting machines.
"We know our state and our entire nation are fully engaged in this year's elections-possibly as never before - and that's a good thing," Ireland said. "At a time when our military is at war, and our economy is seeking stability, we fully realize that partisan politics are running deep, and emotions are running high. But I can assure you, without reservation, that those who are involved in the process of elections in West Virginia are fiercely dedicated to having a good election, no matter what his or her political affiliation may be-on that goal, we are truly united."
"As West Virginia's Secretary of State, and this state's Chief Election Official, I would never expose our citizenry to equipment that I thought was faulty, or a machine that would alter your vote in any manner. So today, I call on everyone, Republicans, Democrats, Mountain Party Members, and Independents alike, and the media to work together to help make this election a successful process. And when our nation's 2008 election cycle has been completed, let's put this one in the record books with pride - because we ran a good, fair and clean election in the state of West Virginia."
Ireland could not be reached for comment today.
(Ths article originally appeared as a blog at Computerworld's Tweiss Weekly)
This story, "W. Virginia Reassures Voters About e-Voting Machines" was originally published by Computerworld.