15 Tools to Make Your PC a Multimedia Powerhouse
Your PC has become the greatest entertainment device ever created, but you wouldn't know that judging by the software that ships with the machine. Bundled media players, and related software for playing and managing audio and video, tend to be underwhelming at best.
We've assembled 15 of our favorite video and audio applications, all of which can handle just about any job you can throw at them. The vast majority of these downloads are completely free, and the others offer no-cost trials.
They'll help you download YouTube videos to your PC, or convert videos to formats that you can view on handheld devices. They'll play any audio and video formats you can find. They'll make you into a DJ and allow you to create your own customized mixes, too. So if you want to get the most out of the entertainment device on your desk, read on--and start downloading. (And if you want to access all of these tools in one convenient place, hop to our audio and video downloads collection.)
Video
Want to download YouTube videos to your computer, convert video files to formats that you can view on portable players, find the best videos online, or watch TV from around the world? We have software that does all that, and a lot more.
TubeMe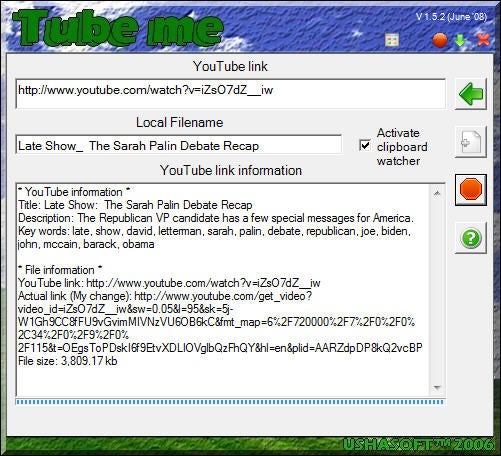 How many times have you watched a YouTube video and wished that you could save it to your hard drive for future viewing? With this free software, you can save YouTube videos as .flv files; afterward, you can watch the videos in any multimedia software that supports the .flv format (such as FLV Player or VLC Media Player, both discussed below). Before downloading the videos, you get a full description of them, as well.
Be aware that using this program can be a bit confusing. Make sure to click the Download path button, at the bottom of the screen, to tell the program where to download your videos. And to download the video, you'll have to copy and paste the YouTube URL into the program. After that, click the icon with a small plus sign; it looks grayed-out, as if it were nonfunctional, but it does work. Once you've added the link, you can download the video. You can also put multiple videos in a list, and download them all at once.
Download TubeMe | Price: Free
FLV Player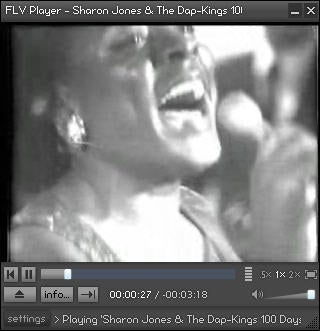 If you've downloaded YouTube videos using TubeMe or another downloader, or if you've collected other files in the .flv format, you may run into a problem: Many media players, including Windows Media Player, can't handle them. FLV Player is a straightforward media player designed to play .flv files exclusively. To access a video, press Ctrl-O, browse to the file, and open it, or else double-click the .flv file from inside Windows Explorer. You can also drag and drop files into the player. The software even handles multiple .flv files: Simply drag several files to the program, and the app plays each video in its own window.
You can control video playback through the usual controls, or with a variety of keyboard shortcuts. You can also toggle between full-screen mode and normal mode. Note that you may run into problems installing the software on Windows Vista. If that happens to you, right-click the installation file and choose Run as Administrator. That should solve the problem.
Download FLV Player | Price: Free
Any Video Converter Free Version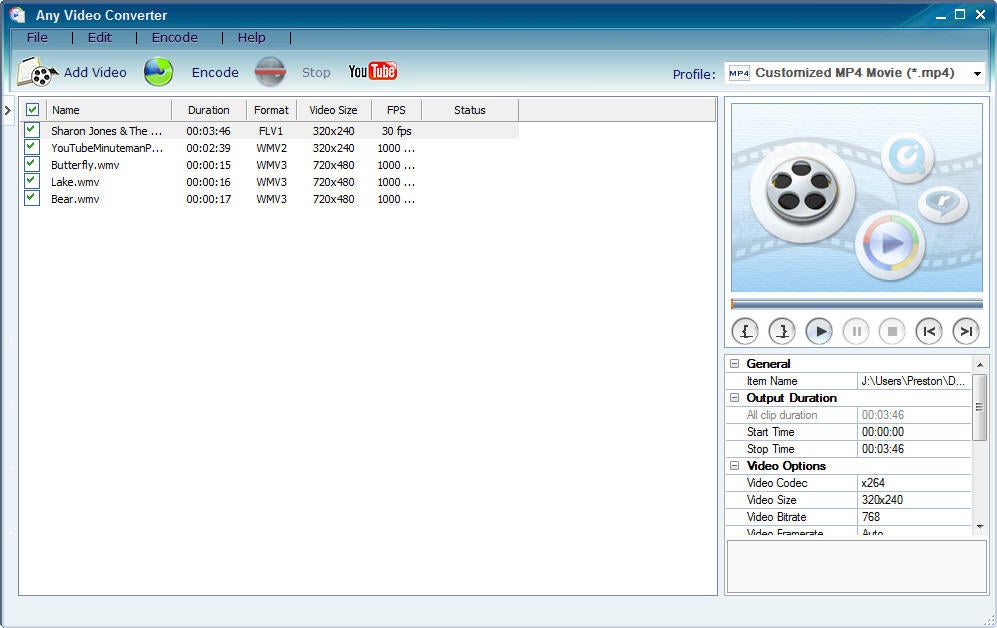 Playing video these days is no longer confined to your PC--countless other devices can play video as well, including handheld devices and music players, mobile phones, and the PlayStation Portable (PSP). The problem, though, is that if you've downloaded videos to your PC, they might not be in the formats your devices require.
This free application will convert files from and to many different formats, including just about any that you find online. It even handles .flv files, so you could, for example, download YouTube videos using TubeMe and then convert them to a format suitable for your portable device.
Converting files is simple: Just select the videos you want to convert (you can do it en masse), choose the format you want, and then click the Encode button.
Download Any Video Converter Free Version | Price: Free
VLC Media Player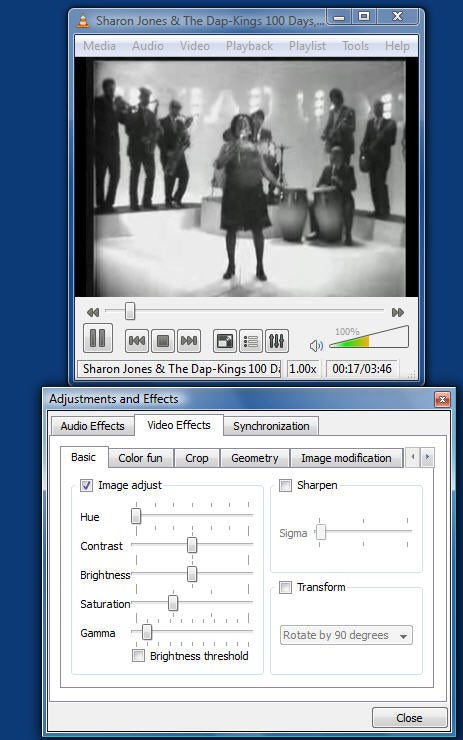 Looking for a media player that will take on every audio and video format you've ever encountered, and many you've probably never seen--and that gives you plenty of extras as well? Then you'll want to grab this great free piece of open-source software. With some media players (such as Windows Media Player), if you want to play files in certain formats, you have to download a specific codec. In many other instances, you can't play particular formats at all. But VLC will handle just about any format you can throw at it.
It presents a simple, stripped-down interface, but offers advanced features if you dig deeply enough. When you're playing a video, for example, you can adjust the image in many ways. Similarly, a nice graphic equalizer lets you tweak audio effects. Even so, the extras don't interfere with the application's clean looks. And unlike many other multimedia players, VLC won't hog RAM or system resources.
Download VLC Media Player | Price: Free
BearFlix Basic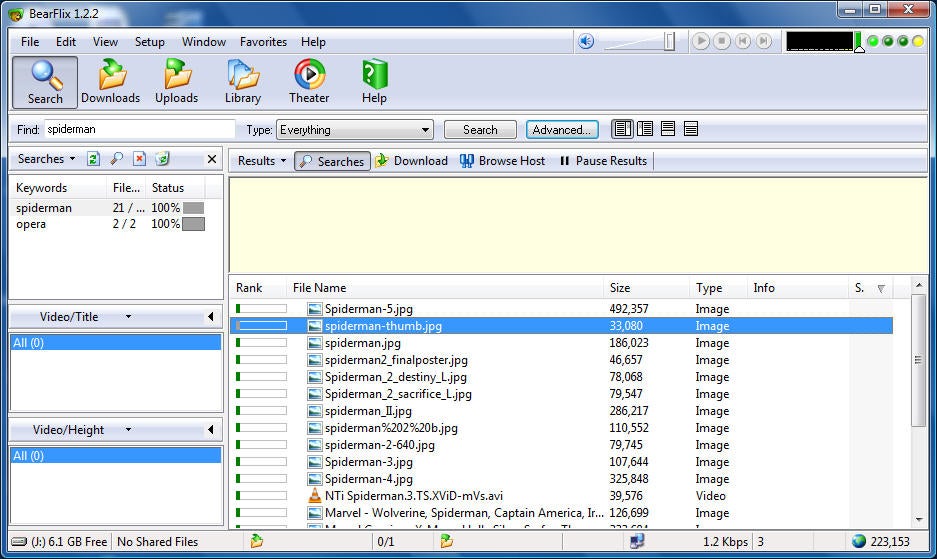 If you're fond of discovering videos online, downloading and playing them, and sharing them with others, you'll appreciate this simple-to-use file-sharing client that works on the Gnutella sharing network. It looks much like the popular BearShare, and with good reason--they're created by the same company.
Searching for a video is simple. Type in your search term or terms, peruse the results, and then decide which ones you want to download. You can manage and queue downloads, pause them, resume them, and so on. The program looks and works much like many other file-sharing clients.
The Theater feature, which lets you view the downloaded videos, is convenient. However, you may want to use it primarily to preview your videos (to make sure you've downloaded the ones you want), and then use your favorite video player for the actual viewing.
If you're a parent, be careful with this program. As with all file-sharing software, the files you find may have adult content. Also, when you install the software, it will ask whether you want to make BearFlix your Web home page. Unless you agree to that, be sure to click the Decline button.
Download BearFlix Basic | Price: Free
GOM Media Player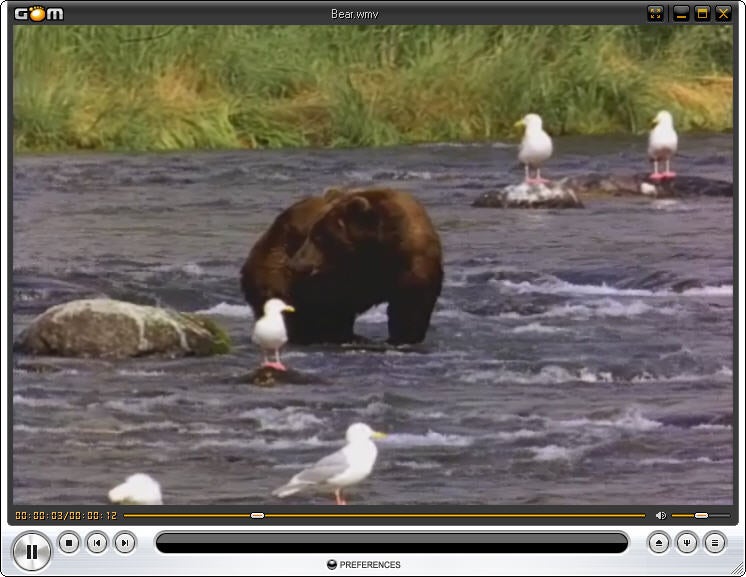 This excellent, free media player is particularly well suited for playing videos, because it supports a wide range of formats. It plays all the usual suspects, plus many other formats that media players often can't handle, such as DivX, .flv, XviD, and others. In addition, it sports some nifty features for video viewing, including the ability to change the brightness, contrast, and saturation. It has an audio equalizer for improving sound, too.
One particularly nice touch is that during installation the program asks you to indicate how you'll use it: for general-purpose viewing, for high-quality displays (if you own a powerful graphics card and a high-resolution monitor), or with TV output (if you plan to connect your PC to a television and use it there). Most people will choose the normal mode.
Note that the installation program will install the Google Toolbar for Internet Explorer unless you instruct it not to, so during installation make sure to uncheck the box if you don't want that addition.
Download GOM Media Player | Price: Free
DivX for Windows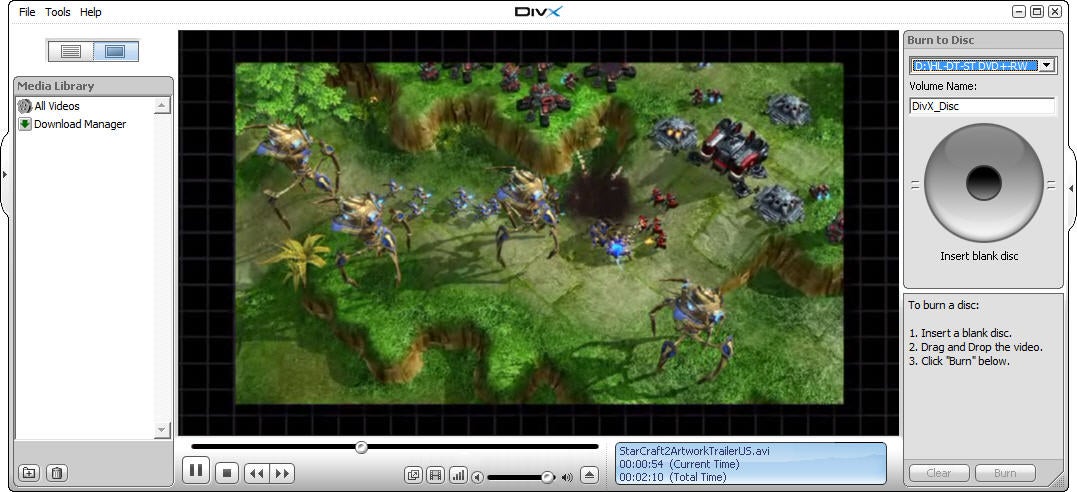 If you've downloaded videos from the Internet, you may have come across the DivX format, which has become popular because it can compress video a significant amount and reduce the size of the files, yet retain high visual quality. That format has one problem, though: Popular media players (such as Windows Media Player) don't support it, and as a result you may have difficulty playing DivX videos.
This free player handles DivX videos, and gives you all the controls you expect in a video player, including pause, resume, forward, back, and full-screen toggle. You can also manage your video library, and burn videos to disc. Included as well is a Web DivX player for running videos inside a browser.
Note that when the program installs, it asks whether to install the Yahoo Toolbar, so be sure to uncheck the box if you don't want that add-on. A for-pay version of the software offers extra capabilities, such as enhanced audio and video and the ability to convert other video formats to DivX.
Download DivX for Windows | Price: Free
Online TV Player Basic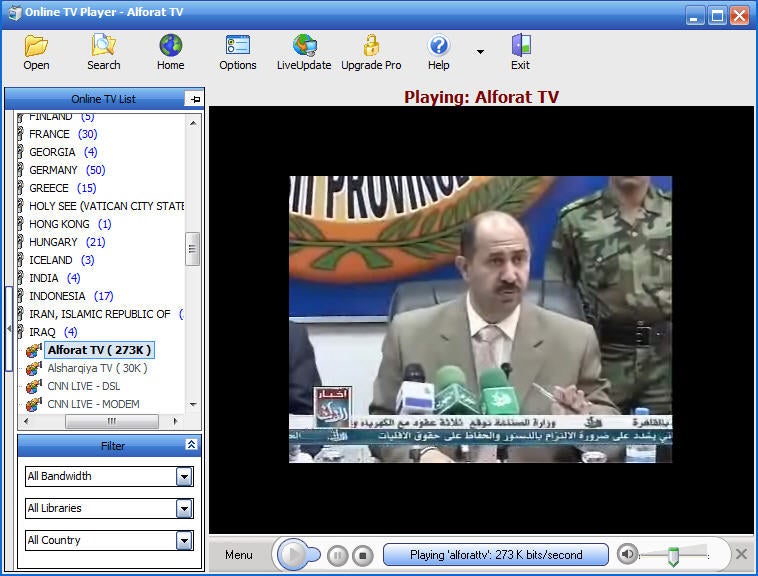 Wonder what's playing on TV right now in Albania? How about in Indonesia, Italy, Peru, or just about anywhere else? This great freebie lists hundreds of TV stations--from Afghanistan to Vietnam--that broadcast online, and it lets you watch them for free. Simply run the software, browse the list of TV stations around the world, and double-click one, and it starts playing. The application tunes in radio stations around the world as well.
Keep in mind that not all of the TV stations listed as available are actually live; on occasion you may come across one that isn't broadcasting. But that's a small quibble. This is a terrific program for connecting to TV stations almost everywhere.
Download Online TV Player Basic | Price: Free
Audio
Your PC's bundled audio player has plenty of limitations. For starters, it can't help you create your own music or turn you into a DJ, and it likely can't play a large variety of music formats. The following downloads will fill all of those gaps, and they can do more than a few other tricks, too.
Audacity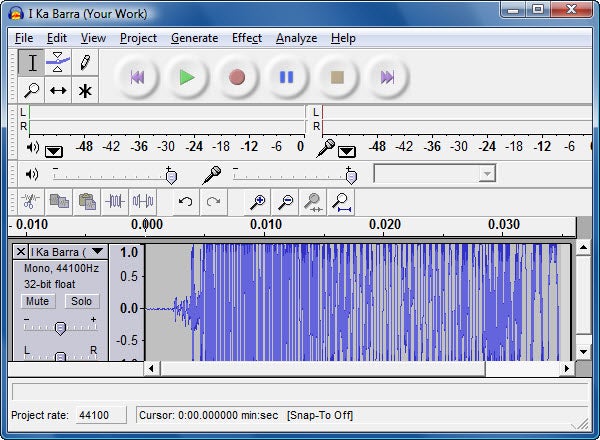 Tired of merely listening to music, and itching to create it as well? This free, open-source software is both a sound recorder and a sound editor, so you can record your music and then edit it. The editing tools are exceedingly sophisticated--in fact, they're probably more sophisticated than you need. You can add any of several dozen sound effects, use a powerful mixer, and more. The app handles MP3, .wav, AIFF, and Ogg Vorbis file formats; you can also use the software to convert files between formats.
Through the powerful editing features you can cut, copy, paste, and delete portions of a recording; use fades; and mix an unlimited number of tracks. You can also generate special sounds and mix them, and create your own "soundscapes." Most people won't need all of Audacity's capabilities, but it's good to know that they're there.
Download Audacity | Price: Free
VirtualDJ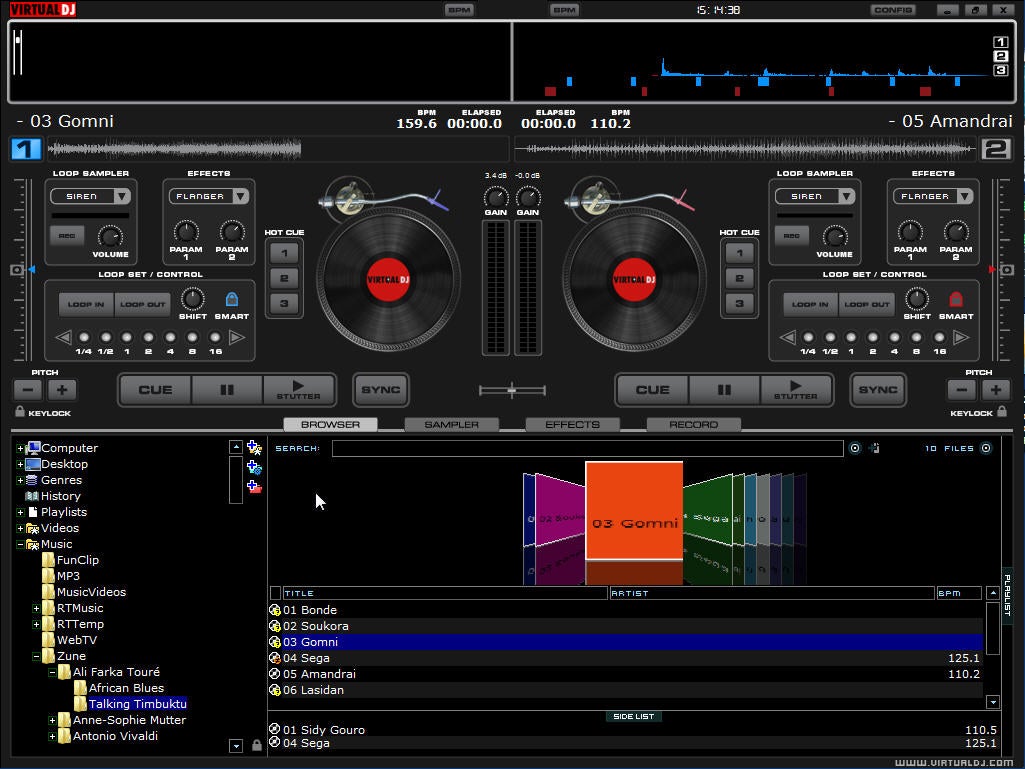 If you're looking to create your own music mixes, normal media players can't help. Instead, you need a program like VirtualDJ, which will let you mix and "scratch" audio files and create remixes. It offers numerous effects and music samples, and employs a turntable-like visual metaphor to do all of your work. Near each virtual turntable you can see your samples, effects, and other tools for assembling your mix. Since the interface has two turntables, you can easily combine and mix two pieces of music. The program will also rip music and burn your mixes to CDs. You can create your own customized video mixes, too.
This software comes in two versions, VirtualDJ HomeEdition and VirtualDJ Pro. Most people will want the less-expensive HomeEdition; it offers all the features of the Pro edition, except that it can't interface with external hardware such as a mixer or a turntable.
Download VirtualDJ | Price: $49 HomeEdition, $299 Pro; free demo
FoxyTunes

If you listen to music while you use your PC and browse the Web, and you're tired of switching between your browser and your music player, you'll want the free FoxyTunes. It lets you control your music player directly from your browser (whether Firefox or Internet Explorer) via a small, discreet toolbar at the lower-right part of your screen. It has all the controls you'd expect, within easy reach. A nice touch is that if your music player clutters your screen, you can tell FoxyTunes to hide the player; you'll still be able to control it through FoxyTunes. The tool also displays the name of the currently playing song, along with album pictures from the Web, if available.
One nifty extra: The software works with the Web-based Yahoo Media Player to play music found on a Web page, as a playlist. In addition, it integrates with the FoxyTunes Planet site--when you click an icon, you see a page that displays information about the song currently playing, including the lyrics.
Download FoxyTunes | Price: Free
Zune Media Player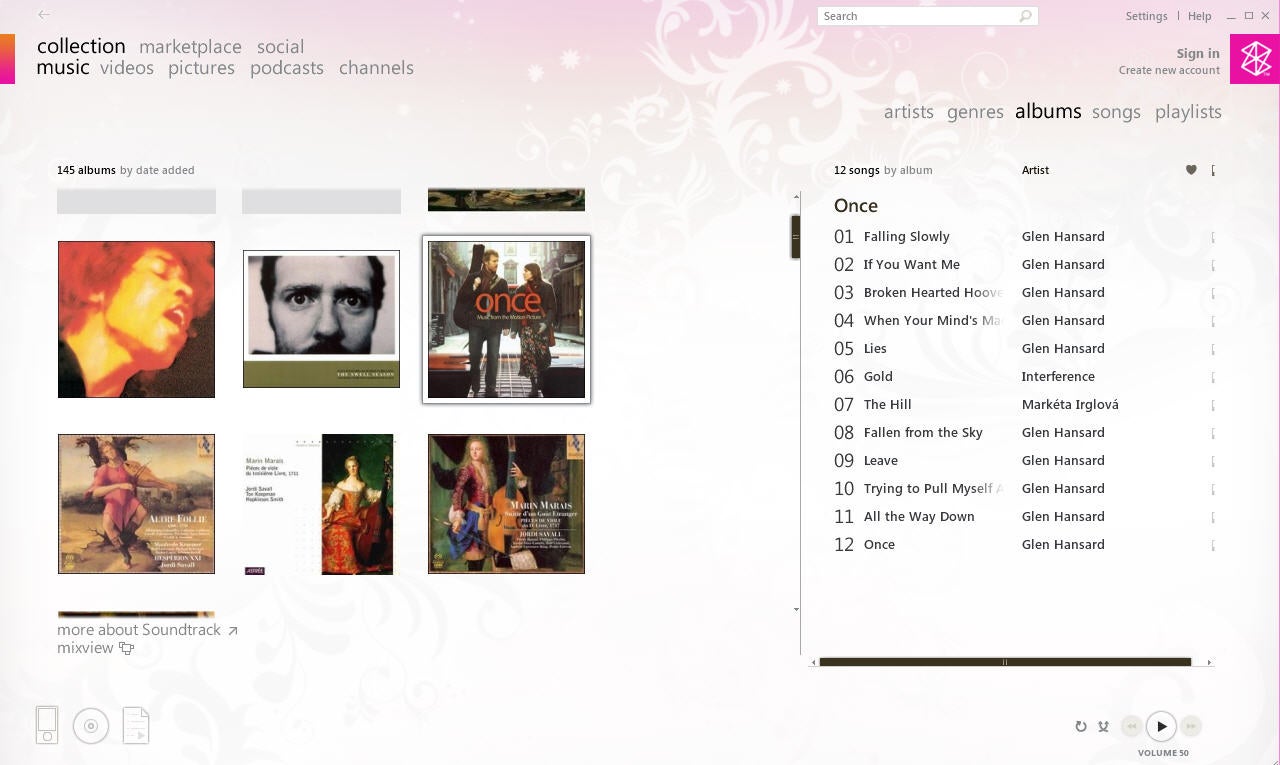 All the world seems to be hooked on iPods and iTunes, but here's a secret: Microsoft has a very good media player as well. And you don't need to own and use a Zune device if you want to use the Zune Media Player, which--like iTunes--handles audio and video files.
It has everything you'd expect in a full-featured media player, including multiple ways to manage your library, as well as the capability to create playlists and rip and burn music. Most interesting, though, are some of its more advanced features. For example, you can participate in what's called the Zune Social Community, and get in touch with other users of the Zune device and Zune Media Player. You'll be able to recommend music and videos, and get other folks' suggestions as well.
The software is free. If you like, though, you can pay $15 per month to download and stream unlimited songs from the Zune Marketplace, an associated online music and video store.
Download Zune Media Player | Price: Free
Foobar2000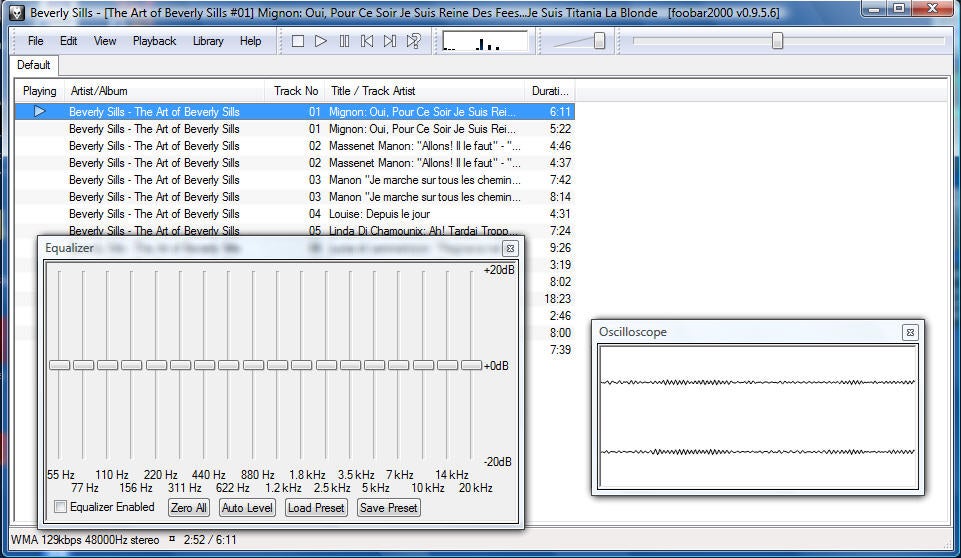 Here's a great audio program for anyone who likes their players lightweight--it won't take up much RAM or system resources, and it won't muck up your screen with frills. But it does a fantastic job at playing audio. For one thing, it handles a wide array of audio formats (including those that many other popular media players don't support), namely MP1, MP2, MP3, MP4, MPC, AAC, Ogg Vorbis, FLAC/Ogg FLAC, WavPack, .wav, AIFF, AU, SND, CDDA, and WMA. If you come across an audio file that Foobar2000 won't play, you can download components that will play additional file formats.
The application offers a lot more as well, including an equalizer and the ability to rip CDs. You can convert files between audio formats, too, and the app also does a nice job of handling tags for files.
Anyone who gets audio files from assorted sources will welcome one of its better features, ReplayGain. Files from different sources often have varying volume levels, which means you often have to adjust the volume whenever a new file starts playing. ReplayGain automatically normalizes them, playing them all back at a similar volume.
Downloads can give you even more advanced features, such as the ability to do a binary comparison between two files to see whether they are identical. Even so, Foobar2000 is missing one thing: the ability to burn CDs. So if you're hunting for disc-burning software, look elsewhere.
Download Foobar2000 | Price: Free
WinAmp Full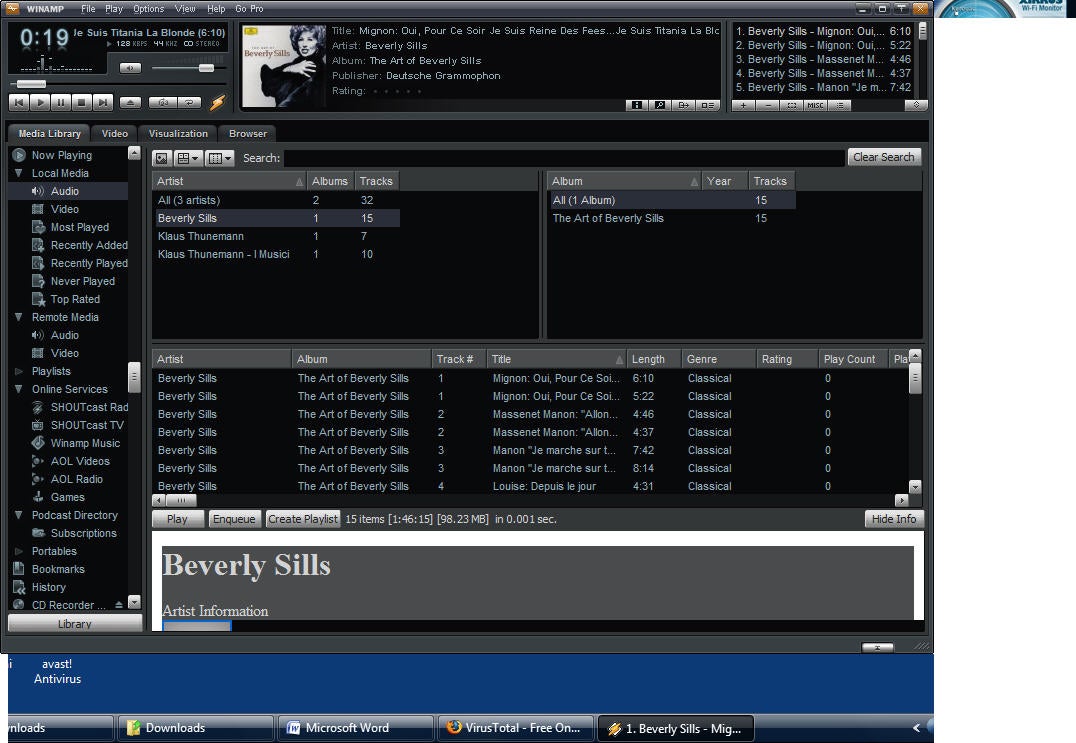 Yes, we know, this software has been around from here to forever. But there's good reason for that--it's a great audio player. Unlike some other jukebox software, it doesn't take up much hard-drive space, and it's simply designed and straightforward to use.
You get plenty of skins to customize its looks, plus a podcast directory for easily tracking and managing the podcasts you download. It plays videos as well as music, and users who like to be entertained while they listen to music can enjoy the visualizations. Also very useful is its ability to play AOL's Shoutcast radio stations.
The program is lacking some functionality, however. You can't rip CDs to MP3 files, for example, and you can burn audio CDs with it only eight times. You'll have to pay $20 for the pro version to get around those problems.
Be aware that when you install this software it will set WinAmp Search as your default search engine, and it will sign you up for a free trial in the eMusic music service, so make sure to uncheck the boxes next to those options if you don't want them.
Download WinAmp Full | Price: Free
Ashampoo Burning Studio 8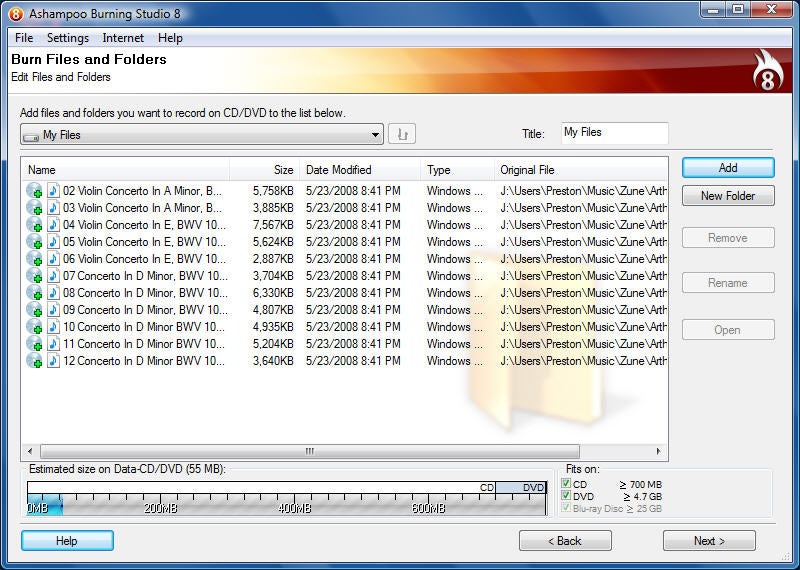 If you want to rip or burn music or videos, and you're willing to pay for powerful features, give this software a try. It'll do just about everything you need, including burning audio, data, and video CDs, DVDs, and Blu-ray discs; copying CDs and DVDs; and burning movies and photos. It will also create covers, labels, and booklets, and it's great for creating data discs (including for backups).
If all you want to do is burn ordinary CDs and DVDs, you don't care about extras such as designing and printing disc labels and covers for jewel cases, and you don't need to create animated DVD slide shows with music, you don't need this software--your bundled, free burning software will do just fine. But if you're seeking a program stuffed with extra features, this is a good one to get.
Download Ashampoo Burning Studio 8 | Price: $50; free trial