15 Tools to Make Your PC a Multimedia Powerhouse
Page 3 of 3
Audio
Your PC's bundled audio player has plenty of limitations. For starters, it can't help you create your own music or turn you into a DJ, and it likely can't play a large variety of music formats. The following downloads will fill all of those gaps, and they can do more than a few other tricks, too.
Audacity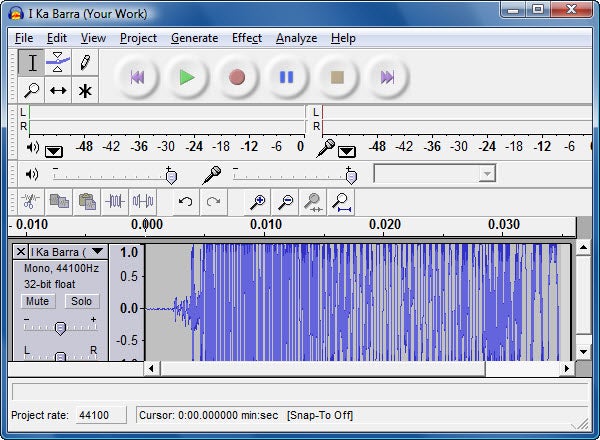 Tired of merely listening to music, and itching to create it as well? This free, open-source software is both a sound recorder and a sound editor, so you can record your music and then edit it. The editing tools are exceedingly sophisticated--in fact, they're probably more sophisticated than you need. You can add any of several dozen sound effects, use a powerful mixer, and more. The app handles MP3, .wav, AIFF, and Ogg Vorbis file formats; you can also use the software to convert files between formats.
Through the powerful editing features you can cut, copy, paste, and delete portions of a recording; use fades; and mix an unlimited number of tracks. You can also generate special sounds and mix them, and create your own "soundscapes." Most people won't need all of Audacity's capabilities, but it's good to know that they're there.
Download Audacity | Price: Free
VirtualDJ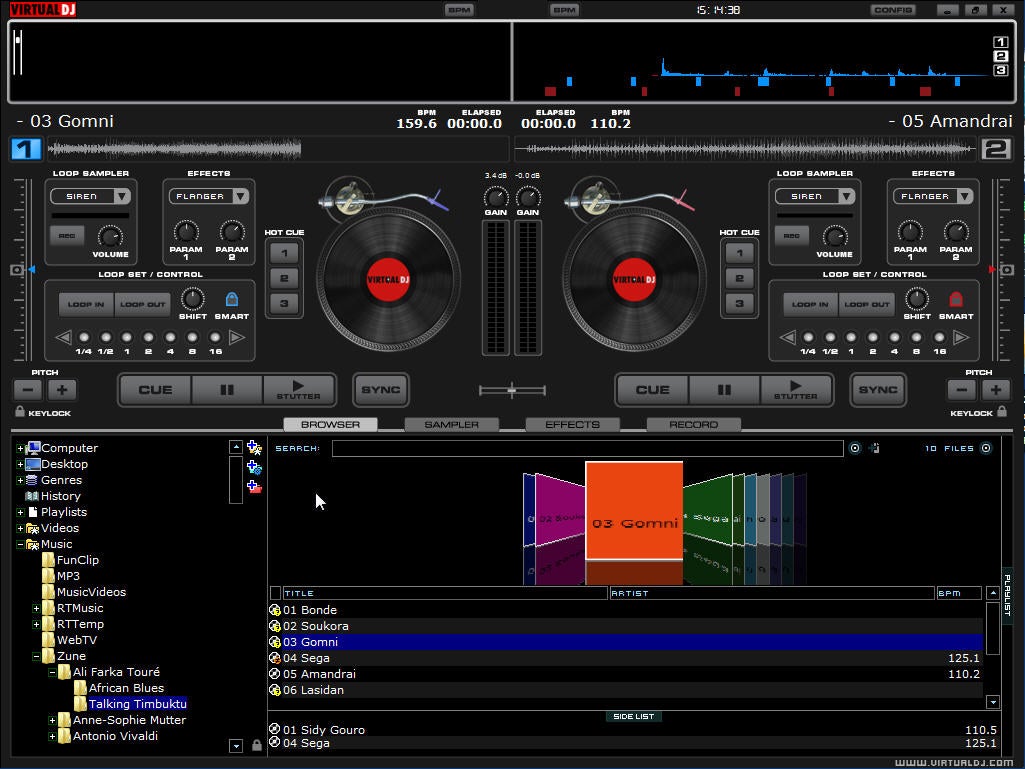 If you're looking to create your own music mixes, normal media players can't help. Instead, you need a program like VirtualDJ, which will let you mix and "scratch" audio files and create remixes. It offers numerous effects and music samples, and employs a turntable-like visual metaphor to do all of your work. Near each virtual turntable you can see your samples, effects, and other tools for assembling your mix. Since the interface has two turntables, you can easily combine and mix two pieces of music. The program will also rip music and burn your mixes to CDs. You can create your own customized video mixes, too.
This software comes in two versions, VirtualDJ HomeEdition and VirtualDJ Pro. Most people will want the less-expensive HomeEdition; it offers all the features of the Pro edition, except that it can't interface with external hardware such as a mixer or a turntable.
Download VirtualDJ | Price: $49 HomeEdition, $299 Pro; free demo
FoxyTunes

If you listen to music while you use your PC and browse the Web, and you're tired of switching between your browser and your music player, you'll want the free FoxyTunes. It lets you control your music player directly from your browser (whether Firefox or Internet Explorer) via a small, discreet toolbar at the lower-right part of your screen. It has all the controls you'd expect, within easy reach. A nice touch is that if your music player clutters your screen, you can tell FoxyTunes to hide the player; you'll still be able to control it through FoxyTunes. The tool also displays the name of the currently playing song, along with album pictures from the Web, if available.
One nifty extra: The software works with the Web-based Yahoo Media Player to play music found on a Web page, as a playlist. In addition, it integrates with the FoxyTunes Planet site--when you click an icon, you see a page that displays information about the song currently playing, including the lyrics.
Download FoxyTunes | Price: Free
Zune Media Player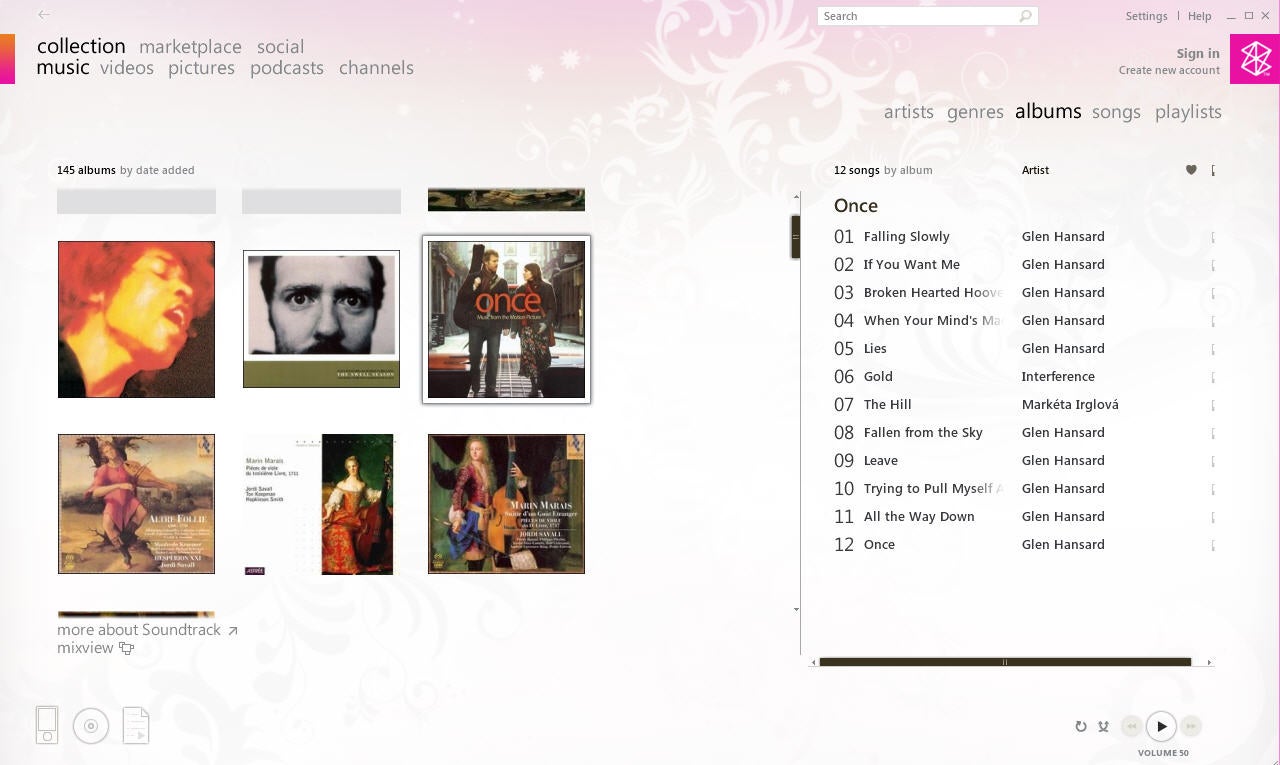 All the world seems to be hooked on iPods and iTunes, but here's a secret: Microsoft has a very good media player as well. And you don't need to own and use a Zune device if you want to use the Zune Media Player, which--like iTunes--handles audio and video files.
It has everything you'd expect in a full-featured media player, including multiple ways to manage your library, as well as the capability to create playlists and rip and burn music. Most interesting, though, are some of its more advanced features. For example, you can participate in what's called the Zune Social Community, and get in touch with other users of the Zune device and Zune Media Player. You'll be able to recommend music and videos, and get other folks' suggestions as well.
The software is free. If you like, though, you can pay $15 per month to download and stream unlimited songs from the Zune Marketplace, an associated online music and video store.
Download Zune Media Player | Price: Free
Foobar2000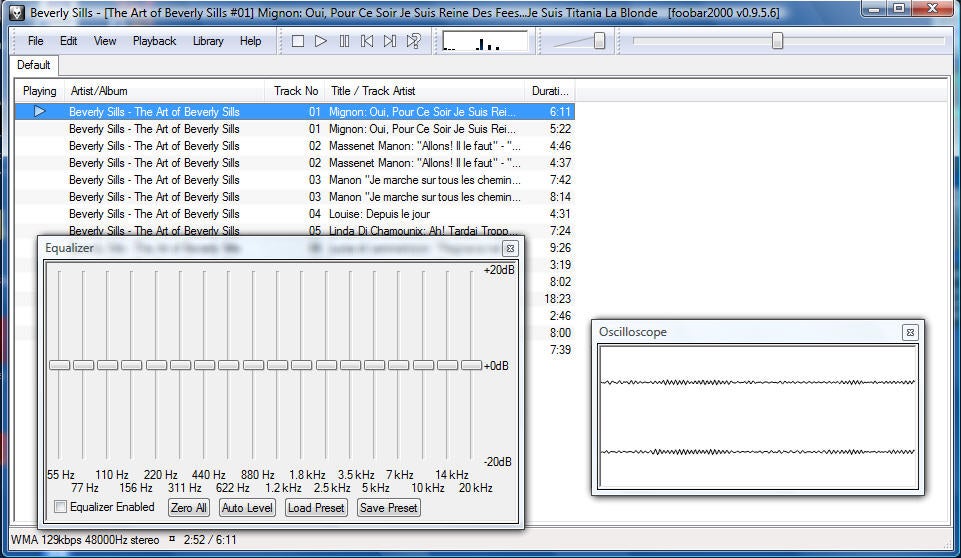 Here's a great audio program for anyone who likes their players lightweight--it won't take up much RAM or system resources, and it won't muck up your screen with frills. But it does a fantastic job at playing audio. For one thing, it handles a wide array of audio formats (including those that many other popular media players don't support), namely MP1, MP2, MP3, MP4, MPC, AAC, Ogg Vorbis, FLAC/Ogg FLAC, WavPack, .wav, AIFF, AU, SND, CDDA, and WMA. If you come across an audio file that Foobar2000 won't play, you can download components that will play additional file formats.
The application offers a lot more as well, including an equalizer and the ability to rip CDs. You can convert files between audio formats, too, and the app also does a nice job of handling tags for files.
Anyone who gets audio files from assorted sources will welcome one of its better features, ReplayGain. Files from different sources often have varying volume levels, which means you often have to adjust the volume whenever a new file starts playing. ReplayGain automatically normalizes them, playing them all back at a similar volume.
Downloads can give you even more advanced features, such as the ability to do a binary comparison between two files to see whether they are identical. Even so, Foobar2000 is missing one thing: the ability to burn CDs. So if you're hunting for disc-burning software, look elsewhere.
Download Foobar2000 | Price: Free
WinAmp Full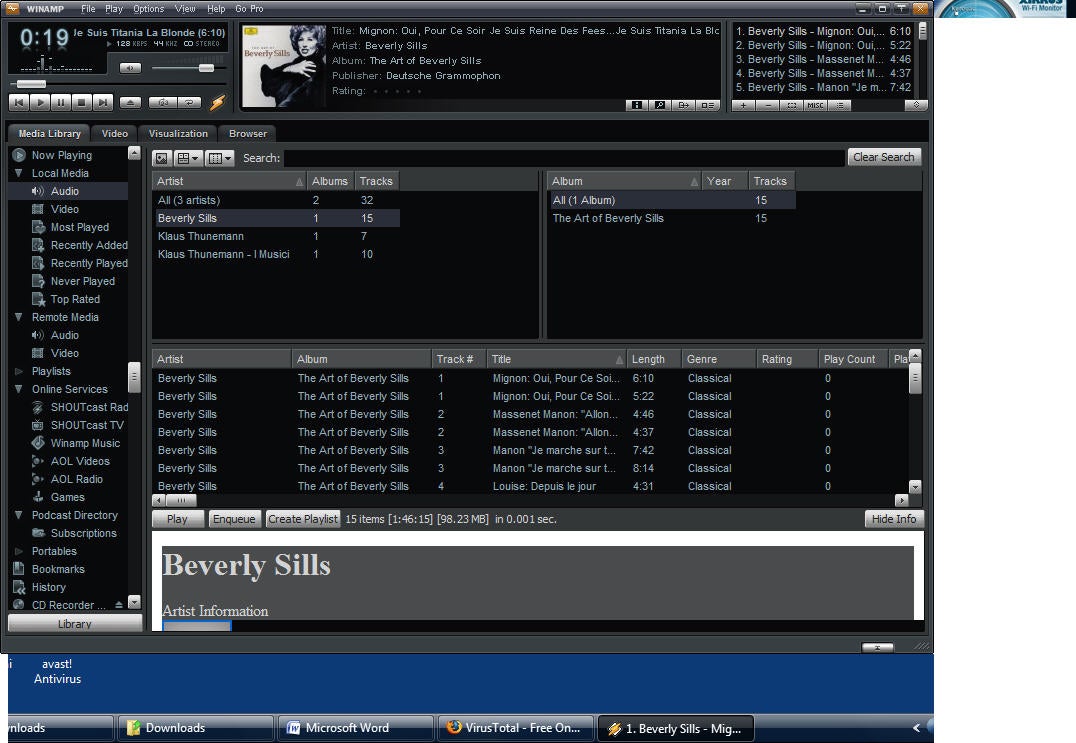 Yes, we know, this software has been around from here to forever. But there's good reason for that--it's a great audio player. Unlike some other jukebox software, it doesn't take up much hard-drive space, and it's simply designed and straightforward to use.
You get plenty of skins to customize its looks, plus a podcast directory for easily tracking and managing the podcasts you download. It plays videos as well as music, and users who like to be entertained while they listen to music can enjoy the visualizations. Also very useful is its ability to play AOL's Shoutcast radio stations.
The program is lacking some functionality, however. You can't rip CDs to MP3 files, for example, and you can burn audio CDs with it only eight times. You'll have to pay $20 for the pro version to get around those problems.
Be aware that when you install this software it will set WinAmp Search as your default search engine, and it will sign you up for a free trial in the eMusic music service, so make sure to uncheck the boxes next to those options if you don't want them.
Download WinAmp Full | Price: Free
Ashampoo Burning Studio 8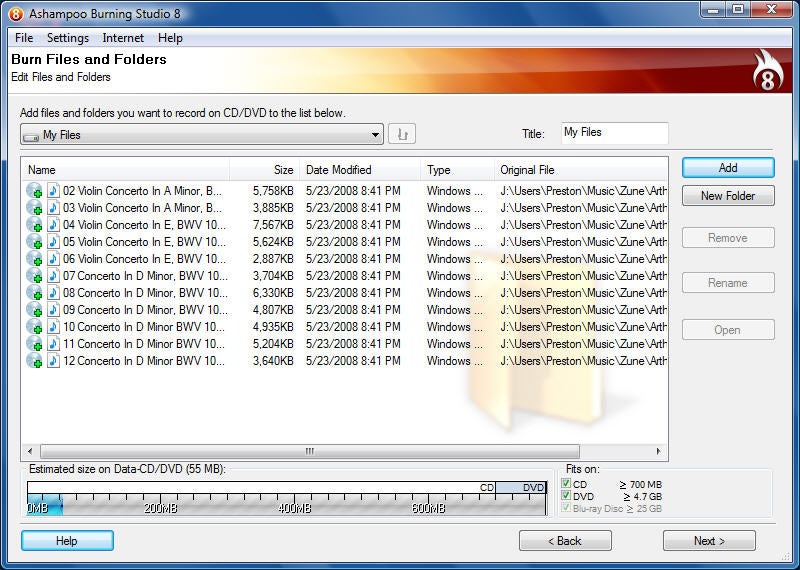 If you want to rip or burn music or videos, and you're willing to pay for powerful features, give this software a try. It'll do just about everything you need, including burning audio, data, and video CDs, DVDs, and Blu-ray discs; copying CDs and DVDs; and burning movies and photos. It will also create covers, labels, and booklets, and it's great for creating data discs (including for backups).
If all you want to do is burn ordinary CDs and DVDs, you don't care about extras such as designing and printing disc labels and covers for jewel cases, and you don't need to create animated DVD slide shows with music, you don't need this software--your bundled, free burning software will do just fine. But if you're seeking a program stuffed with extra features, this is a good one to get.
Download Ashampoo Burning Studio 8 | Price: $50; free trial
Shop Tech Products at Amazon