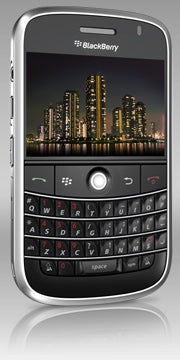 AT&T stores Tuesday began selling the new BlackBerry Bold smart phone for US$300, after a $100 mail-in rebate and a commitment to a two-year voice and data plan.
The phone operates exclusively in the U.S. on AT&T networks, including its 3G service over HSDPA, which is available in 320 cities, AT&T officials said in a statement. It also comes with GPS and Wi-Fi. The device is also available online from AT&T.
(Check out PC World's review of the BlackBerry Bold)
An AT&T spokesman said three hours after sales began on the East Coast that he had no reports of problems with set-up or network access. Lines to buy the device were not expected, analysts said, since the Bold is one of several new smart phones to hit the market in recent months.
While Apple Inc. stores saw long lines for the iPhone 3G when it arrived in stores in July, there were short lines at nearly all locations for the first day of sales of the T-Mobile G1, which runs on the Android operating system, when it went on sale last month.
Jeff Bradley, senior vice president for devices at AT&T Wireless called the Bold the "best BlackBerry smart phone ever," noting in a statement that it has a variety of pre-loaded applications such as AT&T Navigator, Yellowpages.com Mobile and access to music and video clips. AT&T has described the device as a well-rounded handset for business and consumer users with access to e-mail, voice, Web browsing and features such as music and video.
There are 18 applications focused on business users, who work in such areas as health care, financial services, field sales and service and CRM, AT&T said. Bold also works with the BlackBerry Enterprise Server, offering IT administration and security for Lotus Domino, Exchange and Novell GroupWise, as well as BlackBerry Professional, an application for smaller businesses. The Bold also uses the supports the BlackBerry Internet Service, offering push-based e-mail for as many as 10 email accounts.
The Bold is black with a chrome frame and a VGA display with a full QWERTY keyboard for fast typing. It comes with a 624 Mhz processor, 1GB of internal storage and a 16GB expansion slot, and a 2-megapixel camera.
Customers who buy an unlimited data plan with the Bold (starting at $30 a month) can get free AT&T Wi-Fi service at 17,000 locations, including Starbucks outlets. Voice and data plans are required for two years with purchase of the phone, and voice plans start at $40 a month.
The Bold was previously known as the BlackBerry 9000.
This story, "BlackBerry Bold Hits Stores" was originally published by Computerworld.