Page 2 of 2
Internet Connection Quality
In addition to running overall speed tests, you can use other tools and tricks to improve your online experience.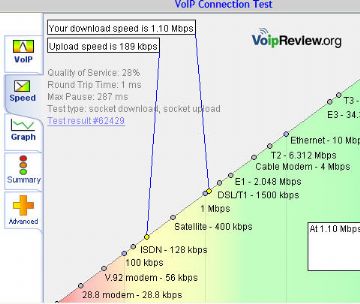 VoIP Speed Test: If you're making phone calls over the Internet, make sure you have the bandwidth--as well as the quality of service--to get decent VoIP sound, using the VoIP Speed Test.
The bandwidth analysis tells you the percentage of VoIP service quality to expect from your connection, as well as the number of concurrent VoIP lines your connection can support.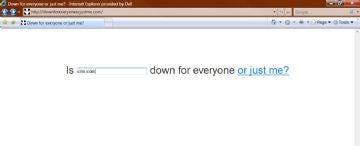 Down for Everyone or Just Me: You head for a Web site, but you get an error. I know you've said it: "Is the site down, or is it my problem?"
Now there's a way to find out. Type a Web site's URL into Down for Everyone or Just Me? (a smartly named site, no?), and it will give you the scoop. Very handy--using it keeps you from bothering coworkers or members of your buddy list.
Fixes for Wi-Fi woes: If you use Wi-Fi, turning your router's Quality of Service (QoS) settings on will definitely help with some applications. For more, see our story "Optimize Wi-Fi for VoIP, Video, and Gaming," which has tips for tweaking the data transmission speeds of your wireless network.
More Internet advice: To give your Internet connection a goose, see "Internet Boosters." And to prepare for the times when your connection gives up the ghost, check out "Five Quick Fixes for Internet Connection Hang-Ups."
Inside Your PC
Not everyone can recite the MAC address of their PC's network card or the driver version for their graphics board (not even me). If your computer is hiccuping, knowing exactly what hardware and system software you have inside your PC is invaluable.
For troubleshooting, being armed with such details is ideal: You can pass them along to tech support, to your computer guru (no, definitely not me), or to an online help forum.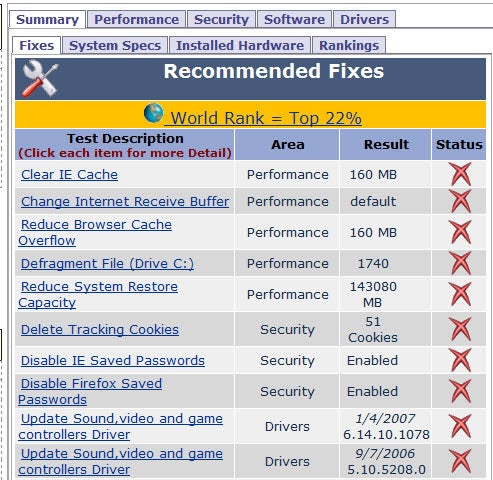 PC Pitstop: If you want to visit just one site to test your PC, I'd recommend PC Pitstop's Full Test. This comprehensive tool not only gives you an unbeatable hardware report but also alerts you to various potential problems that could be harming performance.
After I used it recently on my machine, PC Pitstop recommended 11 fixes, gave me a 35-count list of system specs, provided an even longer list of installed hardware, told me what drivers I needed to upgrade, tallied almost 40 performance results, and--get this--compared my PC's ratings with those of all the other computers that PC Pitstop has tested.
If you create a free account, you can save the reports and refer back to them. One warning: If you have a pop-up or ad blocker, disable it before starting the tests.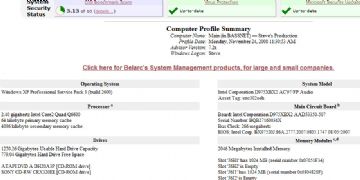 Belarc Advisor: You can put your PC on the couch and run the free Belarc Advisor to obtain an inventory of your system's hardware. But that alone is no big deal. Where Belarc shines is in its comprehensive analysis of the software installed on your PC, including the version numbers.
Equally useful is the report of Microsoft security hotfixes that are missing from your system, as well as the list of software licenses. After you run the scan, save the HTML page in a safe spot so that you can refer to it if the worst happens.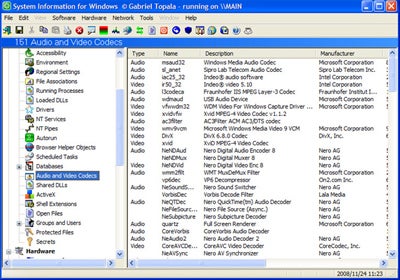 SIW--System Information for Windows: You can ask the SIW tool anything about your PC--it'll give you a list of regional settings or scheduled tasks, or which DLLs are loaded and which are shared. How about which video and audio codecs you have installed, or details about your network or open ports? SIW has everything, offering lists that you can easily access from toolbar shortcuts or from a panel with a hierarchy list.
By the way, because SIW is a stand-alone utility that you don't need to install, it'll run directly from a USB flash drive, a floppy (if you still have one), a burned rescue CD, or a network drive.
Be careful: Unless you uncheck the Add Crawler Toolbar to IE and Firefox box during the installation, SIW will automatically install that toolbar and make it your default search provider. Not a cool thing for such a useful tool to do.
Steve Bass is a former PC World contributing editor who now publishes a weekly newsletter at TechBite.com . Reach him at stevebass@techbite.com.