Page 3 of 3
George Carlin's Seven Dirty Words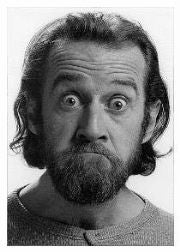 For what it's worth, the Webmail providers are split when it comes to blocking the "seven dirty words" made famous by George Carlin's comedy routine. (Don't click through to this list if you are easily offended. In fact, if you're easily offended, why are you reading this story at all?)
Of the seven that Carlin identifies, we've already covered the one that cost Dr. Libshitz so much grief. Four of the other entries--the two most obviously vulgar four-letter words and the two multisyllable selections--are banned at AOL Mail, Google, Hotmail, and Yahoo. The two remaining words on Carlin's list, curiously enough, are permitted at all four Webmail providers.
Your Name, Not Your Right
So where does all of this leave the Libshitzes and Cockburns--not to mention the Heinie Manushes--of the world? Nine times out of ten, they may just be out of luck.
"As a basic tenet of American law, you do not necessarily have a right to use your name," explains Theodore Claypoole, an attorney specializing in intellectual property and consumer data treatment with the law firm of Womble, Carlyle, Sandridge, and Rice.
Claypoole likens the situation to vanity license plates. States have certain restrictions on what words can and cannot be used. E-mail, he says, is no different: "You may have a right to use your name to describe you. You do not have the right to use your name on anything that you do."
A similar controversy arose a few years ago in connection with official National Football League merchandise. A Louisiana State University professor whose former student Randall Gay had become a cornerback for the New England Patriots was surprised to learn that she couldn't buy a Patriots jersey bearing Gay's surname and number, due to what NFLshop.com termed a "naughty word" violation; later, however, the Web site rescinded that ban. (There was no word on how "New England" managed to pass muster.)
For Herman Libshitz, the issue is less about legality and more about moral standards--standards that he believes are being asserted inconsistently.
"I think it's hypocrisy that they're 'saving us from profanity' by not letting people use their surnames," he says. "I mean, these are the same providers that permit all sorts of pornography to go over their lines. If that's not hypocrisy, I don't know what is."
For now, the situation remains unresolved. Libshitz managed to triumph in his own personal struggle, but his victory hasn't reached far. Future generations will undoubtedly face the same burden of fighting obscenity filters and justifying single syllables--in essence, of struggling to avoid virtual citizenship in an unassuming town in North Lincolnshire, England.
The Lighter Side of PC World
Ready for some more light reading? You might enjoy these articles, too:
Technology for the Obscenely Wealthy
Say Cheese: 12 Photos That Never Should Have Been Posted Online
The Strangest Sites in Second Life
Need to Get Serious?
If you have e-mail problems, one of these stories may help:
Discover These Lesser-Known Web and E-Mail Tools
E-Mail on the Road Even When Blocked by the Locals