Choose Where to Save Downloads in Firefox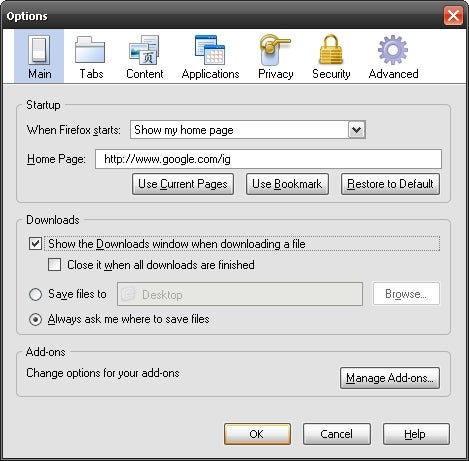 By default, Firefox saves downloaded files to your desktop. But what if you want to save, say, a photo to your pictures folder, or a program to your programs folder? Firefox doesn't give you the option: It just dumps everything to the desktop and forces you to manage your downloads from there.
Fortunately, there's an easy fix. Click Tools, Options, and then click the Main tab. In the Downloads section, you'll see that Save files to Desktop is selected. If you like having a default download location but want to choose something other than the desktop, click Browse and select the desired folder. Otherwise, enable Always ask me where to save files, and then click OK.
That's it! The next time you download a file in Firefox, you'll get a prompt asking where to save it. (Incidentally, this is how Firefox used to work before version 3. Why the change for the worse, Mozilla?)