Page 4 of 5
Get Multimedia Codecs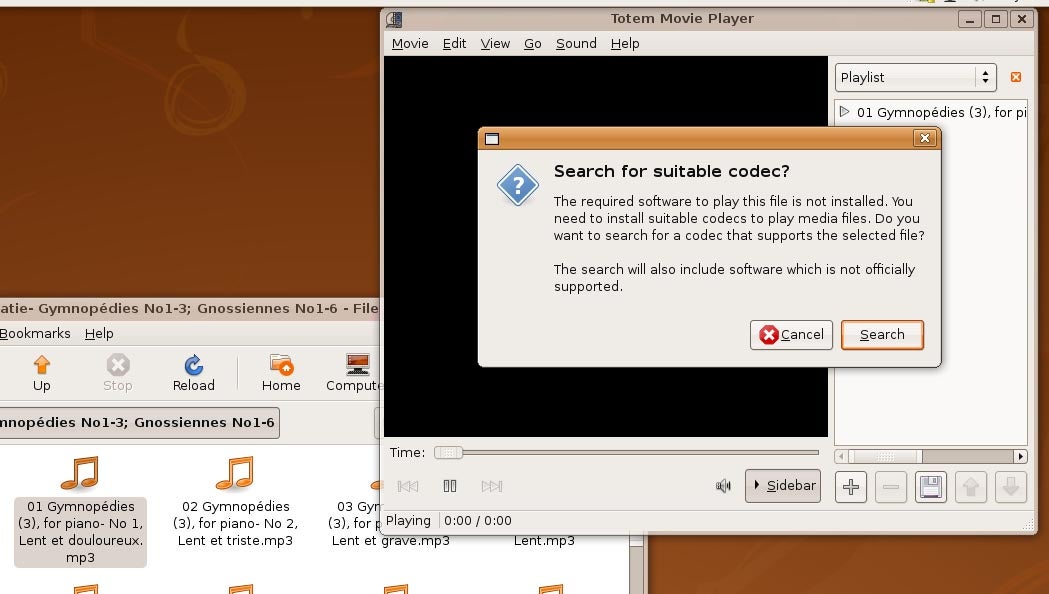 Another thing that Ubuntu can't do straight out of the box (as it were) is play a vast array of media types, including MP3 audio, and MPEG, WMV, and DivX video. The first time you try to play an MP3 file, a helpful dialog box will pop up, prompting you to search for the necessary codecs. Alternatively, you can install them ahead of time by using the Synaptic Package Manager (to open it, choose System, Administration, Synaptic Package Manager). Either way, the package you're looking for is labeled "ubuntu-restricted-extras," and comes chock full of codecs and multimedia helpers, including support for music and video, Java applets, Microsoft's TrueType fonts (which are required to view many Web sites correctly), and DVD playback. Some of these features come with restricted licenses in some countries, but that won't actually stop you from being able to install and use them.
While Flash comes included with the ubuntu-restricted-extras package above, it occasionally proves more stubborn to install, and requires a direct download from Adobe to get it going properly. To do this, browse directly to Adobe's Flash download page. Choose the .deb for Ubuntu 8.04+ file for Linux in the Select version to download drop-down list, and click on Agree and install now. Click OK in the next dialog box to open the archive file with Ubuntu's GDebi Package Installer, click Install Package in the Package Installer dialog, enter your password if prompted, then click on Close when the installation is finished. Close the Package Installer window and you should be set.
Compiz Fusion's Illusions
One of the coolest things about Ubuntu 8.10 is its inclusion of Compiz Fusion, an extensible, 3D-accelerated window manager that puts Windows Vista's Aero interface to shame. If your system has a graphics card capable of running Compiz Fusion, and if the drivers that enable 3D acceleration are enabled (see "Let Your Restricted Drivers Run Free," above) it is probably already installed and running.
To see whether Compiz Fusion is running on your PC, choose System, Preferences, Appearance, click the Visual Effects tab, select Extra, and click Close. Now when you drag windows around, they will wobble, which is kind of neat but also merely a surface scratch compared to all the things Compiz Fusion could do if you let it. To unleash its full set of features, install the full-fledged Compiz Fusion configuration utility. Search for 'compizconfig-settings-manager' in Synaptic Package Manager, mark the package for installation, and click Apply.
After installation, choose System, Preferences, Advanced Desktop Effects Settings, and start experimenting with the dozens of included plug-in effects, which do pretty much any window animation effect you've seen in OS X or Windows--transparent spinning cubes, circular and Flip3D-style window switchers, and then some. You'll probably find at least one or two animation effects that you like, and you can adjust their speed and transparency settings until they are just right.