Page 2 of 4
Disable the Start Up menu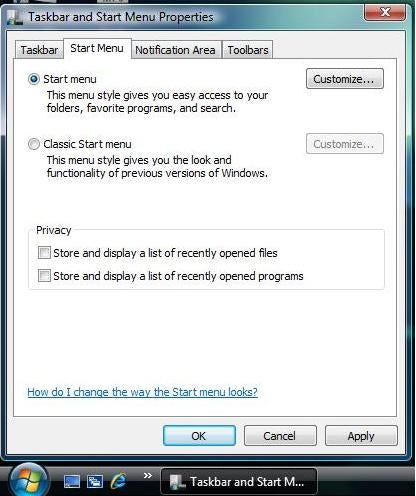 Windows Vista keeps track of all the documents and programs you launch in the Start Up menu. This can be convenient for some users, but it can also compromise your privacy if you share a computer within an office or household. Fortunately Windows Vista provides an easy way to tweak this setting. To protect your privacy, follow these steps:
Right click on the taskbar and select Properties.
Click on the Start Menu tab.
Uncheck Store and display a list of recently opened files.
Uncheck Store and display a list of recently opened programs.
Click OK.
Get Two-Way Firewall Protection
No desktop should be without a personal firewall, but even if the Security Center says you're protected, you may not be. The Windows Firewall within Vista blocks all incoming traffic that might be malicious or suspicious--and that's good. But outbound protection is not enabled by default. That's a dangerous situation if some new malicious software finds its way onto your PC. Microsoft did include the tools for Windows Vista to have a true two-way firewall, but finding the setting is a little complicated. (Hint: Don't go looking the Windows Firewall settings dialog box.)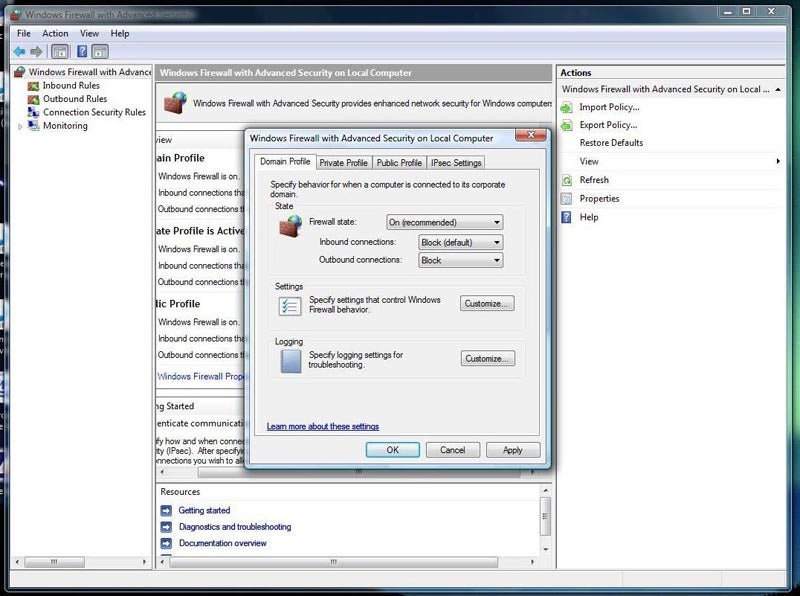 To get two-way protection in Windows Vista, click on the Start button; in the search space, type wf.msc and press Enter. Click on the Windows Firewall with Advanced Security icon. This management interface displays the inbound and outbound rules. Click on Windows Firewalls Properties. You should now see a dialog box with several tabs. For each profile--Domain, Private, and Public--change the setting to Block, and then click OK.
Enabling the two-way firewall will, however, block all applications from accessing the Internet, so before leaving Windows Firewall with Advanced Security scroll down to and click Outbound Rules, then click New Rule in the upper-right corner. Select Program, then on the next screen browse to the program path for Internet Explorer, iTunes, or whatever apps you have that need access to the Internet, and on the next screen select Allow the connection, then name each rule you create. You will need to create a new rule for every app that accesses the Internet.
Ultimately, I recommend adding a more robust third-party firewall. I suggest either Comodo Firewall Pro or ZoneAlarm, both of which are free and fare very well in independent firewall testing.