Fast Fixes for Common PC Problems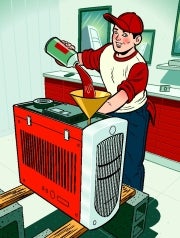 Every computer user hits a speed bump now and then. Whether the bump is a dead power supply, a slow-booting PC, a soaking-wet cell phone, or an e-mail attachment lost in cyberspace, sometimes technology seems more trouble than it's worth.
But just as flat tires can be patched, most common PC problems can be fixed--and fast! We've rounded up speedy, simple solutions to hardware, software, network, Internet, and mobile-device crises--and we haven't left out Windows, of course. High-tech speed bumps may be annoying, but they shouldn't keep you from enjoying the ride.
In This Article