New Year's Resolutions: Fix Your Finances
If your New Year's resolutions concern improved money management, you're in luck: This past year saw the introduction of several new Web-based personal-finance sites and useful upgrades to older ones. Almost all are free, supported by marketing tie-ins to various offers that might help in your endeavors--a credit card with a lower interest rate, for example, or a favorable mortgage refinance.
The services all assume that you've already set up online access to your bank, credit card, and maybe even investment accounts; setup involves providing log-in information to the accounts that you wish to track in the tool (the sites all promise security and confidentiality). The sites then automatically download and analyze transaction information to give you a one-stop look at your finances (including, in several cases, pie charts and other nifty graphics).
Obviously, the analysis is only as good as the data it's based on, so if you don't put in all your accounts, the sites won't provide a complete picture.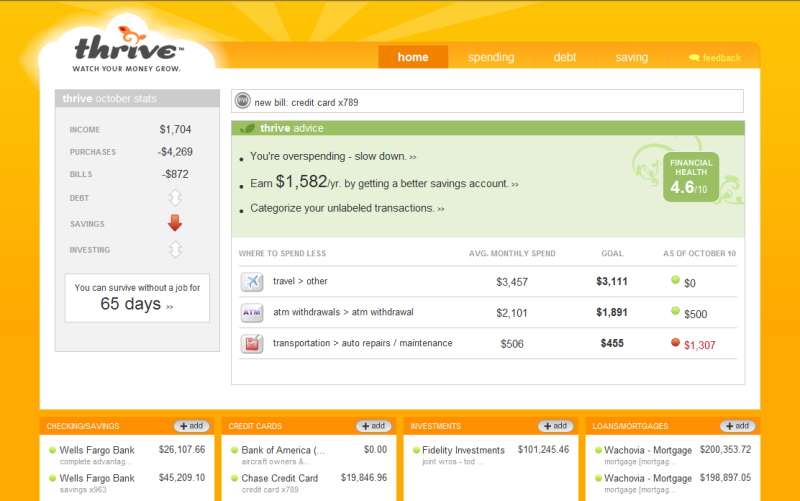 Thrive, for example, provides tabs where you can look at your expenditures, debt, and savings. Though Thrive takes its best shot at categorizing the expenditures, you can easily edit its choices. The service provides little snapshots of your financial health--for example, it will show you your top spending categories for a given month, and it will also calculate a number for your financial health based on how much debt you have, what kind of return you're getting on savings, the interest rate on your credit cards, and so forth.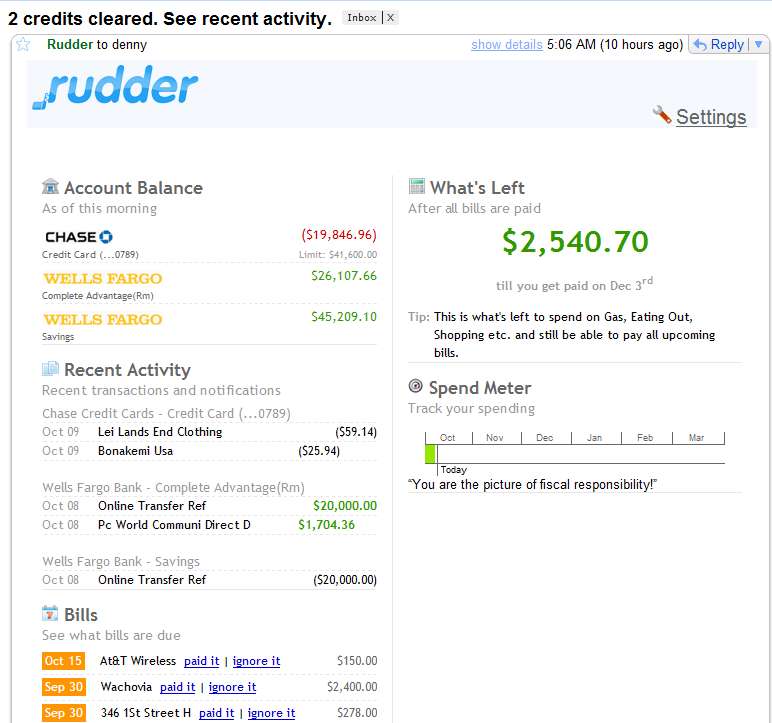 Another newcomer, Rudder (formerly Spendview), provides widgets that show recent transactions, upcoming bills, and how much money you'll have left after all your bills are paid (until your next paycheck). You can have Rudder send you the same information via e-mail every day, so you don't even have to visit the site to see how you're doing.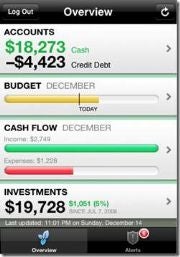 But as nice as those services are, they have to compete against some pretty impressive established players. Mint.com, a pioneer in Web 2.0 personal finance, offers more granular and customizable categorization than the newcomers do, including an easy-to-use budgeting tool that lets you assign a target to every category and subcategory. I also like the Mint.com blog, which has a surprising amount of interesting content on finance issues. Mint now offers an iPhone app, too (pictured here).
Yodlee's MoneyCenter lets you create custom categorization rules, and also allows you to group accounts for use in tools such as an automated home-value estimator (powered by Zillow.com). Finicity (formerly Mvelopes), a paid site, bundles robust budgeting tools with a bill-pay service (something most banks will charge you for), forums, articles, and even a financial-coaching service.
Need a little help in saving toward a goal? On SmartyPig.com you can set up a savings account, automate regular contributions from an existing bank account, and track your progress. (If you're lucky, you might even attract contributions to your fund from family members and friends who also have SmartyPig accounts.)
Good Advice for the Taking
If you're uncomfortable allowing Web services to access all your financial account info, you can still find plenty of help on the Web.
Bankrate.com, Kiplinger.com, and MSN Money remain good all-purpose sites primarily for investors, with lots of advice and calculators. About.com's Financial Planning site has articles on the ABCs of personal finance, from creating a budget to planning for retirement. And you can always consult the big magazine sites in the category, SmartMoney and CNNMoney (from CNN and Fortune and Money magazines). The Wall Street Journal and Forbes.com have good personal-finance sections, too (again, primarily investor-focused).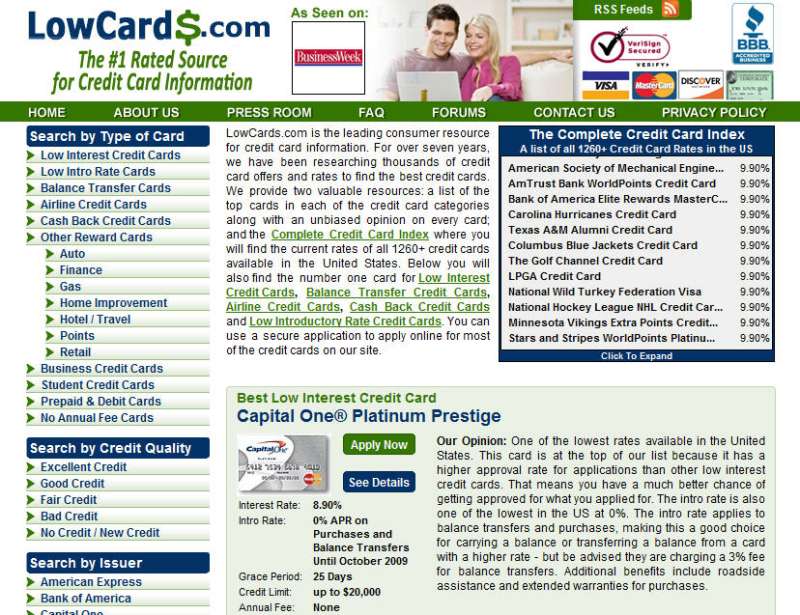 You might try specialty sites such as LowCards.com, which keeps tabs on credit card offers and rates, identifying the cards with the lowest rates, best airline rewards, best cash-back plan, and so forth. The site also posts articles on how current events can affect consumers applying for credit cards or trying to manage credit-card debt.
LowerMyBills.com aggregates a slew of offers that could reduce various expenses, from mortgages to insurance and phone bills.
Taking Money Management Mobile
Along with the new Web 2.0 services, personal-finance services and applications for mobile phones have exploded. The iTunes App Store has 15 pages' worth of finance programs for the iPhone and iPod Touch; the most popular include custom apps for Bank of America, Chase, PayPal, and the aforementioned Mint.com. All are free, as is the equally popular Bloomberg app, which one-ups Apple's stock tracker.
The App Store is also awash with free and paid tools for calculating tips, everybody's share of a restaurant tab, and mortgages; converting currency; and simply keeping track of what you're spending as you spend it.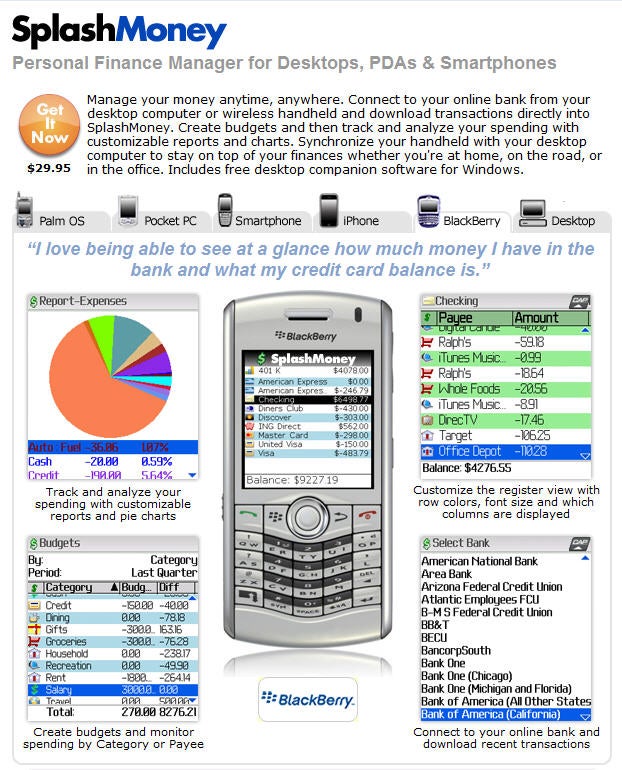 Don't have an iPhone or an iPod Touch? Yahoo Go, a mobile service available on more than 300 phones (including BlackBerry and Windows Mobile handsets), features a customizable finance page so you can check your stock portfolio when you're on the road. If you're willing to pay for heavy-duty money-management features, you might want to check out Splash Data's SplashMoney, which comes in versions for all major smart phone platforms.
You can find other commercial personal-finance apps for mobile devices on the big handheld-software sites, including Handango and Handmark.
The tools for helping you manage your finances are robust and plentiful; given the state of the economy, it isn't a bad time to start putting them to good use.