Page 2 of 6
Revelations from the rest of my government database searches were less sensational. State and county court documents are public records. In many states, those records are already online and available for public viewing on the Web. New Hampshire's county court records have not been put online, but the state has plans to do so, according to a county official.
Lauren Noether, bureau chief for consumer protection and antitrust at the New Hampshire Department of Justice, says it's just a matter of time before those records are available online. But she is concerned because standards for what information appears in legal documents have changed over time.
"I had an individual call to tell me that their child's name was in [an old] child abuse indictment. Nowadays we don't do that," she says. Noether amended the document, but she worries that bulk scanning and publishing of all historical records would bring many other inappropriate disclosures into public view.
Like many states, New Hampshire has a child sex offender registry . I am not a sex offender, but for the purposes of this story (I am the subject of the investigation, after all) I ran my name through anyway. As expected, I wasn't on the list, but it was chilling to find three other Mitchells listed there.
My next stop was the federal Public Access to Court Electronic Records (PACER) database, which contains U.S. District, Appellate and Bankruptcy court records. Here the government wants to know who is searching. The registration process for users involves entering your Social Security number, date of birth and other data.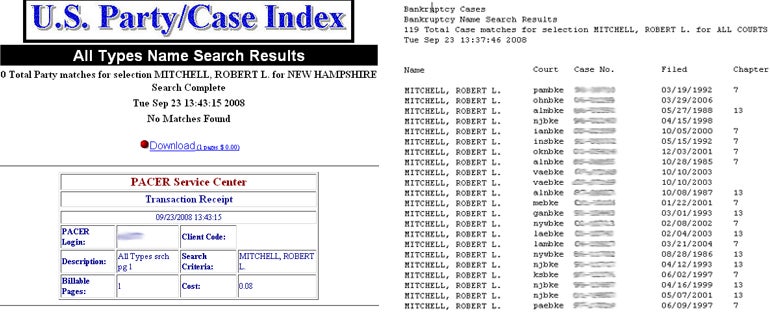 I found myself trolling through dozens of records of people who were not me, at a cost of $.08 per page of results. I pulled up a total of 119 records, including 51 Robert L. Mitchell bankruptcies.
Another Robert L. Mitchell had been arrested for kidnapping. But nothing matched the Robert L. Mitchell I was researching.
The PACER system required that I conduct a separate search for each jurisdiction. CriminalSearches.com is a commercial site that aggregates the same information so that you can do a single search across all jurisdictions -- and it's free. I executed a free search on the Web site. Apparently, I have a clean record in all 50 states.
I also searched state and county databases for the state in which I reside. Database aggregators such as LexisNexis pull information from all of the various local, state and federal databases and roll them up for easier searching, but you need to buy a subscription to use such services.
Computerworld has a LexisNexis subscription, but that costs money. While I did fork over $.08 a page for PACER results, that amounted to less than a dollar. At this point in my investigation, I wanted to see how much I could find for nothing -- or next to nothing -- before resorting to fee-based services.
Source: Free people searches
Information discovered: Employer name, job title, age, month and date of birth, phone numbers, wife's name and age, historical addresses and phone numbers, personal e-mail address, identifying photographs, employment history
I continued my investigation with the people and business search Web sites, including ZabaSearch , WhitePages.com , PeopleFinders.com , US Search , Intelius , Switchboard and PublicInfoGuide.com . The initial searches were free, although each service charged a premium for some of the data it uncovered. As I found out, you get what you pay for.
I gathered plenty of data on Robert L. Mitchells, but most of the data wasn't relevant to the Robert L. Mitchell I was investigating. Each search yielded multiple results, including some records with outdated information about me and others with totally inaccurate data. In some cases, aggregated data clearly had been mismatched, which appeared to be the result of mashing together two different Robert Mitchells into one identity.
ZabaSearch pulled up only an e-mail address I don't use and another that no longer exists, but it did find my mailing address, which it displayed on a satellite map. WhitePages.com had my name and phone number associated with a wrong address. Switchboard incorrectly described my home telephone number as unlisted. PublicInfoGuide.com found a residential address but listed four "relatives" that I never knew I had. PeopleFinders returned an address and phone number in another state where I had lived 20 years ago.