Page 3 of 6
In some cases, part of the search results, such as the full address or e-mail address, was deliberately omitted. PeopleFinders located a Robert L. Mitchell in the correct town but wanted $1.95 for the full address. As up charges go, that was cheap: US Search wanted $10 to divulge the full address. I found it unnecessary to pay for these results, since different sites tended to provide different information upfront -- I could piece together all the bits of free information from various sites.
My Computerworld affiliation didn't turn up initially, nor did my business phone lines or my cell phone number. A search at ZoomInfo produced my correct title and Computerworld affiliation, but the work history was a comedy of errors, including incorrect titles and a stint as a PC World contributor that I must have forgotten. Under "Education," the results simply said "MSN dial-up."
Source: Search engines
Information discovered:Age, phone numbers, Computerworld affiliation, Computerworld stories, blog posts, identifying photos, social network and nonprofit affiliations, editorial award
I continued my research with the commercial search engines, including Google , Yahoo Search , Microsoft's Live Search , Dogpile and Vivisimo's Clusty . I used combinations of my name, job title, business name and location, and I concerned myself with only the first few pages of results.
As I encountered new information, I added it to my search criteria and ran searches again and again. The search engines divulged my age, phone numbers, my identities on three social networking sites and dates when I had signed up, my positions with two nonprofit organizations, links to Computerworld stories, blog links, a few snarky remarks about my stories and an announcement that a Computerworld story I wrote won an ASBPE award in 2007.
For good measure, I also searched the Techmeme , Technorati and Computerworld sites directly, assembling a long list of stories I had authored, as well as comments about those stories and contact information.
Source: Image search
Information discovered: Computerworld publicity photos, Flickr photos
Here I stuck with Google Image Search and Flickr . The 429 Google image results included dozens of Robert L. Mitchell photos, but the correct one was buried five screens down in the results. Also, displayed were photos of people whom I have interviewed for Computerworld stories.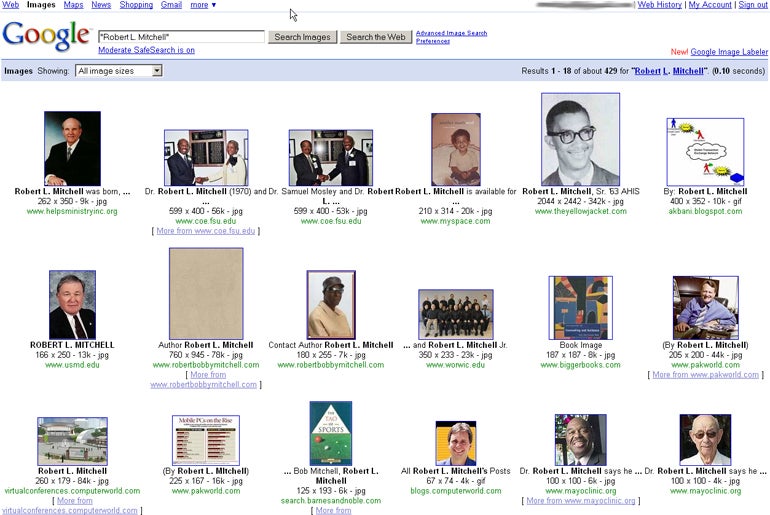 Flickr searches on variations of my name produced no photos of me, but I was able to find my account by searching members with the name "Robert Mitchell." On the third screen, my photo appeared next to an account name. By matching that photo with the Computerworld publicity photo, I was able to identify myself.
From there, I was able to view several hundred publicly shared photos associated with that account. But like much of the content on Flickr, those images are untagged. Finding photos of me in the long list was a painstaking process.
Source: Social network search engines
Information discovered: Computerworld stories, blog posts, social network friends and co-workers
Here I searched individual social networking sites, as well as two search tools that promise to provide information from social networking sites: Delver and iSearch.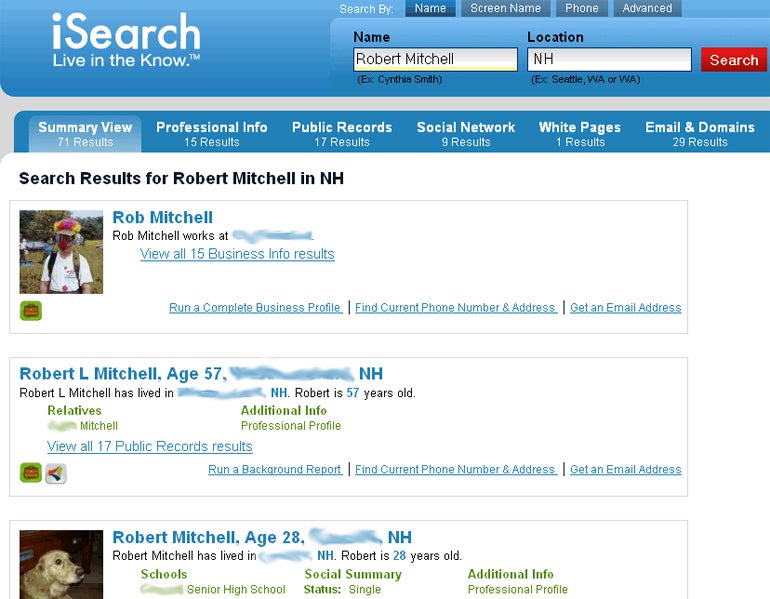 With iSearch, users can search for social network content by name or by screen name. A name search on "Robert L. Mitchell" produced the same people search results I had seen before, and searches on all my screen names produced no results. A spokesperson stated that iSearch, a service launched by Intelius last September, was still building up the database for the service.
Delver, another social network search engine, indexes content and ranks its relevance based on what your social network of "friends" have to say about it. It indexes content from MySpace, Blogger, LinkedIn , YouTube, Hi5, FriendFeed, Digg and Delicious, as well as profile data from Facebook. A search on "Robert L. Mitchell" brought up 47,755 Web links. I found no personally identifying information but did find links to stories I have written.
I concluded by searching individual social networking sites. I didn't get much here, but private investigator Steve Rambam, who runs the Pallorium investigative agency in Brooklyn, N.Y., says the amount of self-contributed data available on many individuals is enormous.
"If you have a MySpace page, and Friendster, LinkedIn, Plaxo, Yahoo 360 and Monster.com, and you use Twitter and Flickr, in 90 seconds I'll have your photo, your likes and dislikes, where you live, what you do and so on -- all contributed by you," says Rambam. That search, he says, provides as much information as he used to gather during a 12-month investigation in pre-Web days.
If that sounds scary, the technology also has its limits. "You have the best defense against a casual investigation: a common name," says Rambam. To find people like me on social networking sites requires logging onto each one individually and using advanced search features to try to narrow down the field.
"Even then there are dozens of records that would have to be manually examined," Rambam says. But that just slows him down. "It would probably take a full day to compile a decent dossier on you," he says, while a unique name takes just a few minutes.