DeVault Helps Protect Against Identity Theft
If you need to protect personal and sensitive documents from prying eyes, you'll find deVault 2009 an excellent, free solution. It uses Blowfish 256-bit encryption to keep your documents private, and offers plenty of features for encrypting, decrypting, and managing your documents.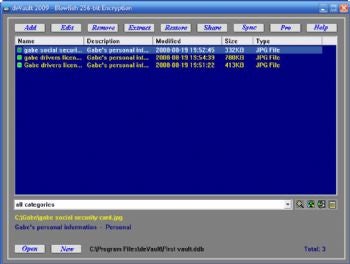 First create a new vault file, then click the Add button to import files into it. At this point, the files are not yet encrypted. To encrypt them, click the Edit button and select Encrypt. You'll enter a password, and from that point on, only someone with the password can view the file.
DeVault also offers plenty of features for managing and finding your files. You can add categories, labels, and descriptions, so that you'll be able to find encrypted files, no matter where they're located. And you'll be able to know what they are even before opening them, by reading the description.
At a time when identity theft is rampant, you'd do well to use DeVault to keep your personal information to yourself.

Amazon Shop buttons are programmatically attached to all reviews, regardless of products' final review scores. Our parent company, IDG, receives advertisement revenue for shopping activity generated by the links. Because the buttons are attached programmatically, they should not be interpreted as editorial endorsements.