The Next Generation of Netbooks
Netbooks: All About the New Ultraportables
The Next Generation of Netbooks
Page 3 of 6
Cramped Keyboards
When you read that a netbook's keyboard is 88 or 92 percent of a full-size QWERTY keyboard, you can pretty much ignore the numbers. The layout and arrangement of those keys counts almost as much as the size of the individual keys. To see whether the layout and shape of a given keyboard will work for your fingers, you need to do some hands-on testing at a store. Of course, bigger keys are better for beefy digits--and netbooks that have 10-inch screens tend to offer the larger keyboards.
That's probably why I keep returning to the HP Mini 1000 or the business-minded Mini 2140. The broad, flat keys on these HP netbooks are large enough for anyone to use, because HP opted to reduce the space between the keys rather than to downsize the keys themselves beyond what was necessary.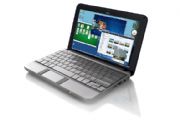 You may be surprised at how many netbooks come with serviceable, comfortable keyboards. Asus's Eee PC 1000H, for one, has a spacious setup that's well suited to touch typists. The machine is cozy and includes a slight valley between adjacent buttons. Even smaller netbooks with 8.9-inch screens can pack a few surprises. The Dell Inspiron Mini 9 and the Acer Aspire One, for example, house great keyboards--far bigger and more usable than their tiny frames would suggest.
Software Choices
Windows XP and some flavors of Linux are the primary operating system options available for most netbooks. Why Linux? Well, for starters, it runs a little leaner than XP, which makes it perfect for a netbook's anemic CPU. Second, it trims a few dollars off the price of these already-inexpensive portables (see "The Linux Option" for more details about your Linux OS choices).
For the most part, Windows XP netbooks carry very little onboard software. A few machines we looked at came preloaded with OpenOffice.org--the free Java-based office suite--but few vendors care to match Lenovo, whose IdeaPad S10 provides a handy recovery application called CyberLink OneKey Recovery 6.0 for creating configuration backups, setting partitions, and establishing restore points. Almost all of the other netbooks we've examined require you to download the software you want to use on your own.
Fortunately, some sites make getting great netbook apps easy. The Google Pack Page (pack.google.com), for instance, offers a few top-notch (and extremely popular) free programs to download, sans spyware--everything from Adobe Reader to Real Networks RealPlayer to Google's Chrome browser (of course).
Here (from PCWorld.com Downloads) is a list of other free, downloadable applications that no netbook should be without: CCleaner, Digsby, Fresh UI, Paint.Net, Secunia PSI, Spybot Search & Destroy, and Spyware Blaster.
Expecting Windows Vista to work with a netbook's puny processor is like expecting a baby with one hand tied behind its back to push a Buick up a hill. Nevertheless, HP originally packaged its 2133 netbook with Vista Business Edition--and no one was terribly surprised when its unimposing Via C7-M processor ran like an out-of-shape sprinter in a swimming pool full of Jell-O. Now Sony thinks it can get its new Atom-processor-based VAIO P mini-notebook (which it insists on calling a "lifestyle notebook" rather than a "netbook") to run Windows Vista Basic. This is probably still a bit of a performance stretch, but advances in future netbook CPUs should eventually make either Vista or Windows 7 an acceptable option.
As we prepare to go to press, rumors are circulating that Google's Android OS will find its way into netbooks this year. We'll just have to wait and see.
Shop Tech Products at Amazon