Apple Inc. co-founder Steve Wozniak, one of 13 celebrity contestants on the reality program Dancing with the Stars, revealed Wednesday that even though he fractured his foot, he plans to dance through the pain.
In an e-mail posted to his Facebook page, Wozniak said that he went to the doctor Tuesday, shortly after the season's debut. His professional dancing partner, Karina Smirnoff, and a camera crew came along.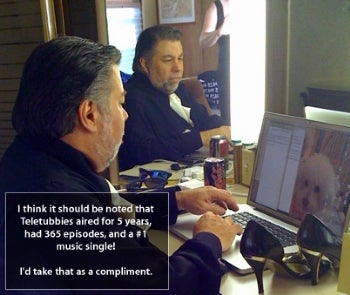 "This doctor was very familiar with the [ Dancing with the Stars] show and knew how to address the camera and speak good sound bytes for possible airing on TV," said Wozniak, who often goes by the simpler "Woz." "He explained to me that I had a fracture."
Wozniak said the doctor told him he could continue dancing, with some caveats.
"He said that in a case like mine, similar to a pro sports athlete, where it was very important to continue for a livelihood, that it might be possible, with risk, to continue," Wozniak said. "We reached a compromise. I would wear a removable cast except during practice and I would halt everything if I got acute pain."
Not surprisingly, Wozniak's Segway -- he is a big booster of the two-wheeled stand-up scooter -- entered the picture. "Karina wanted me to drive in cars and not use the Segway," he said. "After first opposing this, I came around."
Wozniak and Smirnoff received just 13 points out of a possible 30 from the three judges Monday for their opening dance, the lowest score of the night. ""Overall, it was a disaster," said judge Len Goodman after their performance.
The next day, Wozniak scored the judges, so to speak, in a blistering attack on his Woz.org Web site. Calling the judges "not in tune with what the public like," and downplaying their relevance, Wozniak called on fans to vote for him. His ongoing campaign for votes includes a Facebook page, multiple Web sites and a Twitter feed.
In his newest missive, however, Wozniak worried that dirty tricks are being played online. "I have some worries about the Internet voting," he said. "A friend told me that his Gmail account had been used by someone else to vote, with an obviously computer-generated name, like PCP1011011, that sort of thing. I have no idea who they were voting for but I hope it wasn't me."
Wozniak continued to toot his own horn. "The show set a record with 23 million viewers," he said. "I hope that the producers decide that it was largely due to my presence."
And he promised more of the kind of dancing that drew applause from the in-studio audience, but the scorn of judge Bruno Tonioli, who said Wozniak's dancing was "like a Teletubby going mad in a Gay Pride parade."
"I promise to make the next dance wild and fast and all-over and crazy and fun, just like the first one," said Wozniak. "If the judges are out of sync with what the viewers like to see, so be it. The show can always get new judges."
ABC will air the next round of competition Monday, March 16 at 8 p.m. ET.
This story, "Woz Fractures Foot, but Plans to Keep Dancin'" was originally published by Computerworld.