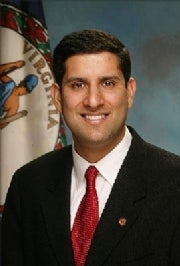 While new federal CIO Vivek Kundra gave a speech here Thursday morning on his vision for the U.S. government's use of technology, the FBI conducted a search of the District of Columbia's IT offices -- where Kundra worked until last week -- and arrested an employee and another person who works for an outsourcing vendor, according to published reports.
There was no indication that Kundra was connected in any way to the FBI's raid, which was part of a bribery sting operation. And if Kundra was aware of what was going on at his former offices or concerned about the raid, it wasn't evident during his speech at FOSE 2009, a trade show focused on government IT.
President Barack Obama last week appointed Kundra to be the federal government's first official CIO. Prior to taking that job, Kundra was the District of Columbia's chief technology officer.
The Washington Post reported Thursday morning that the FBI had made two arrests in connection with the raid at the office of the CTO in Washington. Other media outlets have posted similar reports, saying like the one in the Post that the two men arrested included a D.C. IT staffer and a worker from Advanced Integrated Technologies Corp., a Washington-based outsourcing services vendor.
An FBI spokeswoman Thursday declined to confirm the reported arrests.
Such arrests of municipal employees on charges of financial malfeasance are a relatively routine news item in Washington. The most recent case, which came to light in 2007, involved the alleged looting of more than US$20 million by employees in the District of Columbia's tax department over a decade-long period, despite a $100 million IT investment designed to improve tax-collection operations. The development of the new tax system, which became fully operational in 2002, predated Kundra's hiring as the District's CTO.
At the FOSE conference Thursday, Kundra told attendees that in his new role as federal CIO, he is "embarking on a technology revolution in government." But much of his talk to an audience of government workers and federal IT vendors was a morale-boosting rally.
For instance, Kundra promised to undo the image of the federal government as a laggard in technology adoption and innovation. "We can be thought leaders when it comes to innovation," he said.
Kundra promised to hold voluntary open-door sessions on weekends for federal IT workers who want to share their views on "high-level" technology issues. He said that he has been "amazed" by the IT talent he is finding within the government, and that some of "the smartest people I've ever met in my life are federal government employees."
But, Kundra added, federal IT workers have been restrained in the past, having been "taught that the best way to survive is to not take any risks."
This story, "FBI Searches Kundra's Former Offices as He Rallies IT Troops" was originally published by Computerworld.