Page 2 of 4
This photo editor is not meant for professional use, but for fun. Although you can, technically, use FotoFlexer to create original art from scratch by uploading a white or other solid-color image file to start with, it has a very limited set of drawing and editing tools. (Its tool box boils down to just draw, erase and fill functions.)
Still, FotoFlexer has a few "serious" photo-manipulation tools worth considering. "Smart scissors" and "smart cutout" work pretty well for cutting/masking out objects from photos, and layers are supported. You can even pull up one of those intimidating histograms to fine-tune the levels of a photo.
Unfortunately, one sticking point makes FotoFlexer hard to recommend. Controversies have erupted recently over the rights to user-generated content at social Web sites, such as the recent Facebook flare-up. Likewise, FotoFlexer has a questionable terms-of-service agreement regarding the rights to a user's images that are uploaded to its servers. (I haven't found such terms or privacy policies of the other apps on this list to be as troublesome.) As always, be sure to take a closer look at the TOS agreement or privacy policy of any service to which you are uploading your images.
Phoenix
Phoenix is an image editor/drawing tool that is part of a suite of four Web-based graphics production apps going under the umbrella name "Aviary." The other three are a color swatches tool (Toucan), a visual filter/pattern editor (Peacock) and a scalable vector art creator (Raven). These applications are designed to operate with one another.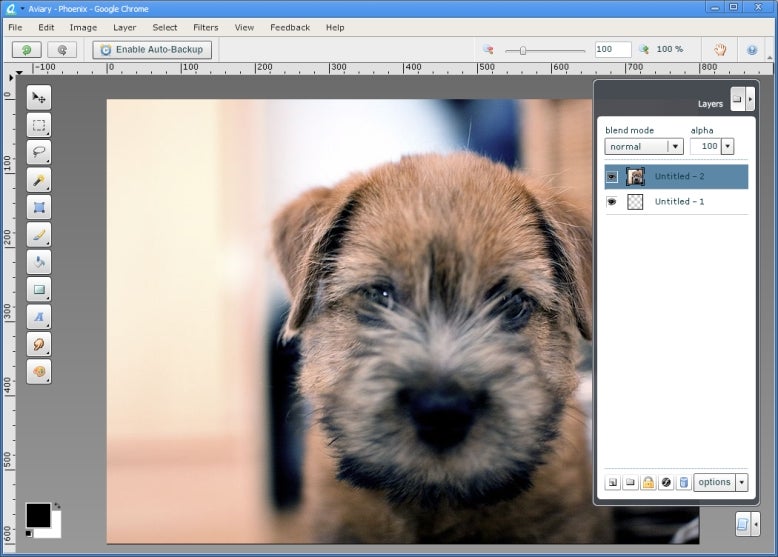 Phoenix not only utilizes layers but can also save layered images. (Most Web-based image editors, even if they provide layer support while you edit your pictures, are unable to save the layers as separate elements.) You can also import images directly from your Facebook, Flickr or Picasa account, but you can't save your images back to these sites.
Depending on the speed of your broadband connection, the kind of Web browser you're using and your computer's processor, Phoenix can take more than a minute to load and execute. This is a caveat with any Web-based image editor, although Phoenix took the longest to load to my browser compared to the others in this review.
For example, I found it took up to 40 seconds to load Phoenix using Google Chrome. In comparison, Pixlr took only five seconds under Chrome. But after its code has been stored in my browser's cache, Phoenix executed more quickly from that point on when I called it up again.
Phoenix's tools are set out as icons along the left side of the screen; most of these functions branch out to more specified tools when clicked. For example, if you want to use the paintbrush or eraser tool, you have to click the Paintbrush Tool button and then select either the paintbrush or eraser. Though this submenu tool window stays open until you click the button of a different toolbox category, it can slow the creation process if you simply want to immediately pick, say, the actual paintbrush tool and dive right into drawing. On the other hand, the nested tool menus do help to keep the work area clear so that more of this space can be dedicated to showing the image that you are working on.
Collaboration features can allow others to view and critique drafts of images. However, to keep your files private, you will have to pay a monthly fee of $9.99 or an annual fee of $99 for Aviary Pro. Otherwise, your work will be made immediately available for all to see in the Aviary community if you save it to your Aviary account.