Well, another fun-filled day at GDC has come to a close, and I sit here with simply too much information, and definitely too much media, for one girl to handle. Forgive me if the following summary of the day's activities is a bit blurry at the edges. Frankly after this marathon day of developer meetings, conference speeches, and show floor wanderings, I'm a bit blurry at the edges myself.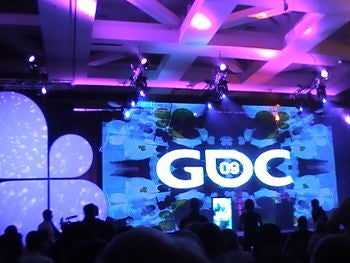 I have much more in the way of RPG infoz for you all, as Wednesday was the first day the conference really opened up to the public. Suddenly a calm and quite business suit crowd tranformed into a rowdy throng of geeks, and I'm honestly not sure which group I liked best. While the professional folks with their complete sentences and proper diction appealed to my intellectual side, I still felt at home amongst all the gaming faithful that came to learn about their favorite games. Maybe it's time I realize I don't fit into either category any more and have done with.
While I work on my gaming identity crisis, hit the jump to see what I gleaned from today's events.
* Legend of Zelda: Spirit Tracks: The biggest RPG announcement of the convention was also the first. While he began his keynote speech with a bow of thanks to the game industry professionals in the audience, Nintendo President Satoru Iwota ended with a video that introduced the next Zelda title. Let the string of Thomas the Tank Engine references begin.
* Final Fantasy Crystal Chronicles: My Life as a Darklord: A sequel to last year's My Life as a King, Darklord will pick up where the first title left off. We were also promised two previously rereleased Final Fantasy titles, I & IV, will come to Wii Ware. No surprise there.
* Spore : I spent a little time at the speech given by Spore's Producer, Caryl D. Shaw. Since it was a talk directed at the game development community, I found little worth conveying to you readers. We all know managing the code in a game is a challenging task, and we really don't need a PowerPoint with the speaker's cat in it to tell us that.
* Sims 3 : Much more interesting than the Spore lecture, I ran straight from the speech to a meeting with EA and much to my delight realized that Sims 3 is an RPG. I'll write it up later, but suffice it to say, the days of being a prisoner to your bodily functions are over.
* League of Legends : I got a second chance to wipe the floor with other game journalists in what they are now calling a MMOBA, a Massively Multiplayer Online Battle Arena. The game is just as cool as it was before. Also, Tristanya kicks much ass.
* Military Madness 2 : I spent 30 minutes with the folks at Hudson desperately trying to find something interesting about this turn-based strategy game. While their beer was good, this DLC title is anything but.
* Paul Barnett from Mythic: This was by far the best speech I've heard in years, and I've had the privilege of hearing some dynamic speakers in my time. What the Creative Director of Warhammer Online had to say was so riveting, I'm going to post my sad little recording of it in its entirety.
* Aion : NCSoft's latest offering will be taking flight soon, and I got the chance to try my hand at this intriguing MMO. More on that when they unzip my lips.
* GDC Awards: While Little Big Planet was the belle of the ball taking almost a dozen awards, there were a couple RPG-notable events, not the least of which was Fallout 3 winning two awards -- Game of the Year and Writing. Also of interest: Tommy Tallarico of Video Games Live fame was honored as an Ambassador for the industry, an award that I think is a perfect fit for a man trying to educate the non-gaming plebians about the art lies within video games.
This story, "Fallout 3 Scores GDC Game of the Year Award" was originally published by GamePro.