Page 2 of 7
Logitech diNovo Mini Keyboard
There are few things more annoying than the tiny keys or on-screen keyboards that make typing a tedious and not particularly accurate chore on smart phones and handhelds. Logitech's diNovo Mini keyboard ($129 in the U.S.) can make every keystroke count - and it can even make watching TV more relaxing.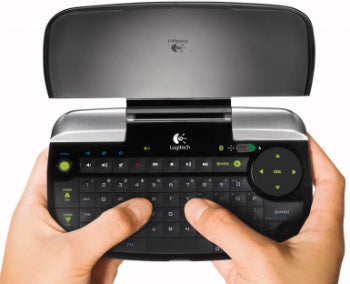 The diNovo Mini is a basic QWERTY keyboard with 63 keys, though it lacks the familiar Function and tilde (~) keys. While the 9.25mm keys may appear skimpy compared to a laptop's, they're twice the size of BlackBerry keys, and the backlighting makes typing in low light easy. There's a responsive circular touchpad and keys for Page Up and Page Down, as well as buttons to control your Media Center PC from your favorite armchair.
The keyboard connected on the first try with both devices and within a few minutes I was typing notes, emails and spreadsheets, and was able to tap out about 20 words a minute, regardless of whether I was using my thumbs or index fingers. The keyboard had a 45-foot range and its battery ran for two weeks of on-and-off use.
A note about range
Although Bluetooth and Wi-Fi share the same 2.4GHz frequency, they couldn't be more different. While Wi-Fi has a range that pushes 200 feet, Bluetooth is limited to about 50 feet - and to cut power use, many Bluetooth gadgets reach just 10 or 15 feet. But that's more than enough for headsets and the like.
As good as the diNovo Mini is as a go-anywhere keyboard, it really comes into its own for couch potatoes. If you've hooked up your TV to a Windows Media Center PC, the Mini provides an elegant, compact way to control your entertainment from across the room.
It not only plays, pauses and moves tracks for CDs or DVDs, but it can adjust the volume and mute the sound. The best part is that it can nudge the channel up and down, or you can just type in the channel directly. The diNovo Mini is also compatible with the PlayStation 3 game system.
Whether you're vegging out in the living room or taking care of business on the road, it's the perfect wireless keyboard.
Polaroid PoGo Instant Mobile Printer
It's easier than ever to take snapshots with your mobile phone, but what do you do with them all? Polaroid's PoGo printer ($108 in the U.S.) can put them on paper without a cable in sight.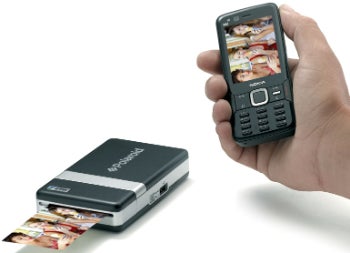 PoGo measures 120x72x23.5mm and weighs 227g Based on Zink (short for 'zero ink') technology, it doesn't use ink or toner. The special 2x3in paper has microscopic yellow, cyan and magenta crystals that are activated by the printer.
The PoGo set up in a couple of minutes with my phone, printed a 278KB image in just over a minute and had a range of 37 feet. The 450 milli-amp hour battery was good for 15 prints.
The photos have a semigloss finish and an adhesive backing, so they can be used to make impromptu name badges. One 10-sheet pack of Zink photo paper is included with the PoGo, and you can buy additional packs in quantities of 10, 30, 60 and 90.
As much as I like PoGo, I wish the prints were bigger - but then PoGo wouldn't be as portable as it is.