Page 3 of 7
Kensington Vo200 Bluetooth Internet Phone
If you dread your monthly mobile phone bill, Kensington's Vo200 can cut communications costs. The tiny Vo200 handset connects via Bluetooth to a laptop and routes calls over an inexpensive voice-over-IP (VoIP) service like Google Talk or Skype.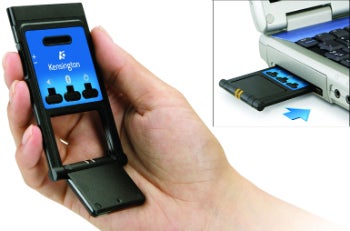 The Vo200 is one of the smallest and lightest handsets around. It works only with Windows XP PCs, using the laptop's Bluetooth gear to connect. As long as the laptop has a broadband connection, you're able to make and take calls.
Including software installation, setup took 15 minutes on my laptop. After that, I made and answered dozens of calls with the Vo200 on the Skype service and found its audio quality to be as good as wireless VoIP phones that cost three times as much. It had a range of 25 feet and its battery ran for two and a half hours of calls, although there's no battery indicator.
As enticing as the Vo200 is for blabbermouths, it's flimsy and lacks a screen or keypad. As a result, you need to dial calls through the laptop's keyboard.
On the other hand, one of the coolest things about the Vo200 is that the handset is stored and charged in the notebook's PC Card slot. That way it's a VoIP phone booth that's ready whenever - and wherever - you are. Sadly its currently only available in the U.S. ($20).
BlueAnt Supertooth 3 Hands-Free Speakerphone
It's illegal to use your mobile phone while driving but fiddling around with the buttons on a Bluetooth headset can be equally distracting. If you must talk and drive, BlueAnt has a better way: the voice-controlled Supertooth 3 speakerphone.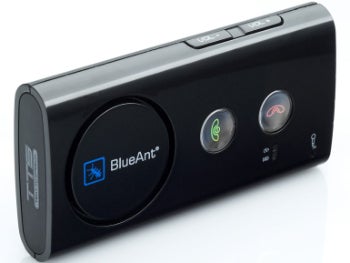 The hands-free device is perfect for those of us who hate to read directions because it actually tells you how to use it in your choice of six languages.
The package includes not only the black speakerphone, but adaptors for AC and cigarette lighter sockets. It took about a minute to connect with my phone, and I quickly figured out how to dial and answer calls by voice command. Its audio is clear and static-free, but a little hollow at times.
Supertooth 3 has a range of 40 feet and its battery lasted for four hours of use. The device easily clips to any car's sun visor, which means it's always there waiting for your next call. The Supertooth 3 isn't currently available in UK (available in the U.S. for $82), but accessory companies such as Kensington offer good alternatives.