Page 2 of 8
Geezeo
Each of these personal financial management sites tries to carve out a unique niche for itself. Geezeo's standout trait is its set of community features, which put you in touch with other users who likely have many of your same financial concerns, questions or goals.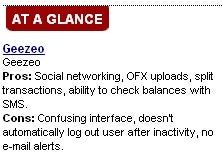 Of the five sites I looked at, I found Geezeo's user interface to be the least attractive and most confusing. It feels like the designers focused more on functionality than usability -- a telltale hallmark of the work of hard-core coders who think like programmers and not users. That said, I found the site's features were comprehensive and customizable.
After you log in to Geezeo, you land on the Dashboard page, with a Money Stream section running down the middle of the page. This section includes entries for each day that there is activity in your financial accounts or with any of your Geezeo social connections. The most recent day of activity has its details automatically displayed, but you can click on each day's entry to see the details of its events.
If you choose to, you can share any of your financial events (the vendor name and the amount you paid) from the Money Stream section with the Geezeo community -- perhaps you're proud that you just made the final payment on your credit card debt or you're outraged at how much day care costs.
The right side of the Dashboard includes a summary of your budget, your net worth, a snapshot of your total expenses and a few advertisements (Geezeo was the only site that had prominently displayed ads).
The left side of Geezeo's pages includes account information and a set of site navigation tools. This section also offers the balances for all of your accounts, icons of Geezeo users you have "friended," and a Confession Booth, which includes posts such as this recent one from a Geezeo user: "I've been trying not to spend any money, but I feel a spending binge coming on." You can choose to confess anonymously, and you can even send your confession to your personal Twitter feed.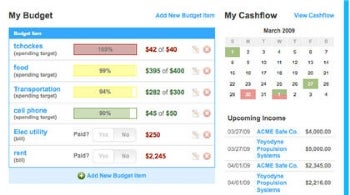 Each of your accounts has its own page, with a list of that account's transactions. Geezeo can track bank accounts, credit cards, investments and loans. If your financial institution is not supported by Geezeo, you can manually download transaction information from the institution's site as an OFX file (the format used by most financial institutions), and then upload the file to Geezeo. Geezeo and Wesabe were the only sites I looked at that supported OFX file uploads.
The account transaction lists are where you create categories for your transactions, which Geezeo calls "tags." Tags are text-based and completely user-created, so you can call your tags whatever you want to. You can even assign multiple tags to an entry in order to split the total cost of an entry across different categories (for example, a $50 purchase at Walgreens could be split between $30 on groceries and $20 on prescriptions). Geezeo will try to guess the appropriate category for some transactions, but I found that more often than not, Geezeo guessed wrong and I had to do a lot of editing.
Once your transactions are tagged, you can set up a budget for each tag on the My Budgets page. I found the My Budget feature to be confusing, and it required a considerable amount of manual entry, including having to enter all expected sources of income. However, once I got used to it, I quickly realized that I had a lot of fine-grained control over what information I could include in my budget and what it could track. The My Budget page also includes a calendar that shows upcoming income and bills.
You can also set goals on Geezeo, which is more of a social-networking feature than a financial one. It allows you to share similar goals with other Geezeo users, such as "buy a home."
The Community section of Geezeo includes Public Feed, Groups, Goals, Confessions, and Experts. During the time that I used Geezeo, five financial experts had created groups through which they answered questions and gave advice to Geezeo members. While much of the advice appeared sound, I was disappointed to see that a number of the experts hadn't responded to questions in at least a month.
Geezeo was one of two sites (Wesabe was the other) that did not automatically log me out after a period of inactivity -- if you use public computers or share a PC with others, you must make sure to remember to manually log off from the site. Geezeo allows you to check your account balances with a mobile phone via SMS text messaging.