Page 4 of 8
Quicken Online
Of all the personal financial management sites, Quicken Online probably has the most name recognition. Just don't expect the same level of detail and functionality as you get with the company's paid applications.
For instance, you can't pay bills or print checks with Quicken Online. But you can get detailed information about your bank accounts, credit cards, investments and loans, as well as see your spending trends and make a budget.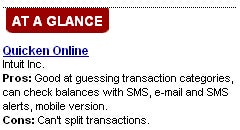 The level of detail that Quicken Online provides, as well as the control you have over the information, is rivaled only by Mint. The biggest difference between Quicken Online and Mint is primarily how the information is laid out in the user interface. Mint crams as much information as possible onto its Overview page, while Quicken Online takes a more minimalist approach, trying not to overwhelm you with too much information at once.
After you log onto Quicken Online, you land on the sparsely populated Home page. The most prominent part of this page is a What's Left window that tells you how much money you have left until your next paycheck. The What's Left section can be misleading, however, as the value that is displayed is not the total of all your accounts, but only the amount available in a single account -- presumably your primary checking account. You can manually change which account is referenced in this section, but if you use multiple accounts for your income and bill paying as I do, this section will not be a reliable source of information. If the account has paychecks coming into it, then it will also tell you what the risk of overdraft or low balance is until the next paycheck is due.
On the Home Page, you can also click on a View Chart link, which pops up a Window that displays a graphical representation of your spending outlook through your next two pay periods. The left side of the Home page also includes reminders for which bills are due soon and when; below that is a summary of all your accounts and their respective balances.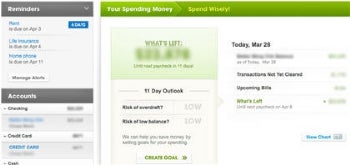 The Accounts page is where you add and manage your accounts. Once you've set up all your accounts in Quicken Online, you'll seldom need to come back to this page.
The Transactions page's default view includes transactions for all of your accounts for the past 30 days. You can choose to show transactions for virtually any time period that has available data. You can sort the transactions (ascending or descending) by Date, Account, Check #, Payee, Category, Note, or Amount, and you can also edit the contents of most of these fields.
The left side of the Transactions page includes a summary of all of your accounts -- similar to the left column on the Home page. If you select one of the accounts, the Transactions view changes to show transactions for only that account.
When you display the transactions for an individual account, the top of the screen shows your current balance, as well as your RealBalance, which includes upcoming transactions such as paychecks or bills.
Quicken Online also detects repeated transactions and automatically adds them to an Upcoming Transactions section. I found that the site made a few wrong guesses, but editing these entries was easy, and it's also possible to manually add repeat transactions.
Below that are the Cleared Transactions details that have been downloaded from your financial institution. I found that Quicken Online did a noticeably better job than any of the other sites in accurately guessing the appropriate categories for my transactions, and I spent less time making edits to categories in Quicken Online than any of the other sites. Unlike some of the other sites, however, you cannot split transactions in Quicken Online between multiple categories.
The Trends page shows you where your money is being spent, based on the transaction categories -- you can choose to see the data broken down by category or payee. The Goals page is actually Quicken Online's version of a monthly budget. It auto-populates the Goals based on the average spending for some categories, but you can add more categories for it to track and edit what the amount of the monthly goals should be.
Alerts can be automatically sent to your e-mail or mobile phone via SMS text messages, and you can check balances with an SMS text request. Quicken Online does not have an iPhone app, like Mint does, but there is a scaled-down mobile version of the Quicken Online site from which you can access your account balances and transactions from any mobile phone with a Web browser.