Page 5 of 8
Thrive
As with the majority of the personal financial management sites I looked at, Thrive tracks your bank accounts, credit cards, investments, and loans and mortgages. But the way that Thrive presents this information and the automated advice it generates is all about how to save more, spend less and get out of debt. If you are financially comfortable with no debt and have no financially draining expenses planned for the near future, then many of Thrive's features will probably be of little use to you.
After you sign into Thrive, you land on the Home page. The main section of the page (and the part that is most prominently displayed) is Thrive Advice. Thrive Advice will warn you if you're overspending and offer advice about whether you can benefit by getting a better savings account or a better credit card.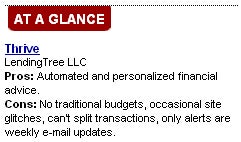 Clicking on Thrive Advice's overspending advice takes you to the Spending Health section; selecting Thrive Advice's savings and credit cards advice takes you to pages that refer you to banks that can potentially supply you with better interest rates on your accounts. Thrive also assigns you a Financial Health score, which is based on how well you are spending, saving and paying off debt.
The Home page also includes Stats, which provides a quick overview of the current month's income, purchases and bills paid, as well as whether your debts, savings and investments are trending up or down. Stats also includes a window that randomly displays one of the Savings Plans you set up, such as what price home you can afford to purchase.
Another feature found on the Home page is the Spending Goals section, which flags any repeating expenses that Thrive's algorithms automatically calculate you might be able to cut back on; clicking on any of these entries also takes you to the Spending Health section. As with the other personal financial management sites, Thrive includes balances for all your accounts on the Home page.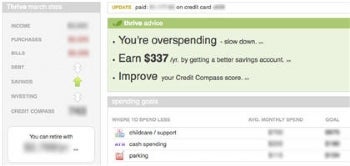 The Spending page displays one of three sets of information, depending on which tab you select in the left column. The first set is a Spending Summary, which shows all of your purchases, bills, income, or exclusions by category for the current or previous two months (exclusions are typically items like transfers or credit card payments). The Spending Summary also displays a bar graph that compares the current month's purchases, bills, or income against the last two months and tells you by how much they have gone up or down.
The second set of information is your Spending Health, which displays your Purchase Rate and Checking Accounts. The Purchase Rate shows you what percentage of your income is going to purchases and what your target spending should be. This also shows the aforementioned advice on where you can possibly reduce your spending. Thrive advised me that I could spend less on day care, parking and cash spending. (I wholeheartedly agree that I should reduce my cash spending, but there's not a whole lot I can do about day care or parking.)
The Spending Health's Checking Account section gives you an assessment of the health of your checking account. This is not to be confused with the third section of the Spending page, Checking Accounts, which give you information about your checking accounts and provides access to your checking accounts' transactions. Thrive does not let you split your transactions across multiple categories.
The Debt page shows you what bills are due in the next 15 days, what bills have been paid in the last 15 days, and if your debt is increasing or decreasing. The Debt Health section tells you your debt-to-income ratio, provides an estimated credit rating, and delivers a verdict on the quality of the interest rates of your current credit cards. The Debt page also gives you access to the transactions for your credit cards, loans and mortgages.
The Saving page is where you set up Savings Plans, which lets you pick from shopping, travel, gifts or project categories.
Unlike most of the other sites, you cannot set up a traditional budget on Thrive. Also, Thrive was OK at guessing the categories for purchases, but I still had to make a lot of manual edits. I also experienced a number of glitches from time to time, where a feature or page I clicked on instead landed me on a page that explained that Thrive was experiencing technical problems.
You can set up to receive weekly summary statement e-mails; account alerts and updates to e-mail will be added soon. I could not find a reference on the site for a mobile Web version.