Page 7 of 8
Can't decide? Here are two alternatives
Two personal financial management sites I wanted to include in this roundup were Green Sherpa and Rudder. Due to technical glitches, I was unable to get Green Sherpa to successfully access my primary checking and credit card accounts, while Rudder is not actually a free service. However, while I couldn't make any direct comparisons between them and the other sites in this roundup, I did take a good look at what they offered.
Green Sherpa
Green Sherpa was still in private beta as I wrote this but was scheduled to launch soon. They were still ironing out some bugs, as my own experience showed, but the folks at Green Sherpa were kind enough to set me up with a dummy test account.
In terms of its features, I would put Green Sherpa in the same category as Mint and Quicken Online, except that, unlike these other sites, Green Sherpa tracks only bank accounts and credit cards -- it does not track loans or mortgages; investment tracking is planned for a future release.
The Dashboard page provides a brief summary of account balances, pending transactions, cash flow and any goals you have set up. On the Account page, transactions can be split between multiple categories, and you can upload QIF/QFX (but not OFX) files. Green Sherpa's transactions include two unique features: You can reconcile an account to confirm that the account is balanced with all transactions accounted for, and you can give access to another user (such as a spouse), so that you can leave messages to each other about specific transactions.
The Categorize page lets you create and edit transaction categories, as well as match up payees with categories. The Cash Flow page lets you set up budgets for each category and monitor how much you're spending on each category.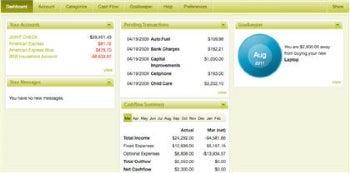 At the bottom of the Cash Flow page are a group of automatically generated "Recommend Budgets," which are based on an analysis of your spending habits. You can add additional budgets and edit existing ones. This page also lets you leave messages for another user about specific budget items.
The Goalkeeper page is a simple tool that allows you to track items or events you are saving for and how much you plan to put away toward them each month. You can leave messages here as well. You can set up e-mail alert notifications for events such as low-balance warnings, when you go over budget, or when a user leaves you message.
Rudder
Unlike Green Sherpa or the five sites I compared in the roundup, Rudder is not entirely free. You can use Rudder at no cost, but you're limited to keeping no more than 200 transactions. Once you've hit your quota, you need to delete older transactions in order to make room for new ones.
You can make one-time purchases of $2.99 for an additional 200 transactions, $5.99 for another 400 or $8.99 for 600 more transactions. Rudder also offers a $14.99 per year subscription that gives you an unlimited number of transactions.

Rudder's Dashboard page is made up of a group of widgets; you can choose which of them should appear on the Dashboard and even how they are arranged. The widgets include Account Balance, Recent Activity, Bills (which shows what bills are due soon), What's Left (after bills are paid), Savings Widget (which tracks your savings accounts), and Spend Meter (which tracks your spending).
The Transactions page lists the transaction for all of your accounts. Rudder supports only bank accounts and credit cards; it does not track loans or investments. You set the transaction categories on this page, but Rudder does not let you split transactions into multiple categories.
The Trends page gives you a detailed look at which categories your spending is going toward. Rudder has a Goals page, but it is currently populated with a Coming Soon message and sample images of what this section will look like.
The Settings page is where you set up recurring income and bills, which feed the Bills, What's Left, and Spend Meter widgets on the Dashboard page. Unfortunately, I found that the recurring income and bills had to be manually entered, as they were not automatically detected from my categorized transactions. You can set Rudder to send you e-mail updates on a daily basis.
Note: At first, I was unable to get my primary checking and credit card accounts linked in Rudder. I filled out a support ticket from the Help page explaining the problem and received an automated e-mail confirmation, but no follow-up. Then, miraculously, after 10 days, it suddenly worked and I was able to add my accounts. I don't know if this was a result of my help ticket submission or some other coincidental bug fix.