Page 8 of 8
Conclusions
These Web sites are just a sampling of the free personal financial management sites available. Other sites that offer similar free personal financial management features include Buxfer, , Expensr and Yodlee.
If you're looking for a site that provides simple access to banking and credit card information, any of these sites will meet your needs -- it becomes more of an issue of personal preference than anything else.
If you're really excited about the social-networking potential of rubbing virtual shoulders with other penny-pinchers, then you'll want to check out either Geezeo or Wesabe. Both sites have similar features, but I felt that Wesabe offered a slightly more robust social-networking presence, while Geezeo offered more money management tools. Wesabe was the only site I looked at that couldn't track loans or mortgages.
For more full-featured applications that can also track your investments and loans, you can choose between Mint, Quicken Online, and Thrive. All three are chock-full of useful and easy-to-handle tools that can help you better manage your finances.
If you need a lot of hand-holding, then Thrive might be your best choice. But it was the only site to lack a traditional budgeting tool.
The main difference between Mint and Quicken Online is how the information is presented -- they both offer similar features that are very strong on detail. But the fact that Quicken Online doesn't let you split transactions and Mint does had me leaning just a bit more toward Mint.
For me, the clincher was the Mint iPhone app -- being able to access all of my account information (including investments) in one slick-looking, easy-to-use app on my iPod Touch via a Wi-Fi connection was a big plus.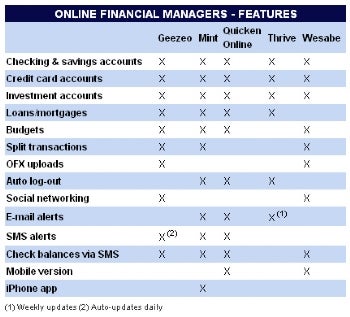 Daniel A. Begun has been writing about technology for nearly two decades for publications and sites such as PC Magazine , CNET, Computer Shopper magazine, Laptop Magazine and HotHardware.com. He can be found on his Web site.
This story, "These Free Sites Help You Manage Your Money" was originally published by Computerworld.