Page 2 of 2
"The Craigslist South Carolina site continues to display advertisements for prostitution and graphic pornographic material," McMaster wrote on the state's Web site on Monday. "This content was not removed as we requested. We have no alternative but to move forward with criminal investigation and potential prosecution."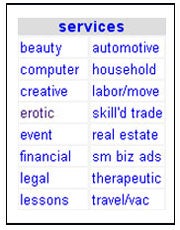 McMaster's complaint came a week after Craigslist bowed to mounting pressure from the law enforcement community and announced that it would remove the Erotic Services category from its classified advertising Web site within seven days. That move prompted Connecticut Attorney General Richard Blumenthal, who had been vocal in his criticism of Craigslist -- going so far as to call it an "online brothel" -- to applaud the company's decision to remove the category.
Buckmaster quickly sought an apology from McMaster for this week's online statement.
"Two days ago, you accused Craigslist, and me personally, of engaging in criminal acts, reiterating your previous threat to file unwarranted and unconstitutional charges against us that are clearly barred by federal law," wrote Buckmaster in a blog post. "These very serious allegations followed the dramatic changes we implemented last week. Mr. McMaster, I strongly recommend you reconsider and retract your remarks. We're willing to accept our share of criticism, but wrongfully accusing Craigslist of criminal misconduct is simply beyond the pale. We would very much appreciate an apology at your very earliest convenience."
The Erotic Services category on Craigslist has been under scrutiny since Boston University medical student Philip Markoff was arrested and arraigned last month for allegedly murdering one woman and kidnapping and assaulting another after meeting both of them through erotic services ads on Craigslist.
After highly publicized meetings between Craigslist officials and several state attorneys general and even a public ultimatum from McMaster, Craigslist last week submitted to the mounting legal pressure and announced plans to remove the Erotic Services category from its Web site within seven days.
However, the company also said that while it will take down the Erotic Services category, it planned to launch a new category called Adult Services. Each posting to this new category will be manually reviewed before it appears on the Web site, which has run classified advertisements for everything from bicycles and lawn mowers to escort services.