Craiglist vs. South Carolina: The Prostitution Ad Showdown
Craigslist is going head-to-head with the state of South Carolina in what can only be described as a bizarre legal battle. The online classifieds company is suing Attorney General Henry McMaster because -- prepare yourself -- he threatened to file criminal charges over the site's sex-related ads.
This debacle's seen more tricks and turns than the Craigslist-advertising hookers themselves. Here's a look at the significant steps that led up to this point.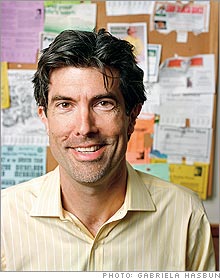 November 2008: Craigslist Cracks a Deal
Last November, Craigslist execs worked with attorneys general from 40 states to develop a new system for the site's "erotic services" section. The company agreed to start requiring advertisers to pay for spots in the category. Giving a credit card and phone number, CEO Jim Buckmaster (pictured) said, would "raise the accountability for people posting."
March 2009: Cook County Sues Craigslist
Despite the altered "erotic services" setup, Illinois' Cook County Sheriff's Office -- the nation's second largest department, encompassing Chicago -- filed a lawsuit against Craigslist accusing it of facilitating prostitution. The department said the '08 deal didn't do enough and called for the adult-oriented section to be shut down completely. It also asked for Craigslist to cover damages incurred by police investigating Craigslist-based prostitution arrangements. That cost, Cook County estimated, topped $100,000 between January and November 2008.
Craigslist, in response, called the charges "baseless" and stated it had no intentions of removing the adult-oriented category.
April 2009: The 'Craigslist Killer' Suspect Is Arrested
The debate grew even more intense when a Boston University student was arrested on accusations of murdering one woman and kidnapping another after locating them on Craigslist's "erotic services" section. Dubbed the case of the "Craigslist Killer," the arrest led opponents to cast further doubt onto the safety of the adult advertising section.
May 5, 2009: South Carolina Steps In
Early this month, South Carolina Attorney General Henry McMaster announced plans to prosecute and criminally investigate Craigslist's executives if the company didn't pull the "erotic services" section from its site. Craigslist's CEO said he saw "no legal basis whatsoever for filing a lawsuit" and urged the attorney general to "look closely at the facts before proceeding with his threat."
The Electronic Frontier Foundation, a digital rights advocacy group, sided with Craigslist. The group said the company could not be held legally responsible for third-party content on the site, asserting that Craigslist had already "gone far beyond [its] obligations under the law."
May 13, 2009: Craigslist Caves
One week later, despite his previous statements to the contrary, Craigslist CEO Jim Buckmaster announced he would close the site's "erotic services" section and replace it with a more closely monitored alternative.
May 15, 2009: South Carolina Stays Unsatisfied
Following the "erotic services" announcement, South Carolina's top cop posted a note saying the "advertisements for prostitution and graphic pornographic material" were still visible on Craigslist. "We have no alternative but to move forward with criminal investigation and potential prosecution," he wrote.
May 18, 2009: Craigslist Demands an Apology
Days after that, Craigslist's Buckmaster posted a blog entry back demanding an apology from the attorney general. "I strongly recommend you reconsider and retract your remarks and positively affirm that you have no intention of launching criminal investigations aimed at any of these upstanding companies, because in truth none of them are deserving of such treatment," he wrote.
May 20, 2009: Craigslist Sues South Carolina
Seemingly still not satisfied, Craigslist went on to file a lawsuit against South Carolina two days later. The company asked for a restraining order and declaratory relief. "Mr. McMaster's repeated threats of criminal prosecution should we refuse to shut down Craigslist for South Carolina have left us little choice but to seek declaratory relief before the court," the Craigslist blog explained.
May 20, 2009: South Carolina Says 'Thanks'
Within the day, South Carolina's attorney general declared the lawsuit "good news," saying it "show[ed] Craigslist [was] taking the matter seriously for the first time." He called the move a "victory for law enforcement and for the people of South Carolina" and said he hoped Craigslist would "adhere to the higher standards [it had] promised."
Craigslist: What's Next?
That, my friends, is the long and short of what's happened so far -- okay, maybe more the long than the short. The battle of the blogs, no doubt, is still far from over: Amid all of this, seven people were formally charged on Thursday with using Craigslist to operate a prostitution ring. Despite the back-and-forth blows and seemingly endless rounds of rhetoric, the war, it appears, may only be beginning.
Connect with JR Raphael on Twitter (@jr_raphael) or via his Web site, jrstart.com.