Too Legit to Tweet: Famous Faces Who've Left Twitter
Twitter is latest of hot web 2.0 websites that celebrities have discovered and exploited for self promotion. Lord knows, they need another outlet to rub in our faces how much our lives suck versus theirs, right? While some celebrities still have yet to join the cult, others can't handle the stress of sending short, mundane updates to their fans. These nine celebs seem to have quit Twitter, and left their many fans in the dark.
9 - Summer Glau- Quit July 28, 2008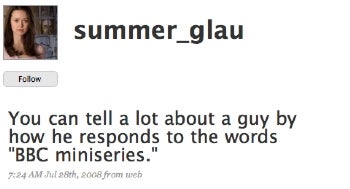 Summer Glau is one of the many darlings of the sci-fi world. With her roles in Serenity, Firefly, and Terminator: The Sarah Connor Chronicles, nerds have been fantasizing about her since she was a young girl. She started tweeting back in April of 2008 with geeky tweets like, "Spoiler alert! I am the twelfth Cylon model" and "I know I should post more often, but between the acting thing and the covert assassinations, there just isn't time." With the long working hours of an hour-long weekly drama, we're sure that she wanted to spend her down time with people she cared about. With Terminator now cancelled, perhaps Summer can devote some time to keeping fans abreast of her next move.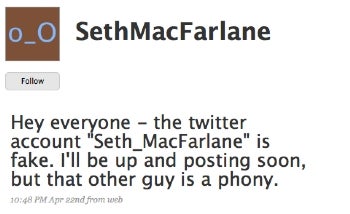 For some reason, it makes no sense to us that Seth McFarlane's first tweet would be his last. He seems like he would be part of the ironically hip nerdclub. But, alas, the above post is all he has to offer to the Tweet Gods. It reminds me of the time... eh, nevermind.
7- Judd Apatow- Quit December 1, 2008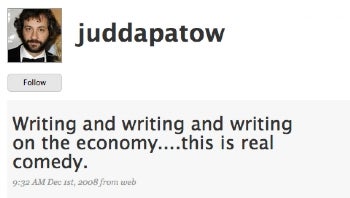 You all can thank Judd Apatow for bringing your favorite pothead/slacker movies to the silver screen. With hits like Pineapple Express and Superbad, his resume reads like a film companion to our miserably awkward lives. His one and only tweetmakes it clear to us that in order to achieve his success, you can't fuck around on a site like Twitter all day. 'Nuff said.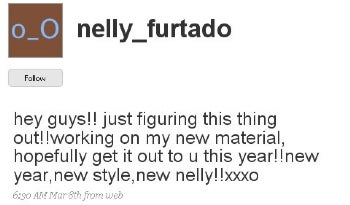 Who would've thought that there were so many fake Nelly Furtados? We'll assume that this one is real because she is following her father, Jose Alfonso Furtado (also known as Antonio Jose Furtado). Miss Furtado has been a busy bee since her first and only tweet in March. She's been touring and she's got a four-year old daughter to chase after. We also assume that she's stil trying to figure out how Twitter works.
5- Joe Biden- Quit August 13, 2008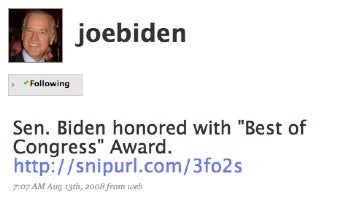 Barack Obama has already proven himself the most Web-savv President of all time, keeping his constituents updated via YouTube, Facebook, and even Twitter. Too bad his VP didn't get the memo. Joe Biden seemed to latch onto the social network during the entirety of his presidential primary, even updating after dropping out of the race in January. Once he secured the VP nomination in August, he dropped the social networking site like a hot potato. Either that or he's really proud of that "Best of Congress" award.
4- John Edwards- Quit November 14, 2007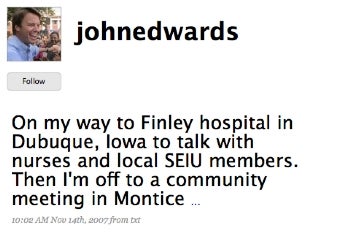 Unlike Joe Biden, John Edwards abandoned his Tweeple before he dropped out of the race. While he was up and running, however, his tweets were slightly more personalized than other politicians, with tweets like, "Just arrived in New Hampshire. It's a beautiful rainy day here...
3- Larry David- Quit January 7, 2009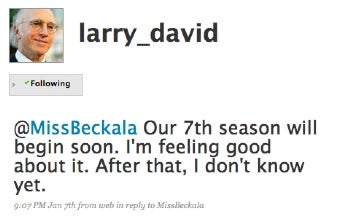 It was a sad day on the Internet when Larry David abandoned Twitter. Of all the celebrities we want to hear snarky status updates from, he would be in our top 10. His tweets were often amusing observations on the absurdity of Twitter. Here are some examples:
"Again, this thing is asking me what I'm doing. I'm sitting here in front of a computer. What else would I be doing? Playing tennis?"
"So, I've been sitting here for 10 minutes. No one has said anything. Is this supposed to do something? Did I break The Twitter?"
"What the hell is this thing? I'm suposed to tell you what I'm doing? Why would I tell you what I'm doing? What are YOU doing?"
What an awesomely wonderful n00b.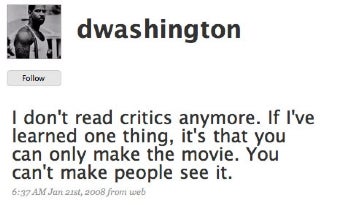 Is anyone surprised the Denzel Washington would be a Twitter Quitter? The guy's got an Oscar and played Malcom X, for crying out loud. He doesn't really need the publicity or attention from an online audience -- he's already got the mainstream. While he was active, however, he did tweet a few candid thoughts like, "Traveling, on a promo tour for the new film. Labor of love -- yeah right! Shaking hands, and kissing babies: it's a living! I'm blessed..."
1- JJ Abrams- Quit December 8, 2008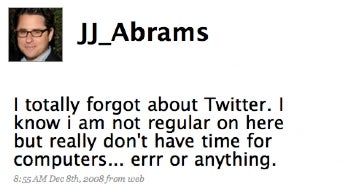 What if JJ Abrams to accidentally tweeted Lost spoilers? What an incredible alternate universe that would be. But our favorite sci-fi king is not falling for it. Of course, what would you expect from a guy who loves mysteries? We will give him credit for tweeting before the millions of articles about how to get a job/SEO/followers/stalkers/whatever on Twitter. And who are we kidding? He just killed at the box office with Star Trek. He don't need no stinkin' Twitter for us to worship him.
Check out these other articles that hurt the internet's feelings!
The 5 Least Informative Types of User Reviews
6 Odd Inventions Google Could Extend Its Empire With
9 Good Things The Internet Has Ruined Forever
The 7 Most Epic Rickrolls Ever
Chenda Ngak has contributed to GamePro magazine, Star Wars Insider, OMGlists.com, Nerve.com, Flixster.com, Yahoo! Shine, and OrbitzInsider.com. Read her brilliantly illogical tweets at: Twitter.com/ChendaNgak.