Page 2 of 2
Calculator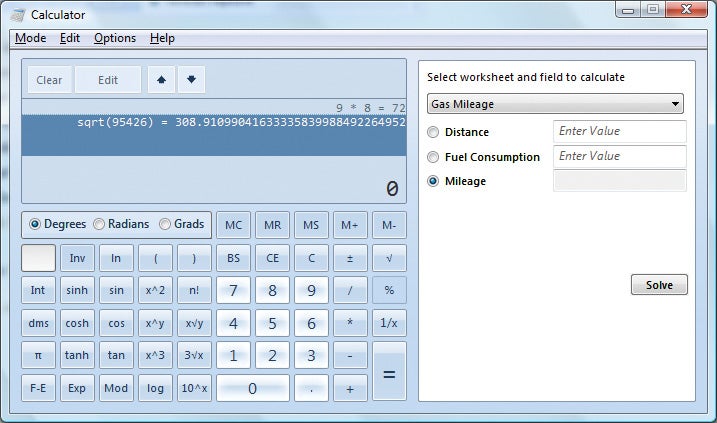 What it is: Though Paint underwent an extreme makeover in Windows 7, the operating system's new Calculator was built from the ground up. This spiffy new number-cruncher includes Programmer, Statistic, and Scientific modes, and comes with handy templates for figuring stuff like mortgage payments and gasoline mileage.
How to get it: Some time ago, interested parties extracted the actual Windows 7 Calculator code from an early build of the operating system, and that code has been making the tech-blog rounds ever since. It runs just fine in XP and Vista. If you're averse to bootlegs, you can get most of the number-wrangling you need, free of charge, from eCalc.
Windows Search
What it is: Vista owners already enjoy the benefits of Windows' integrated search capabilities, which help users easily find specific apps, documents, e-mail messages, and the like. Windows 7 promises to make search results more coherent and to integrate them with Libraries for better organization.
How to get it: Windows Search is one of the main reasons I don't miss Windows XP--it's that good. How can an XP user take a similar step up? Simple: Install Copernic Desktop Search, which indexes all of the e-mail, documents, and media on your hard drive to permit lightning-fast searches. In fact, even Vista and Win 7 users should check it out, since it supports many more file types (the total exceeds 150) than Windows Search.
Windows XP Mode
What it is: When Vista debuted in 2007, a lengthy procession of unanticipated software incompatibilities drove users crazy. To help assuage fears about Windows 7's dexterity with older applications at its launch, Microsoft recently announced Windows XP Mode--an add-on that runs veteran programs in a "virtual" XP environment, thereby guaranteeing operational compatibility.
How to get it: You probably don't need it. XP Mode was created with business users in mind, since incompatible applications can be an extremely serious problem for them. As a result, it's available only for Windows 7 Professional, Ultimate, and Enterprise. That said, if you use Vista and you're still struggling with software compatibility issues, try Microsoft's Windows Virtual PC. This free download offers more or less the same capabilities as Windows XP Mode (which is essentially a specialized version of Virtual PC). Warning: Microsoft admits that this program may not work when loaded on netbooks or on other recent PCs.
Internet Explorer 8
What it is: Scoff away, Firefox snobs, but Internet Explorer 8 is a browser to be reckoned with. It's faster and more secure than previous versions of IE, and it offers unique features such as Web Slices (reminiscent of RSS feeds, and designed to help you keep tabs on changes at regularly updated sites) and InPrivate Browsing (which leaves no trace of your surfing activities).
How to get it: Internet Explorer 8's amped-up antimalware and antiphishing features make it well worth using. The browser runs just fine in Vista and XP, and it is available for download for either OS. Some Vista users will receive it automatically through Windows Update.
For a collection of free downloads that will help you replicate the Windows 7 experience on your Vista or XP system, see "How to Get Windows 7 Without Windows 7: Features."
Illustrations by Harry Campbell.