Page 2 of 2
The Icons-Only Taskbar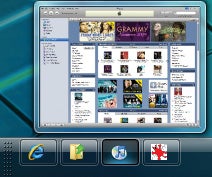 What it is: The Windows 7 taskbar consists exclusively of icons, even for programs that are currently running. That's a significant change from old-style text-enhanced program icons, but it frees up lots of extra space on the ol' taskbar.
How to get it: Instructing XP's or Vista's taskbar to show only icons entails taking a trip into the Registry (be sure to follow our advice for Registry backup described under the subhead "Fewer System Notifications"). Here are the steps to take once you're ready to boldly go forward:
1. Click Start, type regedit, and press Enter.
2. Find and click the value listed at HKEY_CURRENT_USER\Control Panel\Desktop\WindowMetrics.
3. In the right pane, right-click in an open space and select New, String Value.
4. Name the new string value MinWidth, and set its value to -255.
5. Exit the Registry Editor, and restart your system.
Henceforth, only icons will appear in your taskbar. If you decide later that you don't like the new look, you can return to the Registry and delete the entry that you created above. If you don't care to monkey around with your Registry, try the next tip, which accomplishes very nearly the same thing without requiring any Registry intervention.
Thumbnail Previews
What it is: When you mouse over a taskbar icon in Windows 7, a thumbnail preview of the corresponding program will pop up (if the feature is activated). If you happen to be running multiple instances of a program (such as Internet Explorer), you'll see multiple thumbnails.
How to get it: To achieve the same effect in Vista (but once again, not in XP), install EnhanceMyVista Free; true to its name, the download is free. The procedure could hardly be simpler: Start the program, click Customization, Taskbar, and enable Iconize your Taskbar. You're all set.
The Windows 7 User Interface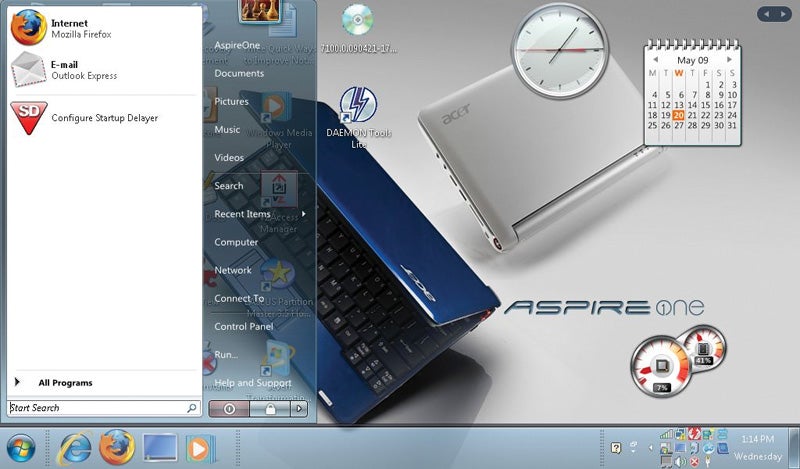 What it is: The Windows 7 interface emphasizes efficiency rather than sizzle. The chief improvements consist of a remodeled Windows Taskbar with large icons, one-click access to tasks associated with a specific app, and various other practical enhancements. See "Microsoft Windows 7: A Closer Look at Your Next OS?" for a discussion of Windows 7 that includes screenshots and videos.
Because Windows Vista more or less forms the core of Windows 7, making Vista look like 7 is fairly easy (as evidenced by the aforementioned taskbar and thumbnail-preview tips). Windows XP users, however, have fewer options at their disposal. In response, third-party developer Windows X Live created the Seven Transformation Pack, a collection of interface tweaks--menus, icons, fonts, buttons, and so on--that are designed to make XP look and feel like Windows 7. And the software works as advertised. In fact, the before-and-after difference is pretty amazing, right down to the interface's search-enhanced Start menu and Windows 7-style floating gadgets.
How to get it: Before downloading this fabulous freebie, make sure that your system already has XP Service Pack 3 installed. I also recommend that you create a restore point in XP's System Restore tool before running the installer, as the Seven Transformation Pack makes some fairly high-level changes to your system. When the installation is complete, reboot, and prepare to witness the minor miracle of Windows XP transformed into Windows 7.
For a collection of downloads that will give your current Vista or XP desktop much of the look and feel of Windows 7, see "How to Get Windows 7 Without Windows 7: Look and Feel."
Illustrations by Harry Campbell.