Microsoft Pushes IE8 With Ads that are Actually Funny
Microsoft has done it again: The company has released another set of baffling and mystifying ads, but this time they're actually funny. The software giant released four new ads to promote Internet Explorer 8 starring Lois and Clark's Dean Cain as a 1960s style ad man- -- no doubt inspired by AMC's Mad Men. So far the new ad campaign is an online-only affair, and uses the tagline 'Browse Better.'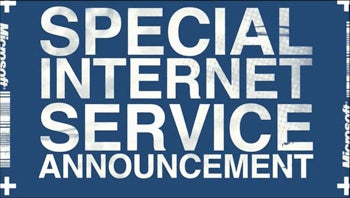 The ads highlight IE8 features using mock situations and cutesy acronyms like F.O.M.S. -- fear of missing something -- for IE8s Web slices, and S.H.Y.N.E.S.S. -- sharing heavily, yet not enough sharing still -- for the browser's accelerator feature. But the king of all four ads is O.M.G.I.G.P. -- oh my God! I'm gonna puke -- for IE8s private browsing feature; private browsing temporarily stops your browser from recording your online activities including your Web history and tracking cookies.
O.M.G.I.G.P. is the most honest ad we've seen from Redmond in a long time. Microsoft openly acknowledges in the spot the most common reason to use private browsing: hiding your online porn tracks. I'm not going to go into detail about what happens in the ad, but let's just say the title O.M.G.I.G.P. is taken very literally.
The new campaign is also tied to Microsoft's dedicated IE8 Web site called, Browser for the Better. For every copy of Internet Explorer 8 downloaded from the new site between now and August 8, Microsoft will donate eight meals to Feeding America, a domestic hunger-relief charity.
Since the launch of Internet Explorer 8, Microsoft's browser has struggled with dwindling popularity, as users turn to other Web browsing alternatives like Mozilla's Firefox and Opera. Will this new campaign help turn IE8's fortunes around? Check out the ads below and judge for yourself.
S.H.Y.N.E.S.S.
F.O.M.S.
G.R.I.P.E.S.
O.M.G.I.G.P.-- (Warning: may not be suitable for work)