Page 3 of 3
LogMeIn Hamachi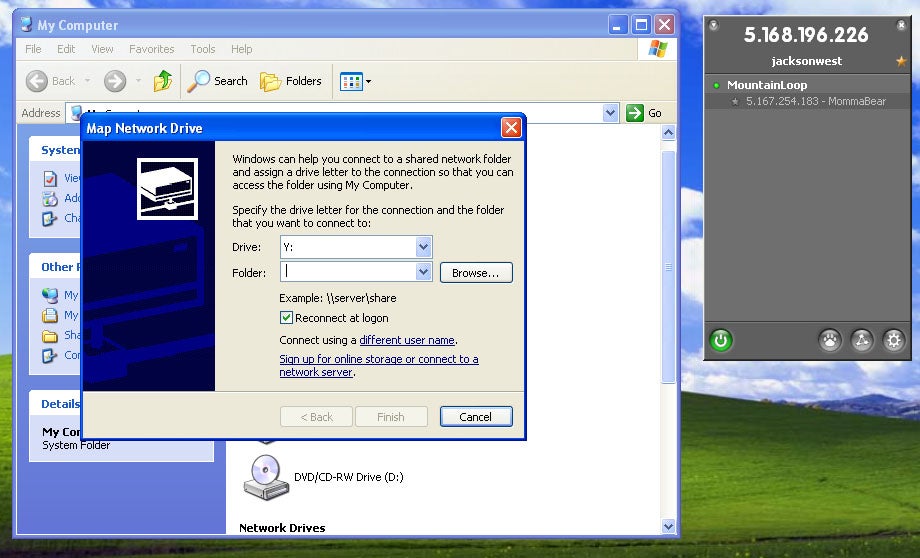 LogMeIn Hamachi is not specifically designed for file sharing; however, it provides a quick, inexpensive, and relatively easy way to set up a virtual private network (VPN). This means that the connection between computers over the public Internet mimics that of a private network, such as a local area network.
All users that you want to connect will have to have Hamachi downloaded and installed on their machines. Officially the program works with Mac and Linux systerms as well as with Windows PCs, but only the PC version has a familiar graphical user interface; Mac and Linux users must install and configure the software through a command line interface. All versions will tunnel through your operating system or router firewall automatically, so little or no configuration is required.
As befits its bare-bones nature, Hamachi doesn't invite your friends to download and install the software or to register an account, so you'll have to do that yourself (in person, via e-mail, or by other means). Once two machines are connected, you can trade data by linking network drives through the operating system, as you would between machines on a local network. You can also stream video or audio, use remote access software to control another system on the network, or play multiuser games as if you were at a LAN party (Hamachi is popular among gamers).
In mimicking a LAN, Hamachi lets you use familiar Windows network drive sharing and file and folder permissions.
Speed over the network is limited by the bandwidth available between parties. If your friend is on a modem, you'll only be able to connect at modem speeds. A central server operated by LogMeIn manages authentication; this can make creating and connecting to the VPN during peak usage periods slow or otherwise problematic.
The service is free for personal use and costs $5 per month per license for business use.
Which One Is Right for You?
Private networks have a number of benefits. Security is easier to manage, and you also get the peace of mind of sharing a song or a video with a friend rather than with the whole World Wide Web. While many of these applications could be used to do business by connecting far-flung teams so that they can collaborate, the apps represent a move toward creating private, secure sharing for personal pursuits.
For instance, QNext appears to be a good match for IM junkies looking for a communications platform that offers a more reliable and secure way to share files than existing IM tools can manage, without the size limits and with faster transfers.
GigaTribe and 2Peer are ideal for heavier file sharers who may already have networks of friends with whom they trade media libraries. GigaTribe has the slicker interface, but 2Peer sets itself itself apart by offering iPhone access. Hamachi is a general-purpose VPN that supports all sorts of private, secure connectivity, including (but not limited to) file sharing; it is suited to more advanced users.
Know What You're Getting Into
People continue to create and collect more and more digital media. Meanwhile, everything from lawsuits against individual file sharers to embarrassing incidents when the public stumbles across a private moment shared online are increasing users' awareness that publishing data to everyone, everywhere is not always a great idea. These tools make it much easier to share the content you love with people you know.
Security note: Though none of these products came with any malware that I could detect, many of them do circumvent firewall protections in order to speed up connections or ease installation, and this poses a risk to your system or network. In fact, you incur a certain amount of risk (of viruses, malware, and the like) every time you share access to your computer online. Take care to protect important data by backing it up and encrypting it locally; only connect to users whom you know and trust; and never download and install applications through peer-to-peer networks.