Apple's popular App Store for the iPhone, and iPod Touch is turning 1!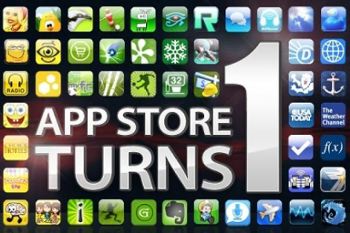 It's hard to believe a year has passed since Apple first opened the App Store, but it launched on 10 July 2008 through iTunes and had 500 applications available. As of July 2009 there are more than 50,000 applications available through download from the App Store. In April 2009, Apple announced that customers had downloaded more than 1 billion applications.
To mark the occasion we've rounded up 10 of our favourite apps (in no particular order).
Price: Free
It's a massive call, but this is probably our favourite iPhone app, and there are plenty to choose from! If you have ever wondered about the name of a song on radio, or wanted to know the name of the band whose song is playing in a store, then Shazam is for you. This iPhone app records a snippet of a song then identifies it. If the song is recognised, you will get a results screen with a picture of the album cover and the name of the artist, the song and the album. Best of all, it's simple to use and completely free to download! An absolute gem.
TripView
Price: $2.49 (US $1.95)
If, like us, you have the unfortunate daily chore of using Sydney's CityRail train network then TripView is a must-have app. It displays train timetables on your iPhone and features an indicator view that is almost identical to the indicator screen at most CityRail platforms, including the scrolling destination list.
Price: $3.99 (US $3.12)
Twitter is now a worldwide phenomenon and although there are plenty of iPhone clients to choose from we like Tweetie the best. The minimalist UI is a mix of the iPhone's SMS and iPod interfaces and the app is commendably fast. The ability to control multiple accounts and its speed make it a great app.