Page 2 of 3
7. Battery Drains Too Fast
Because the iPhone is a cellular phone, we tend to forget that the battery won't hold up for more than a day when its computerlike functions are pushed to their limit. (Isn't it disheartening to see the battery meter drain during a prolonged session of Tap Tap Revenge?)
Ideally: We are still waiting for Apple to let users replace the battery or buy a bigger one. I'm not holding my breath.
The workaround: Turn Wi-Fi off when you're on the road. Turn 3G off when using Wi-Fi or turn off Wi-Fi if you don't need it. Turn down screen brightness as much as possible. Go into Settings and turn off auto-refresh for individual apps. If all else fails, buy an external plug-in battery, even if that drains the coolness factor.
6. You Can't Store Files or Attach Them to E-Mail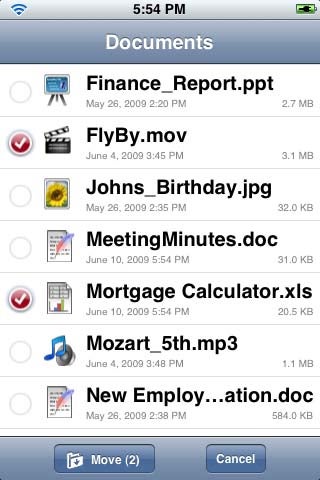 Sure, the iPhone isn't a computer, but a smartphone with so many capabilities and a generous hard drive should at least allow storing and sending of files. Photos and video can be sent directly only from the iPhone's camera roll; also, you have no way to download Word documents and other files for editing and sending later.
Ideally: The solution would be for Apple to add a file manager for photos and documents, along with a convenient way to attach files to e-mail. For security, Apple could restrict downloads to just certain file types, and the files would have to be scanned by a third-party app hosted online.
The workaround: File transfer and storage tools abound for the iPhone. Check out QuickOffice Files, a $1 app that allows you to e-mail documents, transfer them to a computer, or view them on the iPhone. The free Box.net allows you to store documents in an online locker and access them through the app.
5. IMAP Gmail Is Lame
If you're an avid Gmail user, you know that you can configure the iPhone's Mail app to retrieve your Gmail. Sadly, the iPhone's Mail app is devoid of all the features you love about Google's mail service, especially threaded viewing and starring. If you like to e-mail friends or engage in otherwise long conversation threads during the day, the Mail app will quickly become overwhelmed.
Ideally: We'd like to see Apple blend traits from Gmail's Web application with its Mail app. The look of Web Gmail would be preserved, but old messages would be cached for offline viewing. Naturally Hotmail and Yahoo mail users would also benefit.
The workaround: While you can't replace the Mail app entirely, you can swap it for Gmail's Web app, which sports an iPhone-optimized layout that's always getting better. Swipe recognition was recently added, so you can archive e-mail messages with a finger stroke, and caching will likely come along with HTML5 support. Add Gmail to the iPhone's home page through the "+" button in Safari, and toss the old Mail app onto your junk page. You'll hardly know the difference.
4. You Can't Create Contact List Groups
On the iPhone, everyone's your friend, even your boss. That's because the built-in Contacts app won't let you split work and personal contacts into separate groups or allow you to create custom groups. Everyone's co-existing in one massive list unless you first create subsections on your computer.
Ideally: Apple could fix this. A simple drop-down list on the info page for each contact, along with separate tabs above the contact list, would do nicely.
The workaround: Get an app to do the job instead. ABContacts lets you set up smart filters that divide contacts into groups by name, location, place of employment, or notes. Groups lets you do the sorting in a drag-and-drop interface, and includes the ability to send mass e-mails--perfect for your mobile spam operation.