You Must Obey: The Unwritten Laws of Technology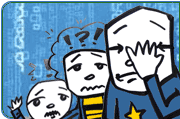 Gordon Moore has one law but we've got him beat. Here at the (unofficial) Tech Law Brain Trust, we maintain a definitive, ever-expanding archive of the laws that govern your technology experiences--whether you know it or not. Please scan these lists to ensure that you are in compliance.
Basic PC Laws
Let's start with Nerve Central--the computer.
Law 1: For every fix that a Windows Update patches, the update will break two more things on your PC. --Darren Gladstone, PC World
Law 2: The likelihood that Windows will automatically install time-sucking critical updates is directly proportional to your need to get your PC started. --Steve Fox, PC World
Law 3: The hard drive always fails just before you were going to back it up. --Denise Paolucci, Dreamwidth Studios via Help A Reporter Out (HARO)
Law 4: Your data will get corrupted just before you plug in your new backup external drive. --Darren Gladstone, PC World
Law 5: Your backup plan is only as good as your last successful restore. --Michael Fisher, ElephantDrive.com via HARO
Law 6: The number of USB ports on your Mac will always be one less than you need at any given time. --Blair Hanley Frank, Macworld
Law 7: Feeling time pressure to make a computer fix quickly will cause you to take longer. --David Marshak, via PC World Facebook page
Law 8: If you close the PC case with screws before testing, it won't work; If you test before closing, it will. --Harry Liebman via HARO
Tech Support Rules
Now that you've mastered the basics, you're ready to move on to Tech Support.
Law 1: Fix a computer for a friend or family member, and you'll be tech support for life. --Danny Allen, PC World
Law 2: Build a computer for someone, and he/she owns you! --Louis Farbstein, via PC World's Facebook page
Law 3: Recommend a product that you've used with no problems, and the friend/family member who buys it will immediately descend into RMA [product return] hell. --Scott Keck, via PC World's Facebook page
Law 4: Show any handy IT skills at work, and your company's IT department will start referring difficult coworkers to you. --Lars Jacobsen, via PC World's Facebook page
Law 5: If it's broken and you call tech support, it will fix itself while you're on hold. --Brenda Christensen, Public Relations, Servoy.com via HARO
Internet Ordinances
You can find a world of trouble online. For instance...
Law 1: Within a month of agreeing to be "friends" with your boss on Facebook you will regret it, big time. --Tom Spring, PC World
Law 2: The crappier the Web site, the sleazier (and sketchier) the ads. --Tom Spring, PC World

Law 3: When entering "Captcha" verification codes on a Web site, you'll always type in the numeral 1 when the site wants a lowercase L, and a capital O when the site wants the number 0. --Steve Fox, PC World
Law 4: Just before taking out the boss in a WoW raid, your Internet connection will die. --Nick Mediati, PC World
Law 5: The difficulty involved in redeeming a rebate is directly proportional to the dollar value of the rebate. --Tom Spring, PC World
Law 6: A nasty draft e-mail will always find its way to the (unintended) recipient. --Brian X. Chen

Amazon Shop buttons are programmatically attached to all reviews, regardless of products' final review scores. Our parent company, IDG, receives advertisement revenue for shopping activity generated by the links. Because the buttons are attached programmatically, they should not be interpreted as editorial endorsements.